The parent company of Texas-based Chryso Inc. has announced a global range of admixture products and companion services aimed at controlling the carbon footprint of ready mixed and manufactured concrete. Paired with supplementary cementitious materials, EnviroMix agents enable carbon dioxide emissions reduction up to 50 percent when measured against conventional concrete mix designs, while EnviroMix ULC (Ultra Low-Carbon) agents match that metric and impart high performance properties in finished slabs, structures or elements.
Products adapted to the specific performance requirements of ready mixed or precast concrete will be deployed to support Chryso customers in the evolution of construction methods. Producers or contractors can also benefit from dedicated services such as EnviroMix Impact, which affords the environmental impact calculation of a concrete mix design plus a formulation strategy adapted to carbon reduction targets. Chryso also offers a digital solution for real-time monitoring of its Maturix concretes, which are designed for high early compressive strength in precast or cast-in-place conditions.
"With this comprehensive EnviroMix product range, Chryso is creating new development levers for the construction industry by delivering solutions to produce the cements of tomorrow," says Concrete Business Unit Director Frédéric Guimbal, based at Chryso Group headquarters in Paris. "EnviroMix also offers the control of concrete admixtures using new binders and the formulation and real-time monitoring of low-carbon concretes on building sites, while providing an accurate measurement of their CO2impact. The construction industry is accelerating its transformation to manage and reduce environmental impact. Carbon dioxide footprint is a major challenge."
Over the past 15 years, he adds, Chryso has bolstered its expertise in the field of low carbon impact concrete admixtures. Backed by an innovative technological portfolio, the company also benefits from specific know-how adapted to the chemistry of new low-carbon cements via its cement additives offerings. Chryso solutions dedicated to a low carbon transformation are based on multiple scientific collaborations and industrial partnerships that reinforce the knowledge of geopolymers, calcined clay cements and other new binders.
---
GCP TAPS ATHENA INSTITUTE TO EXPEDITE EPD
A new partnership with Ottawa-based Athena Sustainable Materials Institute equips GCP Applied Technologies in Cambridge, Mass. to provide concrete admixture customers with life cycle assessment (LCA) details critical to environmental product declarations (EPD).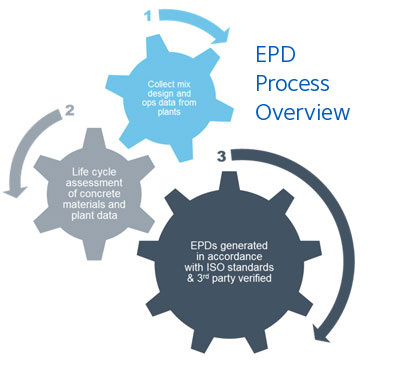 "Building owners, municipalities, engineers, general contractors, and architects want to understand the environmental impact of the products they choose for their projects," says GCP EPD Program Manager Lisa Barnard, LEED AP O+M. "To address this need in the concrete sector, we have teamed up with Athena to be our technical partner to drive our EPD program. The new program assists customers in creating EPDs for their concrete mix design, leveraging GCP product-specific admixture LCA data."
The program first collects mix design data from a concrete plant, then uses LCAs of concrete materials and plant data to generate an EPD in accordance with ISO standards. The third-party verified reports will help ready mixed or manufactured concrete operators gain visibility into the environmental footprint of each mix. Such data supports LEED (Leadership in Energy and Environmental Design) and other green building certification pursuits, and helps organizations better understand how to achieve carbon reduction targets.
"This is a great example of industry using LCA to meet environmental objectives and show sustainability leadership," says Athena President Jennifer O'Connor, whose organization has been a forerunner in facilitating concrete EPD.