Although subdued compared to its normal January volume of booths, exhibit space and attendees, World of Concrete concluded three upbeat days last month at the Las Vegas Convention Center—likely the North American construction industry's largest 2021 gathering, as well as a strong affirmation of interest in live, business-to-business functions.
World of Concrete 2021 opened with the dedication of the $1 billion LVCC West Hall, housing contractor equipment exhibitors who typically hold court in the Central Hall. Organizer Informa Markets confined indoor booths to the West and North Halls. Equipment and tool exhibitors, topped by Bosch and Hilti, set up shop in the Diamond Lot, adjacent to the West Hall. The North Hall spanned Producer Center, Cement Production, Masonry, Information Technology and Materials category or pavilion exhibitors. Masonry Madness displays and demonstrations, led by the SpecMix Bricklayer 500 competition, occupied the Silver Lot outside the Central Hall. Between the SpecMix event, a Best Block Large Format Masonry demonstration (see page 34) and main North Hall booth, Quikrete Cos. commanded by far the largest presence among World of Concrete 2021 exhibitors.
Participation of companies serving ready mixed and manufactured concrete producers varied considerably across capital equipment and material categories. Batch plant and plant mixer manufacturers were best represented, as reflected in Advanced Concrete Technologies, Astec (BMH, Con-E-Co and Rexcon), BHS, Cemco, Vince Hagan Co., Imer Group, MCT, Sicoma North America, Simem America, Stephens Mfg. and Erie Strayer Co. booths.
Extending their customer outreach from The Precast Show nearly three weeks prior in New Orleans, manufactured concrete plant exhibitors at World of Concrete were led by Besser Co., Columbia Machine and Topwerk America. Their concrete admixture counterparts, on the other hand, were less visible in Las Vegas than New Orleans: Euclid Chemical, MBCC Group and Mapei venturing to World of Concrete, GCP and Sika opting out.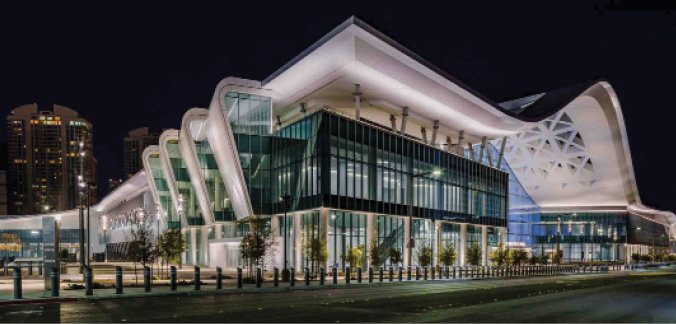 Class 8 truck manufacturers anchoring the West Hall were International, Kenworth, Mack and Peterbilt, each displaying at least one concrete mixer. Mixer body builders did not exhibit, although Beck Industrial, Con-Tech Mfg. and McNeilus Cos. furnished upward of 10 models for display. The McNeilus collection included a Mack Granite-mounted Bridgemaster donated for the Concrete Industry Management Auction, preliminary figures from which showed gross proceeds hovering $1.175 million. In contrast to conventional mixer peers, Bay-Lynx, Cemen Tech, ProAll and Zimmerman Industries made a good showing of volumetric equipment.
The West Hall also brought contrasts in participation among major concrete paving or placing and earth moving equipment players. Gomaco, Power Curbers, Somero, and Putzmeister America, along with Case and Doosan Infrastructure were in, albeit with smaller than normal booths; Caterpillar, Deere, Wirtgen and Schwing America were out.
Informa Markets is gearing up for a return to the normal schedule next year: World of Concrete 2022 runs January 17-20 at the Las Vegas Convention Center.