The Covid-19 pandemic did not dampen workforce drug testing positivity for marijuana, which continued to increase last year in the general U.S. workforce, according to a new Quest Diagnostics analysis. Based on 7 million-plus urine drug tests collected between January and December 2020, the overall rate was down only slightly in 2020, 4.4 percent, versus 2019, whose 4.5 percent level marked a 16-year high.
Positivity in the federally mandated, safety-sensitive workforce based on more than 2 million urine drug tests declined 8.3 percent (2.4 percent in 2019 versus 2.2 percent in 2020) but was still 10 percent higher than the 2016 rate. In the general U.S. workforce, positivity increased 3.8 percent (5.3 percent in 2019 versus 5.5 percent in 2020) and was 12.2 percent higher than in 2016.
As positivity for most drug categories other than marijuana declined or remained flat in the combined U.S. workforce over the past five years, amphetamines persisted at 1.1 percent positive each year. Quest Diagnostics Drug Testing Index findings were unveiled to coincide with the National Drug & Alcohol Screening Association 2021 Annual Conference in St. Louis, Mo.
"Driven largely by surging rates of marijuana general U.S. workforce positives and steady rates of amphetamines positives, the rate of drug positivity remained stubbornly high despite seismic shifts to the workplace caused by the Covid-19 pandemic," says Quest Diagnostics Senior Director of Science and Technology Barry Sample, Ph.D. "However, as we see upticks in hiring and many employees returning to the workplace, it is important that employers consider workforce drug testing as a way to keep the workplace, their customers and the community safe."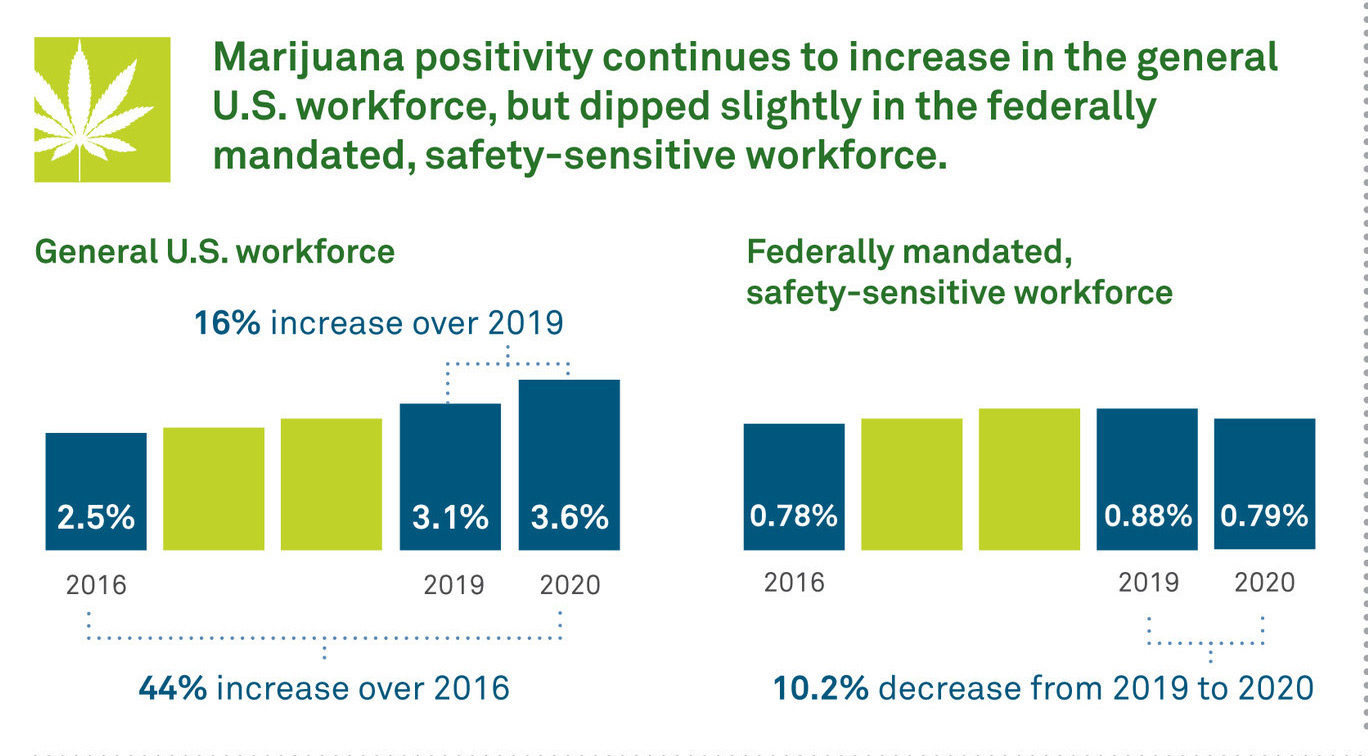 "Impairment, whether it be by drugs, alcohol, fatigue or stress, decreases the safety of the workforce," adds National Safety Council Senior Director of Impairment Practice Jenny Burke. "The Drug Testing Index results, reflecting decreases in many drug categories, occurred in a unique year. Even though these are down, we must continue to educate people about the impairing impacts of these substances. And, as states and the federal government consider changes to the legality of marijuana, we can't take for granted that they also understand the impairing impact of THC. The safety of people who share the roadways and workplaces with impaired people needs to be a priority."
The Drug Testing Index is a series of reports that provide insights into trends in workforce drug use based on positivity rates of de-identified laboratory tests performed by Quest Diagnostics for a range of illicit, legal and prescription drugs. The strengths of the DTI analysis include its large, nationally representative sample size, longitudinal monitoring, a testing population that is generally reflective of the U.S. workforce, and the quality of the company's drug testing services to confirm positive results. Limitations include analysis only of employers that perform drug testing with the company, and a lack of exact cross-specimen comparisons due to variations in substances for which employers test. Additionally, Covid-19 and regulatory changes may have also impacted hiring and the way in which employers tested. Within the federally mandated safety-sensitive workforce, for example, the percentage of specimens tested for pre-employment purposes in 2020 declined while those for random tests increased.
Marijuana continued double-digit year-over-year increases in the general U.S. workforce. States with only medical marijuana use or no form of legalized marijuana use logged lower positivity rates than those with legalized recreational statutes. Marijuana positivity surged ahead in 2020 in the U.S. general workforce and across specimen types (urine, oral fluid, and hair). In states with legal recreational use statutes, the positivity rate spike 118.2 percent from 2012-2020 (2.2 percent in 2012 versus 4.8 percent in 2020). In states with only medical marijuana and no medical or recreational consumption statutes, the positivity rates respectively climbed 68.4 percent and 57.9 percent over the same period. "Our data suggest that marijuana positivity has increased sharply nationwide since states began to legalize marijuana in 2012. It appears that states where medical marijuana use alone is legal are not experiencing much higher rates of increase than states where neither medical nor recreational use is legal," Dr. Sample observes. — Quest Diagnostics, Secaucus, N.J., www.QuestDiagnostics.com/DTI