Speakers at the 67th annual Texas Aggregates & Concrete Association meeting, staged last month in San Antonio, offered 450-plus attendees a sampling of production, economic and demographic data well worth the price of admission.
Martin Marietta Materials West Region President and 2021 National Ready Mixed Concrete Association Chairman Abbott Lawrence reflected on Texas producers' delivery of 61.8 million yards of ready mixed in 2020, compared to the 37.8 million yards their peers in California, which finished the year number two in output among states. He also noted how the Lone Star State is home to four of the top 20 markets of highest aggregates demand—Austin, Dallas, Houston and San Antonio—and how in 2019 it led the U.S. in road and highway expenditures, ahead of New York and California.
Jon Hockenyos, president of economic analysis and public policy consultant TXP Inc., told the gathering of concrete, aggregate, cement and allied industry interests that while Texas and the U.S. are close to resuming normal activity, "A full recovery has yet to occur. However, in the months to come, I believe we are looking at a new version of the 'roaring '20s,' due to low interest rates, pent-up demand for travel and social experiences, and a lot of stimulus money being pumped into the economy."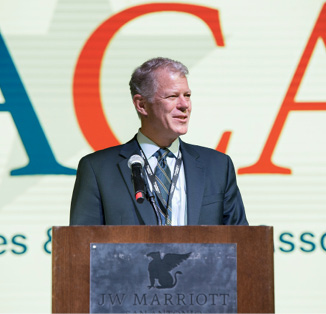 Texas' dramatic growth—the state is 8.9 percent of the U.S. population and accounted for 32.4 percent of net 2020 population increases—has spurred huge demand for housing, industrial and warehouse construction, he observed, adding that slower demand for office, lodging, entertainment and medical facilities reflects societal changes during the Covid-19 pandemic. Hockenyos predicts a rise in public spending in the next few years, but warns of factors that may hamper the industry: Demand for materials outstripping supply chains; rising materials prices; servicing the national debt in the long-term; and, inflation in the near-term. "When inflation starts to warp your business decisions, we know it is a problem," he affirms.
National Stone, Sand & Gravel President Michael Johnson expressed optimism for Congress passing infrastructure legislation this year, but cautioned that when investment arrives, regulations "that are not built on sound science" could make it more difficult to access aggregates and produce building and paving materials. He also cited policies that drive aggregates and cement operations farther from population areas as counterproductive to growth.