Masonry Madness at World of Concrete 2021 offered Best Block a prime venue to show the speed and productivity of building with its 32-in. Large Format Masonry (LFM) and the Material Unit Lift Enhancer, best known as the MULE. The Atlanta-based producer recently unveiled the LFM series in scored structural gray and architectural face textures, delivering "a striking aesthetic that retains the performance characteristics, and advantageous pricing of traditional masonry." 
Best Block and Construction Robotics, central New York developer of the MULE and its brick-handling twin SAM (Semi-Autonomous Mason) machine, scheduled a demonstration in the Las Vegas Convention Center Silver Lot, adjacent to the stage for the Masonry Madness centerpiece: the Spec Mix Bricklayer 500. With pallets of Best Block 8 x 32 CMU at their disposal, a team from Construction Robotics and Florida dealer South East Rigging Inc. put a MULE ML50 to work. Comparing their robotics solution to traditional manual handling, South East Rigging and peers are promoting the MULE's capacity to double the number of LFM or comparably sized units a mason can set in a typical day. Compounding that productivity metric is the significantly higher wall square footage finished when working with concrete block double the length of normal 8 x 16 CMU.
The Best Block-MULE demonstration and Bricklayer 500, coupled with a North Hall Masonry pavilion booth for its flagship packaged materials business, netted Atlanta-based Quikrete Cos. the strongest presence among World of Concrete 2021 exhibitors.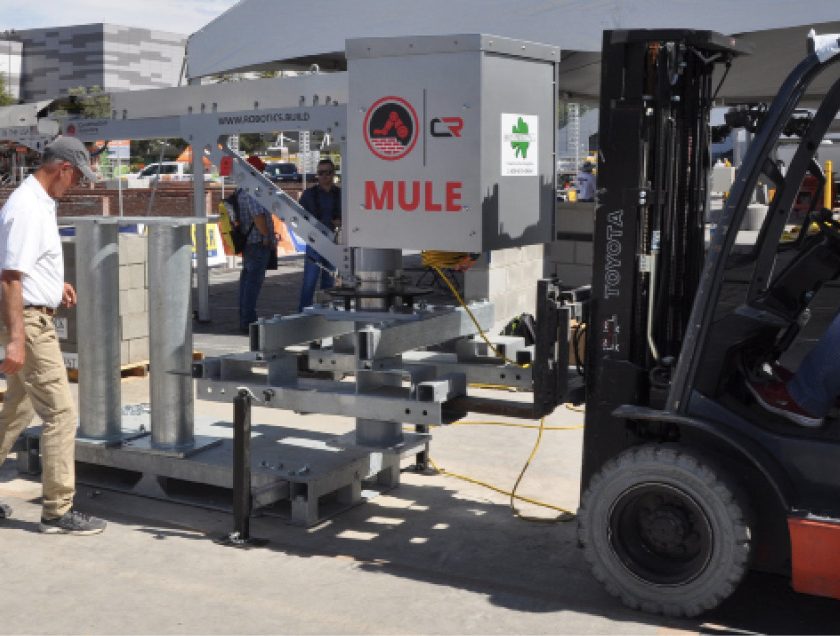 MARKET ROLLOUT
All Best Block locations will have the capability to produce LFM in gray and architectural profiles. The producer is balancing 8 x 32 CMU awareness efforts with production capability, and preparing to serve customers coast to coast as larger block or veneer stone units and handling devices like the MULE are adopted. Florida contractors have shown particular interest in LFM, prompting Best Block and Construction Robotics to plan a multi-city road show modeled on last month's Masonry Madness demonstration.
Best Block officials believe larger block and MULE deployment are good for masons. They see the LFM and semi-automated handling equipment as "innovations that can make a tough but rewarding profession a bit easier with less physical strain. Efforts to improve masons' working conditions are essential to attracting the next generation of craftsman to this industry."
While results and expectations vary from region to region, Construction Robotics notes MULE users logging two- to three-fold productivity gains on wall work measured against manual handling methods for 32-in. CMU or larger cast stone veneer elements. The device is best on long runs and high walls found on warehouses, schools, prisons, parking garages, dormitories, stairwells, and elevator shafts. Construction Robotics underscores the human capital aspect of the MULE: Fewer masons are required to attain the same production levels, and crews feel better at the end of the day, resulting in less stress, strain and injury.
"Using the MULE, masons can lay block at the same rate all day long because they are not fatigued. It's the classic 'Tortoise and the Hare' story," the manufacturer observes. "At the end of a project, the productivity increases exponentially even if it doesn't appear or feel to be faster with the MULE than by hand. With larger units like a 75-lb. 8 x 8 x 32 block, which are typically a two-person lift, users not only double wall square footage by laying 32 inches versus 16 inches each lift, they also double production per man because MULE allows a single crew member to handle that 75-lb. unit weightlessly all day long." — Construction Robotics, Victor, N.Y., 585/742-2004; www.construction-robotics.com, www.robotics.build