Sources: Pikus 3D, LLC, Salt Lake City; CP staff
A key player of commercial construction-grade 3D concrete printing technology reports significant investments from top practitioners Baker Concrete Inc. and Lithko Contracting LLC, based respectively in Monroe and West Chester, Ohio.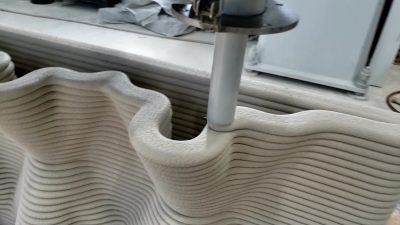 "Being able to collaborate with these industry leaders will allow us to continue to transform concrete construction through speed of design, creativity, and the ability to alleviate skilled labor constraints," says Pikus 3D Managing Partner Rob Pikus. Over the past three years, his company has raised 3D concrete printing capabilities through a partnership with Sika AG, the Swiss parent of New Jersey-based Sika Corp.
"Pikus 3D is at the forefront of the industry," adds Dan Baker, who has grown his eponymous business into top concrete contractor, with a payroll of 5,500-plus across offices in the U.S., Canada and Caribbean. "For over 50 years, Baker has invested in innovative products and new technologies that allow us to build better structures and continue supporting our coworkers and customers."
Pikus 3D's second new investor is a full-service operator performing conventional cast-in-place or tilt up wall, structural frame, slab, super flat floor and foundation work. Lithko Contracting has 4,000-plus team members serving more than 550 clients across 20 geographic regions.
Related articles
Sika ramps up support for premier 3D printing system adopter
Sika, celebrity architect BIG team on 3D printing demonstration