Sources: Momentum Fuel Technologies, Roanoke, Texas; CP staff
Momentum Fuel Technologies' small diameter, side-mounted compressed natural gas tank, available in 32 or 55 diesel gallon equivalent (DGE) models, debuted earlier this month at the Las Vegas Convention Center on a Peterbilt 367-mounted Con-Tech Mfg. BridgeKing mixer. The truck is bound for the Los Angeles fleet of National Ready Mixed Concrete Co. (National Ready-Mix) after anchoring Peterbilt Motors' World of Concrete 2021 exhibit.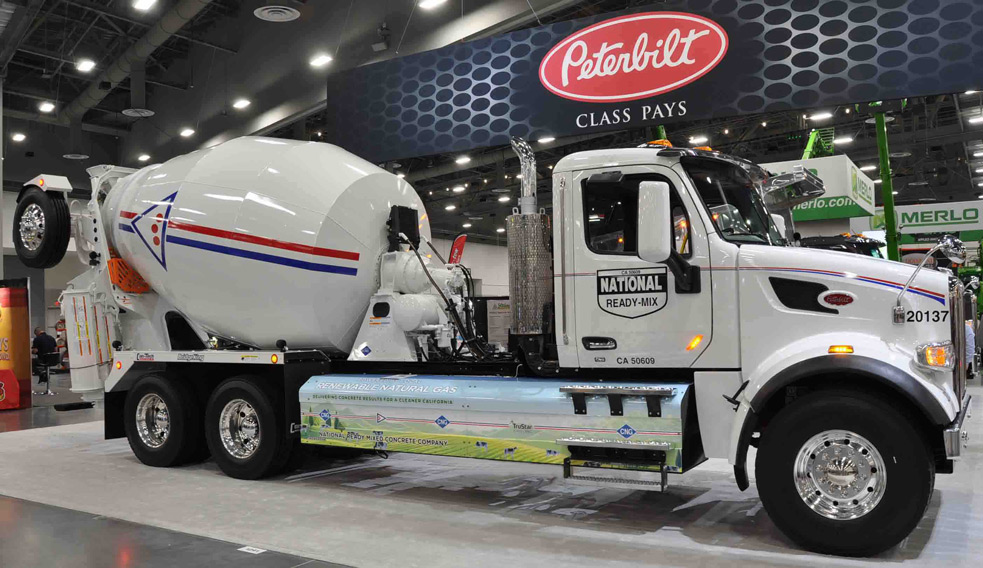 The fuel system is integrated on the frame rail of the 367 or other Class 8 vocational workhorses, providing up to 18 inches of ground clearance while offering DGE capacity comparable to larger diameter tanks. It was designed and built on Momentum's existing platform, with the same components, plumbing, mounting arms, torsion beams for protection and color-coded fuel lines for safety. Neck-mounted CNG tanks are manufactured by Luxfer, the world's largest manufacturer of high-pressure composite and aluminum cylinders. To elevate safety and cylinder protection, the fuel system includes an alloy steel end plate and multiple aluminum extrusions.
"Many of our technological features focus on driver confidence, and now with the higher clearance of our new side-mount system, mixer customers can consider CNG trucks more than ever before. Further, we offer a streamlined installation process with our partner Custom Vehicle Solutions, for added customer convenience," says Momentum General Manager Mike Zimmerman. — www.momentumfueltech.com
Related article