Consistent with an executive transition plan outlined last year, Besser Co. has appointed Ryan Suszek successor to Chief Executive Officer Kevin Curtis, who retires after 43 years with the concrete products machinery and plant equipment mainstay. Suszek was named president in 2019 following a 14-year tour of duty leading to the vice president of Pipe and Precast post, and becomes the sixth CEO in Besser's 117-year history.
"I'd like to thank Ryan and the Board members for their time and patience as we evaluated our succession plans," says Curtis. "No one prepares you for just how difficult it is to entrust a business that has been a piece of your heart for 43 years. I was fortunate enough to have found someone who closely matches my passion for Besser as a whole—the industry, the customers, and unquestionably the employees." Suszek has grown within the company in a grassroots, hands-on approach, he adds, working with nearly every department and function as well as customers throughout the world to establish a complete understanding of the business.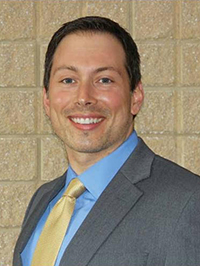 "The concrete products industry provides countless opportunities for collaboration and growth," Suszek affirms. "It's an honor to lead the team as we drive Besser Company forward."
Separately, the Besser Co. Board of Directors recently approved the promotion of Jason Rensberry to chief financial officer, with continuing duties as ESOP Administration Committee chair and Benefits Committee member. Rensberry is a third-generation family member to join Besser at Alpena, Mich. headquarters, following his grandfather, a millwright, and father, a purchasing manager.
Jason Rensberry earned a bachelor's degree in Production Operations Management from Central Michigan University and was rehired by Besser two years later on a contract basis. He worked in the Warranty and Claims department while also assisting the company to achieve ISO 9000 certification. In 2000, he was hired full-time as a technical assistant for accounts payable, followed by a series of promotions in accounting and operations, culminating with a 2020 appointment as treasurer.
Texas-based CR Minerals LLC has entered an extended agreement to supply natural pozzolan as a source feed for an ASTM C595 Type IP cement finished at the GCC Tijeras mill near Albuquerque, N.M. The GCC product has demonstrated capacity to mitigate against chemical attack on concrete, augmenting structures' service life, and holds New Mexico Department of Transportation and Texas Department of Transportation approvals.
"This agreement is further testament to our company's continued growth in pozzolans and will provide a great long-term solution to the shortage of quality fly ash for the construction industry in New Mexico and northwest Texas," says CR Minerals President Jeffrey Whidden.
"Blended cements are a strategic priority as we look to the future," adds GCC U.S. Division President Ron Henley. "Securing a long-term source of natural pozzolan material helps provide our customers with a product that eliminates the concern over dwindling fly ash supply. It also enables GCC to reduce our carbon footprint with a more environmentally-friendly product."
On the heels of regulatory approvals in Brazil, Canada and the U.S., Votorantim Cimentos and Caisse de dépôt et placement du Québec (CDPQ), the parent companies of St Marys Cement and McInnis Cement, have completed a transaction to combine cement operations in North America. Votorantim Cimentos International, the global investments platform of São Paulo-based Votorantim Cimentos, will hold 83 percent and CDPQ, a McInnis Holding Limited Partnership shareholder, will indirectly hold 17 percent of the shares. The business combination is expected to significantly strengthen the strategic positioning of the combined operations through increased cement production capacity, operational efficiencies and an enhanced distribution network.
The Votorantim Cimentos assets encompass cement plants in Bowmanville and St Marys, Ontario, Detroit and Charlevoix, Mich., and, Dixon, Ill., along with an extensive Great Lakes distribution network. McInnis Cement assets include its Port-Daniel–Gascons plant in eastern Quebec, plus terminals located in Quebec, Ontario, New Brunswick and Nova Scotia in Canada and the Northeastern U.S.
Toyota Material Handling has completed the 750,000th forklift to roll off the line at its 1.5 million-sq.-ft. factory in Columbus, Ind. The company launched forklift operations in North America in 1990—the Columbus footprint one-sixth its present size—and by 2015 had produced 500,000 machines. The facility was the first plant to manufacture Toyota Forklifts outside of Japan. By 2002, Toyota MH had earned industry-leading status and maintains that leadership role in the North American market. The Columbus operation has the capability to manufacture a wide range of equipment, including internal combustion cushion tire and pneumatic tire lift truck models, for a variety of material handling environments.
American Highway, Fernley, Nev.-based supplier of wire mesh, dowel and tie bars plus related welded assemblies, curing compounds and other accessories for concrete pavement, has acquired Highway Materials LLC of Becker, Minn. The full-service manufacturer, fabricator and distributor was founded in 2014 by Mark Brinkman and Jake Steinberg, who will remain with the business and focus on developing Upper Midwest market share.
"The acquisition of Highway Materials accelerates our strategic growth plan by adding manufacturing capacity and industry expertise," says American Highway CEO Ron Meskis. "As members of the sales and management team, Mark and Jake will use their long-term relationships with dealers, contractors, and key vendors to position the company for future growth, expanding our business in the infrastructure market." The company's dedication to continuous improvement and innovation, he adds, allows team members to deliver enhanced customer support, and offers customers quality products that increase pavement service life.