Sources: National Ready Mixed Concrete Association, Alexandria, Va.; Portland Cement Association, Washington, D.C.; CP staff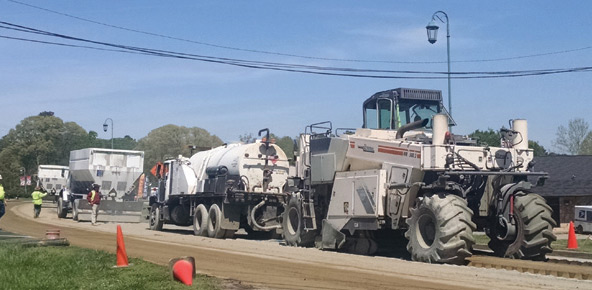 The National Ready Mixed Concrete Association credits a prospective fleet utilization opportunity for members to the Illinois Department of Transportation's adoption of a Full-Depth Reclamation specification allowing mixer truck delivery of cement slurry. A rapidly growing practice among pavement engineers, FDR entails blending of cement slurry with asphalt surface, base, subbase and subgrade materials to create a new stabilized base layer for concrete or asphalt pavements.
IRMCA Assistant Executive Director Theron Tobolski and IDOT Engineer of Concrete & Soils James Krstulovich, P.E. led a task force whose three-plus years of work netted the "Special Provision for Full-Depth Reclamation (FDR) With Cement or Cement Slurry" spec. Assisting them were NRMCA Vice President, Local Paving Don Klem, along with ready mixed concrete, cement and construction company plus Portland Cement Association representatives.