Founded nearly 40 years ago as a designer and producer of concrete hog feeders, Ontario-based Stubbe's Precast has been a mainstay in commercial and residential construction markets for the last two decades. The producer has enjoyed continuous growth in the industry, leveraging innovation to diversify and expand its portfolio to offer total precast structures.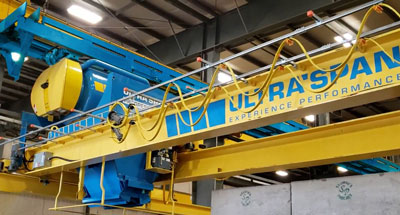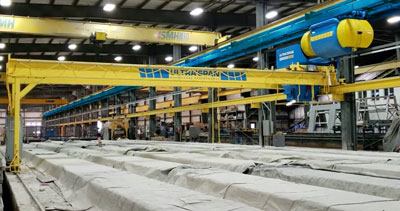 Stubbe's marked its success recently by building an award-winning, three-story precast headquarters office (Concrete Products, April 2019 cover story) adjacent to an advanced, 206,000-sq.-ft enclosed production facility. By 2020, the producer had emerged as a key player in North American precast production, realizing record demand from a growing list of accounts. To maintain a high level of customer satisfaction, management determined the need to maximize production throughput.
Stubbe's worked with concrete mix delivery specialist UltraSpan Technologies to improve existing operations. "Our process always starts by listening to the producer's goals, and then developing quantifiable solutions, ensuring we can deliver the highest ROI to the customer, within their budget," says UltraSpan CEO Alain Valdes.
Upon an in-depth production line review, Stubbe's and UltraSpan determined that the concrete delivery process had the biggest value leaks with the largest potential for efficiency gains. Many peer operators likewise have to deal with this often-overlooked process, which can lead to huge disruptions in throughput, quality, efficiency, and safety. Precast plant crews typically transfer concrete loads from the mixer to a bucket, to forklift truck to overhead crane, then point of placement. The method hinders the smooth and efficient delivery of concrete to the casting area, while impacting output and overall safety.
Through the use of a decision matrix, Stubbe's was able to select a solution that would streamline its concrete delivery process—maximizing casting speed and labor utilization.
Working with UltraSpan, the producer was able to implement a solution addressing safety and productivity goals. The fully automated solution includes a flying bucket to deliver concrete mixes from the batch plant to the appropriate production location followed by a line distributor, which in turn relays mixes to the final casting area.
"This machine literally flies over the production floor delivering concrete mixes where they are needed," the producer notes. "Instead of the traditional forklift method, this machine has enabled us to increase production, breaking square foot records ever since it was installed. What's more, it reduces traffic for less congestion which is safer for the workers on the floor." — UltraSpan Technologies Inc., Winnipeg, Manitoba, 204/992-3271; www.ultraspan.ca