Cary Kopczynski, principal of an eponymous engineering firm with Chicago and Seattle offices, has been elected American Concrete Institute president for 2021-22, succeeding Minneapolis attorney and (pre-AECOM) Ellerbe Associates veteran Jeffrey Coleman. A recognized expert in reinforced concrete and post-tensioned concrete building design, Kopczynski has served on the ACI Foundation Board of Trustees and ACI Board's Financial Advisory Committee, and is longtime member of Committee 318, Structural Concrete Building Code.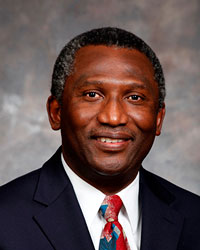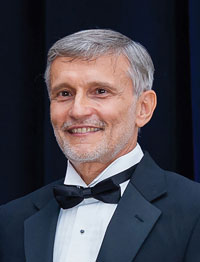 Joining him as 2021-22 officers are University of Miami (Fla.) Department of Civil, Architectural, and Environmental Engineering Chair Antonio Nanni, vice president, and Master Builders Solutions' Charles Nmai, senior vice president. In addition, ACI has elected four members to three-year board terms: Michael Brown, FACI, senior engineering manager and senior technical principal in the Herndon, Va. office of WSP USA Inc.; Anthony DeCarlo Jr., chief operations officer of TWC Concrete LLC, a Cincinnati-based subsidiary of Baker Construction Enterprises; John Gajda, FACI, principal and co-founder of MJ2 Consulting PLLC, Cedar Park, Texas; and, Kamal Khayat, FACI, Vernon and Maralee Jones Professor of Civil Engineering at Missouri S&T University, Rolla.
---
Also from the ACI Concrete Convention … Euclid Admixture Canada Inc. President Claude Bédard was presented the Jean-Claude Roumain Innovation in Concrete Award, recognizing his lifelong contribution to innovative concrete applications. Established in 2010 in memory of a long-time ACI committee member and Holcim (US) Inc. veteran, the Innovation Award recognizes individuals who have made contributions to the improvement of processed or manufactured materials used in concrete production. Recipients are individuals whose work reveals innovative ways to use new and existing materials, improves concrete construction and serviceability, and contributes to a sustainable built environment.
Bédard has been an active participant and contributor to ACI and the industry for nearly 40 years. He currently serves as a member of the Self-Consolidating Concrete Committee and the Concrete Research Council. He has previously served as a member of the ACI Board of Direction, Canadian Standards Association and Standards Council of Canada.
---
Randal Beard, P.E. principal and managing director of Diagnostics at Walter P. Moore, was named ACI Fellow during the Institute's 2021 Concrete Convention. According to ACI, a Fellow is an individual who has made "outstanding contributions to the production or use of concrete materials, products, and structures in the areas of education, research, development, design, construction, or management."
"Randy Beard has long been a resource, mentor, and devoted leader in our concrete restoration practice," says WP Moore Executive Director of Diagnostics Gabriel Jimenez. "Among the many accolades, awards, and industry activities of his nearly 40-year career, this achievement will stand out. We feel no one is more deserving than Randy."
---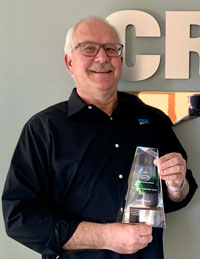 Concrete Reinforcing Steel Institute Midwest Region Manager David Shepherd, AIA, has received the ACI Concrete Sustainability Award, recognizing his "exemplary achievement, groundbreaking research, and service to ACI and the concrete industry." A licensed architect who joined CRSI in 2019, he is responsible for promoting the benefits of reinforced concrete to project principals throughout the Midwest. His 35-year-plus construction industry tenure includes nearly 20 years at Portland Cement Association, where he served as director of Sustainable Development and Residential Technology program manager. Prior to PCA, he worked for a commercial general contractor, served as construction manager for a leading real estate investment/management company, and operated a residential design/build business.
---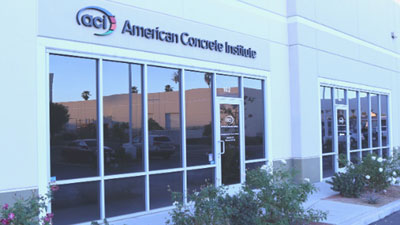 Separately, in a key expansion outside Farmington Hills, Mich. headquarters, the ACI Resource Center opens this month in San Bernardino, Calif. Newly appointed Resource Center Manager Sarah Mauri will lead regularly scheduled and on-demand certification programs, educational seminars, and hands-on training. A former examiner for several ACI certification programs, she brings extensive experience in testing of construction materials in the laboratory and field. Prior to ACI, she served as a lead inspector and auditor with the ASTM International Cement and Concrete Reference Laboratory, with knowledge related to fresh and hardened concrete, concrete aggregates, cementitious materials, plus grouts and masonry testing. Mauri holds numerous ACI certifications and is a member of both the ACI San Diego and Southern California chapters.
"As regional demand for access to ACI offerings such as certification, education, and hands-on training continues to grow in Southern California, the ACI Resource Center will serve as a place for the trades, engineers, contractors, and designers to advance their concrete knowledge," says ACI Executive Vice President Ronald Burg, P.E. "With Sarah's vast experience as an inspector and familiarity in administering certification programs, we are pleased to have her on board delivering ACI knowledge
Nearly 70 events are scheduled through the end of 2021 at the ACI Resource Center – Southern California, including certification programs, educational seminars, and hands-on training. Additional facility programming details will be posted at www.concrete.org/socalresourcecenter.