Black Buffalo 3D Corp., a global provider of large scale, building-grade printers and proprietary cement-based ink, has worked with the International Code Council Evaluation Service in Itasca, Ill., to expand criteria in the ICC-ES AC509 – 3D Automated Construction Technology for 3D Concrete Walls report from single- to multi-story building.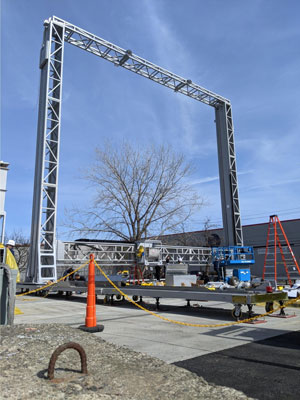 Operating until recently as Hyundai BS&C Co. Ltd., New York-based Black Buffalo 3D aims to increase awareness, efficiency and utility of additive manufacturing in construction. It continues to invest in printers and material science, intent on becoming the first to meet ICC-ES AC509 criteria. With printers developed by sister company Hisys, based in South Korea, its latest model is capable of printing up to four-story buildings.
"We want to build trust and prove the safety of our technology in a way that no other 3D construction printing company has done before," says Product Specialist Jenn Christman. "Black Buffalo 3D was created to increase acceptance of printing in the construction industry, revolutionize traditional building techniques, and showcase the potential of large scale printing." The latter concept has the potential to help governments, businesses and non-governmental organizations address a number of infrastructure or affordable housing needs and speed disaster recovery efforts, she adds.
ICC-ES is a nonprofit, limited liability company that performs technical evaluations of building products, components, methods, and materials. Agencies use evaluation reports to help determine code compliance and enforce building regulations. Manufacturers or suppliers use reports as evidence that their equipment, products and materials meet code requirements and warrant regulatory approval. — Black Buffalo 3D Corp., U.S. affiliate of HN Inc. co. Ltd., www.blackbuffalo.io
---
PRINTING TECHNOLOGY PRIMER FOR BUILDINGS
The Ohio University Russ College of Engineering and Technology presents concrete methods in "3D Printed Buildings Guide: Required Materials, Tips, and Resources" as part of a Master of Science in Civil Engineering degree overview, posted under Engineering & Technology Degrees at https://onlinemasters.ohio.edu. The guide provides an overview of 3D-printed buildings; project scheduling and labor-saving advantages; challenges for adoption of the casting/fabrication method; and, construction-grade printing materials.
"3D printing technology has had a revolutionary impact on enterprises around the world. It enables businesses to quickly develop models and prototypes, expediting their ability to test and fine-tune new products. It also makes it easy and affordable to manufacture pieces and components that keep important machinery working as intended," guide authors explain. "One of the most exciting applications of 3D printing technology is in the construction industry, where it being used to construct entire homes, office buildings, and other structures. 3D-printed buildings can span thousands of square feet and multiple stories, and they can be made with lower costs and less waste than traditionally constructed buildings. [They] represent one of the most significant construction and design trends for civil engineers."
Authors describe the basic process flow: 3D printing employs large-scale machinery into which an engineer inputs floor plans and building designs, and operators feed concrete ink or other printable building material; a software-guided extendable arm, or nozzle, then applies the material or mix in thin layers; the entirety of the building or structure emerges according to the engineer's specifications, one layer at a time. Among benefits of 3D printing methods: Materials are consumed at exact volume requirements, free of waste, as printers can precisely follow blueprint dimensions and specs.