A California Nevada Cement Association (CNCA) roadmap envisions three major pathways for the industry to attain net zero carbon operation by 2045: reducing production process emissions, reducing combustion emissions through fuel switching, and increasing distributed electricity generation. With 11.8 million metric tons' clinker and 11.45 million metric tons' grinding capacity in California (per USGS 2017 data), CNCA members can reach the benchmark by offsetting 7.6 million metric tons of carbon dioxide emissions attributable to kiln and milling process.
Last month's release of the industry-wide document, notes Executive Director Tom Tietz, marked "an exciting and critical step toward carbon neutrality. However, we cannot get to net zero alone and this roadmap is also an invitation for state leaders, environmental groups and stakeholders throughout the cement-concrete-construction value chain to collaborate on pursuing this bold goal." Many of the technologies, fuels, materials and processes for dramatically reducing the industry's emissions footprint already exist, he adds, although statutory, regulatory and permitting hurdles, market acceptance barriers, cost challenges, plus supply limitations delay or constrain their deployment and limit their impact.
"We are committed to providing innovative and sustainable solutions including low-carbon cement and concrete that are critical to a low carbon future and circular economy," observes Allen Hamblen, president and CEO of CNCA member CalPortland Co. "We recognize there are no shortcuts to achieve carbon neutrality. We look forward to working with key policy and regulatory decision makers to urgently address barriers to emission reduction opportunities."
The roadmap details key strategies for each pathway, CNCA citing these as the most immediate, impactful:
Caltrans acceptance of Portland-Limestone Cement. PLC uses more limestone to reduce emissions up to 10 percent while maintaining the integrity and performance of traditional cement. Currently, 34 other state departments of transportation have adopted it for their projects, yet PLC is not yet accepted for Caltrans-specified construction. The agency is one of the state's largest consumers of cement; its approval of PLC would have broad impact and influence in many cities or counties, creating new markets for lower-carbon cement.
Investment in carbon capture, usage and storage. A promising and critical long-term technology, CCUS can offer a carbon capture rate upward of 90 percent of process and combustion emissions, but projects are extremely capital intensive and lengthy permitting processes add uncertainty. Innovation-supportive policies that spur public and private investment are needed for research and development as carbon neutrality will be out of reach for the California cement industry until cost-effective CCUS technology is commercially available.
Switching to lower emissions alternatives. Using engineered waste materials and biomass as cement kiln fuel would drive a substantial reduction in emissions while also diverting waste from landfills or incineration.
"We are committed to decarbonizing over the next 24 years using this roadmap as our guide," affirms Steve Wise, president of CNCA member National Cement of California. "The road to decarbonization can have exponential impact but can't be done by one company alone."
---
ROADMAP UNDERPINNINGS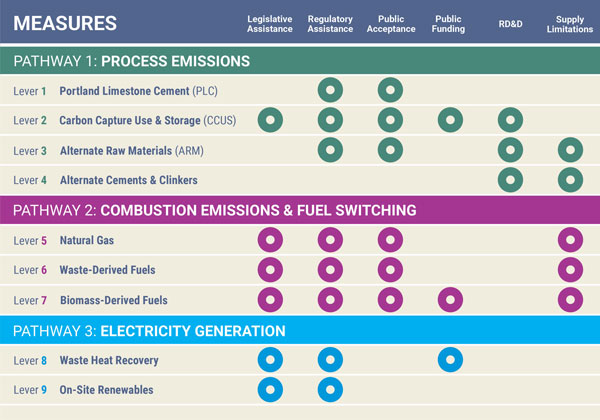 Three pathways, nine levers to California Nevada Cement Association member carbon neutrality
---
INVESTORS BACK CEMENT-GEARED ARTIFICIAL INTELLIGENCE SPECIALIST
A $24 million financing round will position Tel Aviv technology developer Seebo to enhance its Process-Based Artificial Intelligence solution for cement companies and material or product operators throughout industrial and consumer markets. Programmers have demonstrated the solution's potential to assist cement operators in reducing kiln feed variance and improving clinker quality; increasing kiln throughput; extending refractory service life; optimizing pyroprocessing temperatures, along with fuel and energy consumption; plus, lowering emissions and associated exhaust treatment costs.
"The increasingly complex business environment has pushed manufacturers to explore new ways to eliminate lingering inefficiencies in their production processes," says Seebo Co-Founder and CEO Lior Akavia. "These inefficiencies are responsible for significant production losses each year, but in many cases manufacturers didn't have the tools to find the root causes, as these were hidden deep within the complex manufacturing processes and data. That's why we've seen such an increase in demand for Process-Based Artificial Intelligence: this is precisely the problem we solve."
"Seebo is the only vendor providing a productized solution that is based on Artificial Intelligence across the full product line," adds Yanai Oron, general partner at funding round leader Vertex Ventures, a global investor with offices in Israel and Silicon Valley. "We have tripled our investment nine months after our initial investment, while observing up close how Seebo is saving process manufactures millions of dollars—and how they in return are happy to expand the solution to additional lines."