Sources: Concrete Industry Management National Steering Committee; CP staff
The Concrete Industry Management Auction will proceed June 9 at the Las Vegas Convention Center, enjoying a customary World of Concrete day two backdrop and surefire anchor: an 11-yd. Granite-mounted Bridgemaster, courtesy of Mack Trucks and McNeilus Truck & Manufacturing.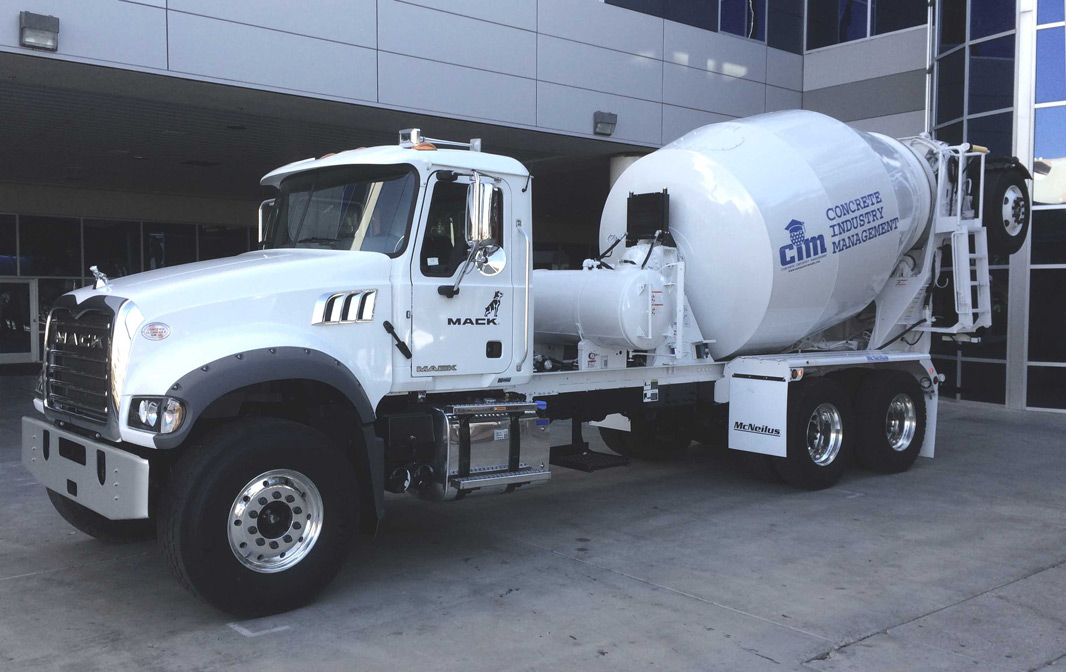 The donation speaks volumes to the manufacturers' commitment to the concrete industry and importance they place on CIM degree programs, notes Auction Committee Chairman Ben Robuck (Cemex USA), adding, "This mixer truck will help ensure a successful CIM Auction at the World of Concrete."
The 2021 Granite GR64FR bears a MP7-375C engine, with 375 hp @ 1360 lb.-ft. torque rating, and Mack mDRIVE HD 14 SP, Ultra-Low Creeper/ Multi-Speed Reverse (Overdrive) automated manual transmission. The Bridgemaster Mixer includes the McNeilus FLEX Controls package for key drum and truck functions; PMP PMB 7.1 straight drive; lightweight aluminum extension chutes; plus, cameras and sensors for blind spot monitoring on a single display.
"McNeilus is proud to continue our support of the CIM program and invest in future leaders that will advance the industry," says Vice President and General Manager Robert Monchamp. "We invest in technology to help push the industry forward. The CIM program mirrors our commitment to support our ever-changing concrete industry and gives graduates the skills to excel."
"Mack Trucks is proud to support the Concrete Industry Management program as it prepares the next generation of leaders in a critical market segment," adds Mack Construction Product Manager Tim Wrinkle. "CIM programs offer valuable insights to students, creating well-rounded leaders and workers in the concrete industry."
The CIM Auction is set for a late-morning start in Room W106 of the Las Vegas Convention Center's new West Hall. A full list of items is posted at www.concretedegree.com/auction. Companies, organizations and individuals interested in donating to the auction pool can contact Ben Robuck at 404/456-6867, [email protected].