New Industry-Wide Environment Product Declarations (IW-EPD) for Portland Cement, Portland-Limestone Cement, Blended Hydraulic Cement and Masonry Cement offer private and public construction interests an exhaustive profile of material, fuel and energy factors attending production of the key ingredient in concrete, grout and mortar. The documents inform updates to companion EPDs that ready mixed and manufactured concrete producers, along with bulk or packaged dry mix providers, offer for promotion, reference or contract compliance.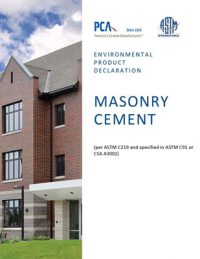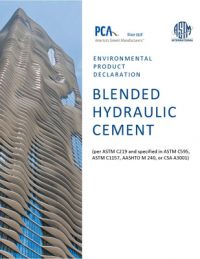 With oversight of publisher and EPD Program Operator ASTM International, the Portland Cement Association has prepared the IW-EPDs according to current Global Cement and Concrete Association and International Organization for Standardization guidelines. The new documents most notably reference the Product Category Rule for Preparing an Environmental Product Declaration for Portland, Blended Hydraulic, Masonry, Mortar, and Plastic (Stucco) Cements, V3.1, September 2020. The new IW-EPD embody material, fuel and energy data from 19 PCA producer members. Collectively, they offer representative operating metrics behind ASTM C150, C595 and C91 material processing and finishing: Portland Cement EPD (56 plants accounting for 64 percent of 2019 U.S. industry production); Portland-Limestone Cement EPD (15 plants, 50 percent of industry total); Blended Hydraulic Cement EPD (22 plants, 80 percent of industry total); and, Masonry Cement (32 plants, 46 percent of industry total).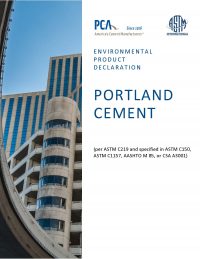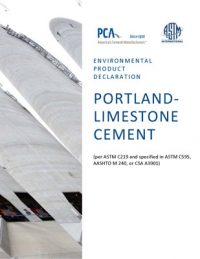 Valid March 2021-2026, the IW-EPDs demonstrate a continued reduction in greenhouse gas emissions (GHG) associated with U.S. cement and clinker production. Compared to figures in 2016 EPDs covering ASTM C150, C595 and C91 materials, GHG emissions for portland, blended and masonry cements decreased by 11.3 percent, 16.8 percent and 14.9 percent, respectively. The Portland-Limestone Cement EPD, premiering this year, presents GHG figures indicating the prospects for a blended cement, bearing 5-15 percent ground limestone, with carbon footprint 8.2 percent below that of portland cement.
"PCA and its members are committed to sustainability and driving down the carbon intensity of our operations," says PCA CEO Mike Ireland. "The development and reduction results of these EPDs show the industry's progress towards our climate ambition of becoming carbon neutral by 2050."
---
NRMCA: CONCRETE SUSTAINABILITY COUNCIL SYSTEM OPERATOR
The National Ready Mixed Concrete Association has joined the Concrete Sustainability Council (CSC) and become a Regional System Operator (RSO) for the U.S. marketplace. The CSC is the only industry-specific system that certifies the sustainability performance of concrete plants and their supply chains across the globe. Responsible material sourcing is an increasing priority in high-profile construction and public project procurement.
"The CSC has established a highly respected and internationally applicable responsible sourcing framework," says NRMCA President Michael Philipps. "Helping to extend the reach and use of CSC certification in the U.S. falls squarely in our wider mission of promoting concrete across the whole value chain. Additionally, bringing CSC adjacent to NRMCA's environmental product declaration (EPD) program continues to demonstrate our leadership and willingness to disclose the sustainability of concrete. Strength through Transparency."
"Encouraging uptake of certification and having best practices spread more widely through the concrete industry is a win-win toward demonstrating tangible sustainability improvements—for designers, developers, concrete producers and raw material suppliers," adds Executive Vice President of Promotion Strategy and Communications Gregg Lewis, AIA.
As an RSO, NRMCA will manage the CSC certification framework, governance and independent verifier network in the U.S. Developed in conjunction with social and environmental stakeholders, the CSC is the industry recognized authentication system, with more than 400 plants certified across 10 different countries. Short supply chains and local production enable concrete interests to demonstrate a high level of environmental, social and economic responsibility.
Architects, developers and contractors can be assured of socially and environmentally responsible practices through the concrete supply chain when specifying CSC-certified concrete. Internationally recognized sustainable project assessment methods credit design teams and their projects with points when CSC-certified concrete is specified and procured. The U.S. Green Building Council, moreover, recently launched a pilot credit on social equity in the supply chain and acknowledged the CSC as an approved program.