Sources: Doka GmbH, Austria; Doka USA Ltd., Little Ferry, N.J.; CP staff
An interactive sensor-based tool enabling accurate formwork positioning for cast-in-place concrete structures has earned an Innovation Award of Excellence from the Council on Tall Buildings and Urban Habitat (CTBUH), a Chicago-based organization serving professionals focused on high-rise design, construction and operation.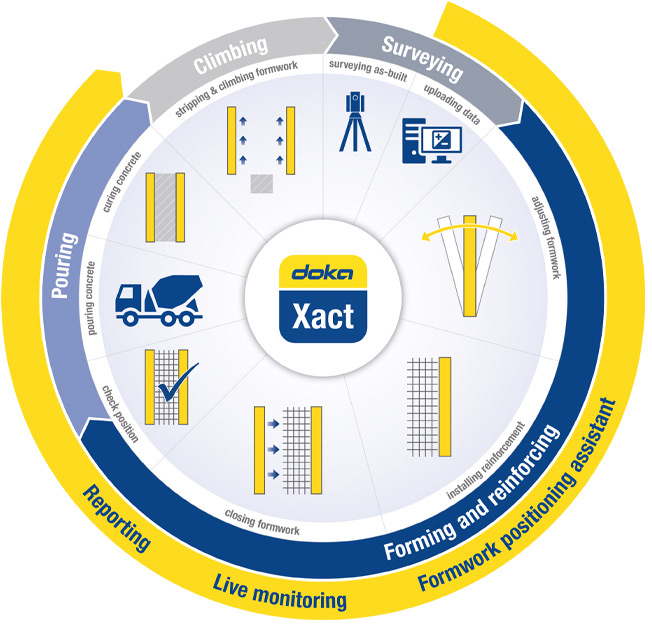 DokaXact equips surveyors and crews to quickly and precisely plumb and align wall formwork used with Doka climbing systems. Attaining ± 2mm placement accuracy, the system consists of multiple sensors attached to defined surveying points of the wall formwork, which communicate wirelessly with a centralized processing unit.
"DokaXact can help build high-rise cores, bridge piers and pylons more accurately in combination with faster forming times. The actual position of the formwork is known at all times of the working cycle—starting from the positioning of the formwork to installing the reinforcement, pouring and curing of concrete. DokaXact digitalizes the positioning and monitoring of the entire wall formwork by transforming the traditional survey method," says Business Developer DokaXact Dan Zvinca.
DokaXact provides a quality assurance tool to build more accurately, he adds. With the live monitoring function, potential formwork movements can be made visible at all phases, positioning to pouring. Site managers can observe their building tolerances 24/7 from anywhere, allowing preventative actions to be taken in order to avoid cost intensive, post-pour reworks. A DokaXact web portal affords site managers and surveying engineers a reporting, monitoring and analyzing platform to improve and optimize the routines and processes for the next cycle.
DokaXact took the Innovation Award of Excellence Tall Building category, one of 20 in an annual CTBHU program honoring top developments in technology, urban spaces, and construction methods. The system is a candidate for Overall Category Winner, to be announced during the CTBUH 2021 Tall + Urban Innovation Conference, May 18-20 by virtual presentation.