Sources: Owens Corning Infrastructure Solutions LLC, Toledo, Ohio; CP staff
Owens Corning Infrastructure Solutions (OCIS) has scheduled a mid-April dispatch for the first load of domestically produced Mateenbar Fiberglas Rebar, an Ohio Department of Transportation bridge site in Henry County the destination. OCIS is the exclusive North American distributor of the FRP product from Mateenbar USA's new 130,000-sq.-ft. plant in Concord, N.C. The facility fabricates the lightweight, corrosion resistant reinforcement in #2 to #10 bar sizes and 20- or 40-ft. lengths from Type 30 single-end roving fiberglass produced at an Owen Corning Composites plant in Amarillo, Texas. OCIS and Mateenbar USA will initially confine all bending or custom fabrication to the Concord plant.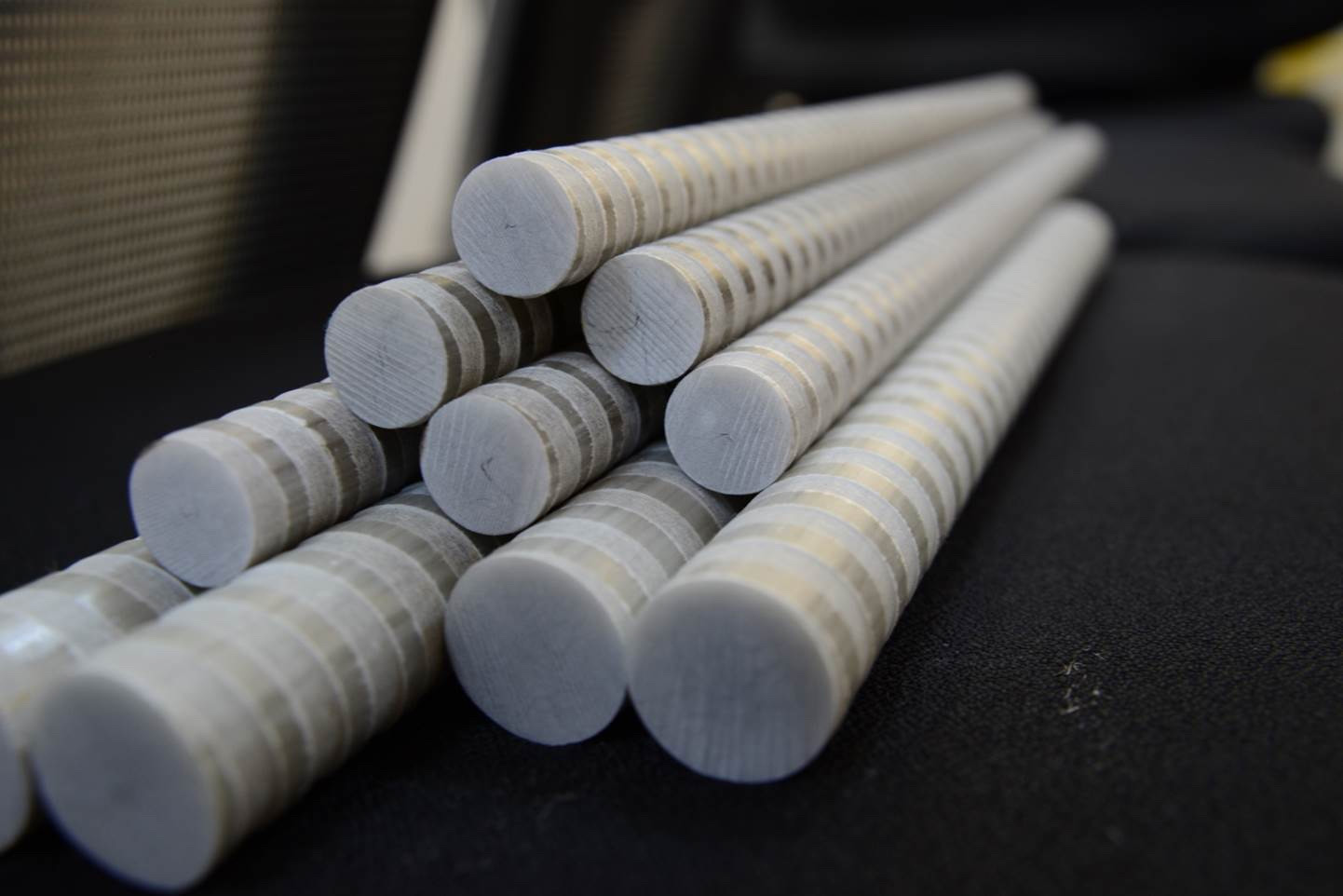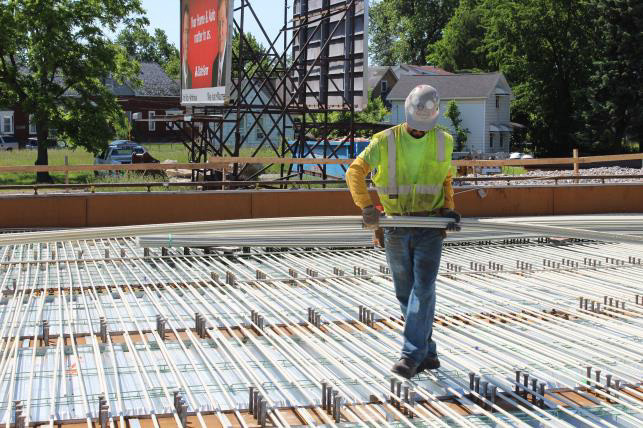 Domestic material and finished product sourcing dovetail many DOT candidate projects subject to Federal Highway Administration Buy America procurement guidelines. In addition to bridge decks and companion transportation structures, OCIS is promoting Mateenbar Fiberglas Rebar for marine and other heavy-civil applications where owners or agencies seek a conventional, epoxy coated or stainless steel bar alternative. In straight bar form, Mateenbar Fiberglas exhibits one-quarter the weight and twice the tensile strength of steel—metrics economizing a project's material delivery and iron worker labor costs.   
The Mateenbar product abides ASTM D7957, Standard Specification for Solid Round Glass Fiber Polymer Bars for Concrete Reinforcement, and suits a range of horizontal and vertical conditions per ACI 440.1R, Guide for the Design and Construction of Structural Concrete Reinforced with FRP Bars, and AASHTO LRFD Bridge Design Guide Specifications for GFRP. Mateenbar developer, New Zealand-based Pultron Composites, reports 1,500-plus projects across the world and product certification indicated in 2,500 independent, third-party tests. 
"Material conversion in infrastructure is central to the long-term growth of OCIS. Mateenbar has built a powerful global product leadership position and we are excited that our Type 30 single end roving fiberglass made in Texas will now be the reinforcement of choice for this product and enable the building of better structures," says OC Composites President Marcio Sandri. "Our high-quality products provide consistent and reliable performance to customers who have come to rely on our differentiated solutions."
"We are honored to work with OCIS to introduce a stronger, stiffer and more cost-effective product that extends [reinforced concrete] service life," adds Mateenbar USA CEO Nick Crofts. "OCIS has established itself as the leading global brand for sustainable rebar by enabling customers to switch from steel to fiberglass rebar with ease and confidence."
OCIS will leverage internal and external distribution channels for the Mateenbar Fiberglas Rebar. The product joins another FRP reinforcement, Pinkbar, that OCIS premiered at World of Concrete 2020 and sells through White Cap, Adelphia Metals and other distribution partners. — OCIS, 855/OC-Rebar; www.owenscorning.com/rebar