The Port of San Diego and ECOncrete Tech Ltd. have begun a three-year demonstration along Harbor Island to gauge interlocking Coastal Tide Pool Armor precast units' structural and marine species-friendly aspects. The eight-sided, 7,200-lb. Coastalock units appear as two pyramids connected at their bases; round block outs on multiple planes create holes for lifting hardware and, ultimately, habitat passageways.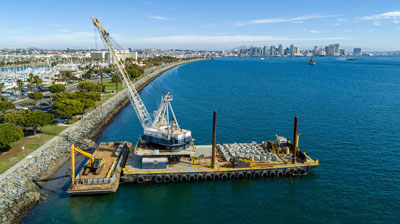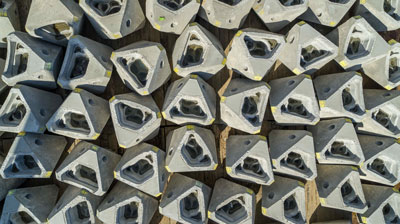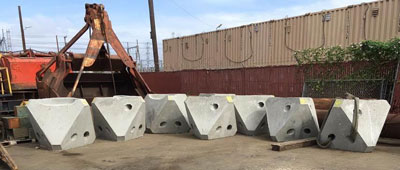 Additional block outs form cavities on one side of each unit to emulate natural rock formations typifying productive shorelines. Mix designs bear a proprietary ECOncrete admixture that promotes biocalcification and photosynthesis. Coastalock shape, rough surface characteristics and concrete composition enable coralline algae, oysters and tube worms to build up a calcium carbonate bioprotection layer to encrust and buffer what ECOncrete engineers dub "living weight and stability" and "hydrodynamic focus and chlorides."
Marine and dredging contractor R.E. Staite Engineering cast 72 Coastalock units at its Port of San Diego headquarters yard and deployed a barge-staged excavator to place them along a section of the Harbor Island riprap rock mound. The project is part of the Port's Blue Economy Incubator, a launching pad for sustainable aquaculture and technology ventures that provides early-stage entrepreneurs with key assets and support services. ECOncrete engineers will evaluate the tide pool units' viability as an ecological armoring replacement to boulders. Port officials consider the riprap protecting Harbor Island from storm flooding and erosion as offering very limited habitat value.
"Coastalock tide pool armor demonstrates an innovative approach that can be used for years to come for San Diego Bay. By mimicking natural rock pools with water retaining features, the project will sustain valuable marine life," says the Board of Port Commissioners' Rafael Castellanos. "Harbor Island is the first and only location in southern California for locals and visitors to see first-hand what kind of sea life takes residence in man-made tide pools."
"This Blue Economy pilot is proving that the coastal and marine construction industry can achieve two goals at once: Any concrete infrastructure going into the water can perform structurally and be good for ecosystems," adds Dr. Shimrit Perkol-Finkel, co-founder and chief executive officer of Tel Aviv-based ECOncrete. "Coastalock is a fully load bearing, durable solution that changes the form and function of our developed coastlines—making them stronger, able to store carbon, while rejuvenating precious ecosystems, and inviting the community to engage with their waterfront."