The National Ready Mixed Concrete Association has chartered a Small Producer Council, aimed at shaping the future of committee and staff work supporting the group's widest range of members. The SPC was formed to ensure participants have an opportunity to lead a conversation on their unique needs and consult peers on issues of most consequence to their businesses. James Schelzi of Woburn Redi Mix Concrete in Massachusetts will act as Council representative. Upcoming SPC meetings will cover networking, education, content distribution and business intelligence. NRMCA aims to grow a vital segment of its membership base and end 2021 with "a refreshed and targeted plan to best support our small business partners." SPC staff liaison is NRMCA Director, Membership Engagement Amanda Muller, [email protected].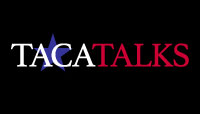 The Texas Aggregates & Concrete Association's new TACA Talks podcast will highlight industry news, best practices and candid discussions about the aggregate, concrete, cement and associated industries in the Lone Star State. Co-hosted by TACA CEO Josh Leftwich and Rick Kolster, Emerging Leaders Academy dean and Peak Performance Group founder, TACA Talks is hosted on Spreaker but available on all major podcast outlets, including iTunes, Spotify, iHeart, Google, Amazon Music and Castbox. Forthcoming podcasts will explore or feature current and proposed legislation and regulation; company owner and industry leader profiles; Texas economic development and growth; TACA strategic direction; plus, equipment advances and new technologies.
"I look forward to using TACA Talks as yet another tool to connect our members and help educate other audiences on the important work we do and on how the industry contributes to our high quality of life," says Leftwich. "The industry is essential to building the state's infrastructure and there are a lot of stories and issues surrounding this need. We aim to provide a platform to share that news and to have a robust discussion about the successes and challenges."
"The opportunity to connect with both industry professionals and the public on the value and mission of TACA will help change the face of the aggregate, concrete and cement industries in Texas," notes Kolster. Association producers are working hard to deliver the vast volumes required to satisfy the state's growing population, he adds: Compared to present consumption levels, Texas stands to require 1 million–3 million tons of cement, 15 million–50 million tons of aggregate and 3 million–15 million yd. of ready mixed concrete by the early 2030s.
Eriksson Software, a Tampa, Fla.-based specialist in programs for improving and automating the precast concrete design process, has joined AltusGroup as an Innovation Partner—alongside such companies as ALP Supply, JVI Inc., Lehigh White Cement, Master Builders Solutions and Owens Corning. It will collaborate with 16 leading North American precasters to provide enhanced software solutions for the design and evaluation of CarbonCast High Performance Insulated Wall Panels and CarbonCast Insulated Architectural Cladding, as well as other precast, prestressed elements.
"The software experts at Eriksson have worked closely with engineers and designers at AltusGroup companies to expedite the design and modeling of walls with CarbonCast technology," says AltusGroup Executive Director John Carson. "Eriksson calculations have been helpful in establishing engineering best practices for our products. It is only logical that we work even more closely to build on these successes and give our members increasingly powerful tools to design CarbonCast panels and enclosures."
The National Precast Concrete Association-and Precast/Prestressed Concrete Institute-aligned NPCA Foundation and PCI Foundation have each approved $60,000 grants for the New Jersey Institute of Technology's Concrete Industry Management program. Through close collaboration and industry partner input, the NJIT School of Engineering and Applied Technology will integrate three new required and three new
elective courses into the CIM program and School of Architecture. Approximately 300 students representing five majors will attend precast courses during their four-year degree pursuits, starting in the fall 2021 semester.
National Institute of Building Sciences President Lakisha Woods, CAE, has been re-elected to a three-year U.S. Green Building Council board of directors term and will serve as vice chair. "This is a great opportunity to represent the public interest to advance building science and technology to improve the built environment," she notes. "Healthy buildings lead to safer, more resilient and sustainable communities."
Dr. Aaron Bernstein, interim director with the Center for Climate, Health and the Global Environment at the Harvard University T.H. School of Public Health has been re-elected to the USGBC board and will serve as chair. Newly elected Council directors are Anyeley Hallová, founder of Adre; Dr. Ruth Thomas-Squance, director of Field Building at the Build Healthy Places Network; and, Dr. Marwa Zaatari of Dzine Partners. They join continuing board members: Global Infrastructure Solutions Managing Director Daniel McQuade and Slipstream Executive Vice President Karen Weigert.
Eastman Chemical Architectural Applications Technical Manager Julia Schimmelpenningh has been elected to a three-year ASTM International board term. A Society member since 1992, she chairs ASTM Committee E06 on Performance of Buildings, and has also chaired ASTM Committee F12 on Security Systems.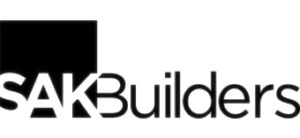 Seattle-based, full service concrete contractor SAK Builders, formerly SAK & Associates, has entered 2021 with a new name and look plus expanded team and offerings. In recent years, SAK has grown into one of the Pacific Northwest's largest concrete subcontractors and is now a Swinerton Inc. company, further reinforcing a strong general contracting background.
SAK is a signatory to Carpenters, Cement Masons, Laborers and Reinforcing Iron Workers unions. Its concrete expertise ranges from turnkey cast-in-place structures to stand-alone shotcrete, finishing, patching, steel reinforcing, and small projects delivered by specific teams with honed experience and skills. Services range from conceptual budgeting to finished construction, with design-build and design-assist, negotiated or hard bid pricing in between. Continuing work for clients in Washington, Oregon, Idaho, Montana, Alaska and Hawaii, the SAK team aims to expand services this year down the West Coast across the state of California.
"At SAK we've always had two simple principles guide us: Treating our clients and subcontractors fairly, and proactively adding value to the construction process," says President Sam Rilery. "We remain the same SAK today, with the same values and roots that have led to many great partnerships and projects across the Pacific Northwest, just with a renewed investment in our people and services to be able to continue to serve our valued partners and expand into new territories with them."
Hardesty & Hanover of New York has acquired Corven Engineering Inc., Tallahassee, Fla.-based specialist in the design, construction engineering, inspection, and rehabilitation of complex concrete bridges with special expertise in segmental and cable-stayed bridges. "Corven's proven credentials with complex bridges directly complement and enhance the services H&H offers across every market we serve," says H&H CEO Sean Bluni, P.E. "Corven's talented professionals are known for their focus on professionalism, excellence, teamwork, and client relationships. This aligns exactly with H&H core values."
---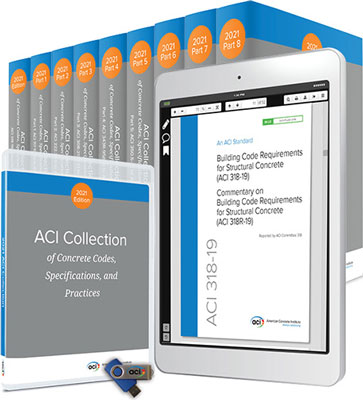 ACI LOADS 2021 CODES & STANDARDS COLLECTION
Available as an online subscription, a USB drive or nine-volume print version, the American Concrete Institute Collection is the most comprehensive and largest single source of information on concrete design, construction, materials, and repair, with nearly 50 codes and specifications and more than 200 practices, including all guides and reports. It features ACI 318 "Building Code Requirements for Structural Concrete"; ACI 301 "Specifications for Structural Concrete"; ACI 562 "Code Requirements for Assessment, Repair, and Rehabilitation of Existing Concrete Structures and Commentary"; and, publications covering concrete materials, properties, design, construction, reinforcement, specialized application, repair, structural analysis, and innovation, plus popular topics such as slabs, formwork, and masonry.
The online ACI Collection subscription is the most convenient format, is always up-to-date, and includes access to every new ACI document as soon as it is published, plus current or historical codes and specifications, along with versions in both inch-pound and S.I. units. Special online access for multiple users, entire offices, and large multinational organizations is also available. ACI Collection subscriptions, USB drive or print edition can be ordered through www.concrete.org/store.