Water Add Meter (WAM) enables users of Command Alkon order tracking, fleet management, quality control and batch panel software or hardware to measure the amount of water added before and during a pour to help validate concrete mix integrity.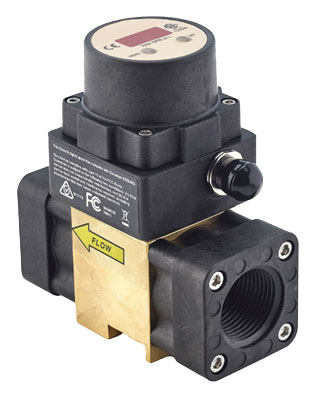 "It isn't uncommon for crews at the jobsite to ask to add more water to the mix, which can leave the producer susceptible to risk," says Command Alkon Vice President of Strategic Sales Dave Donaldson. "The Water Add Meter can capture that in real time as well as provide an accurate historical report of all of the water added into the mix, helping the producer to combat false claims."
"Whether we have a mix design issue or if the moisture is off at the plant, whether something is wrong with our processor or ingredients, or if it was an issue that stemmed from jobsite personnel, the Water Add Meter has helped from a quality perspective," affirms Jeremy Sloan, vice president of Operations for Ohio Ready Mix Inc., Huntsville.
Based on years of experience installing and supporting such equipment, Command Alkon has designated WAM to be available for direct sale to customers, purchased as an option in conjunction with TrackIt, TFleet, COMMANDassurance and COMMANDbatch programs. When further integrated with the latter, a ready mixed plant automation solution, the meter allows for water-cement ratio calculation throughout the delivery cycle.
Available in two versions, the meter ships with plumbing kit, fittings, clamps, and step-by-step installation guide. WAM-350 allows water addition information to be read directly from the meter or in-cab display; WAM-300 offers the same functionality as the 350 but without the meter's digital display. The hardware is tough enough to withstand mixer fleets' challenging conditions, with weather-resistant brass core and sacrificial endcaps that reduce the risk of meter damage in the event that frozen lines are not cleared.
ENGINE DATA ANALYSIS
Concurrent with WAM, Command Alkon has added the Engine Data Alerts & Analysis (EDAA) feature for the TrackIt platform. The module delivers real-time fleet management insights to improve commercial vehicle safety and performance.
"System capabilities include remote diagnostics, real-time alerts, shop and driver action plans, fleet health and safety scoring, and other actionable vehicle information," says Command Alkon Vice President of Telematics Larry Curtis. "This module enables operations to proactively maintain their vehicles; mechanics can receive alerts if a truck needs preventative maintenance before it becomes a larger issue."
EDAA users are equipped to identify priority actions quickly and stay current on routine service tasks. The system can create automatic reports notifying the shop of which vehicles need to be worked on that day, what maintenance is coming due, and what is overdue and needs to be attended to immediately.
"Engine Data Analysis & Alerts also provides the fleet management staff with insight into what is going on with the vehicle directly from a mobile device, allowing employees to analyze the issue and determine whether diagnostic testing is required," observes Command Alkon Operations Manager John Boatman. "The ability to triage vehicles on the fly saves mechanics time and increases productivity by making sure focus is put on trucks that need servicing."
"We're working on trucks when they're not generating revenue; we can work on them at the end of the day while they are shut down," adds Paul Hardison, director of Transportation at 37 Trucking in Fort Worth, Texas. "Having that visibility creates an enormous ability to maintain our trucks, keep them on the road as much as we possibly can, and plan ahead." — Command Alkon, Birmingham, Ala., www.commandalkon.com/gettrackit