Sources: Lehigh Hanson Inc., Irving, Texas; Fortera Inc., Campbell, Calif.; CP staff
Teaming with Silicon Valley material technology developer Fortera Inc., Lehigh Cement plans construction of a modestly scaled plant at its Redding, Calif. mill with an eye to transforming kiln exhaust into a supplementary cementitious material. The facility will mark the commercial debut of a proprietary recarbonation process in which calcium oxide, or quicklime, is used to mineralize and convert CO2 to Fortera Reactive Calcium Carbonate (RCC).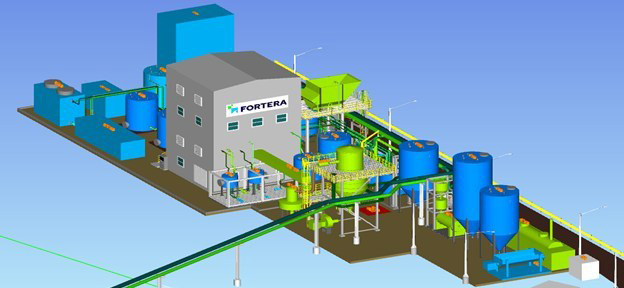 Compared to finely graded ground or precipitated calcium carbonate, Fortera RCC has tightly graded spherical particles with cementitious value and greater capacity to offset portland cement requirements in concrete mix designs. Upon hydration, the particles transform to a complex structural network of rods, with hardening and binding characteristics.
"Collaboration with Lehigh Hanson will prove the commercial scalability, the quality of the final product, and the competitive economics of the Fortera process," says Fortera Co-Founder and CEO Dr. Ryan Gilliam. "[Our ReCarb] process has been designed to utilize the existing cement infrastructure, from the quarry to the kiln, but with less carbon dioxide emissions, lower energy, and lower processing temperatures—leading to 60 percent lower CO2 emissions per tonne of product." ReCarb enables producers to progressively transition to lower carbon operating modes, he adds, as every dollar invested in kiln exhaust capture equipment is recouped through a proportional replacement of cement with sellable material.
"There isn't another competitive low carbon cement technology that reduces CO2 by 60 percent and has a realistic pathway to zero carbon emissions. The ability to make this product at or below the current cost of traditional cement without carbon subsidies or financial incentives is going to blow this market wide open," contends Vinod Khosla, leading cleantech investor.
"We are confident [the Redding Fortera plant] will be a key step toward our goal of zero net CO2 emissions," says Lehigh Hanson West Region President Dan Fritz, referencing a benchmark that German parent company, HeidelbergCement AG, and Portland Cement Association peers hope to attain by 2050.
Related articles
Lehigh Hanson parent at home with Sustainably Managed Companies
Cement industry to outline 30-year roadmap to carbon neutrality