A survey of capital equipment suppliers to North American producers finds a trove of innovations and technologies supporting concrete block and paver variety, quality and application or design potential.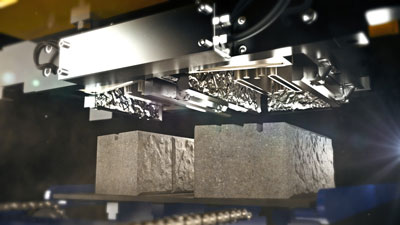 RAMPF MOLDS | TOPROC IMPRINT
Technology suited to all types of block and paver machines gives producers the ability to imprint up to four sides of a masonry unit, with nearly endless texture possibilities. Interchangeable segments afford production flexibility and the option of multiple textures on the same block or hardscape unit.
The Toproc system is free of hydraulics and pneumatics or other limitations, gravity its only driver. Compared to a hydraulic or pneumatic system, it requires less space in the mold, potentially yielding more products per shift due to no loss of cycle time. Rampf engineers characterize Toproc as "the revolution that takes away your hesitations to utilize the full potential of side textures. An entirely mechanical system designed to streamline and simplify the production process." — Rampf Molds Industries Inc., Hagerstown, Md., 443/562-3812; www.rampf.com
---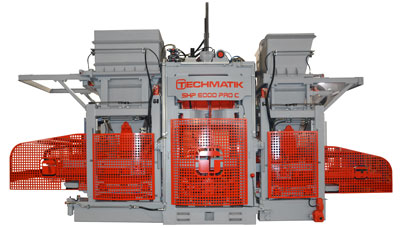 COLUMBIA MACHINE | TECHMATIK SHP 6000 PRO C
A high productivity machine intended for completely automated operations, the SHP 6000 PRO C enables manufacturing of a wide variety of concrete units with heights from 15 mm up to 550 mm. Molding products of 15-mm height is possible through the optimization of the queue design that allows the tops to be fed via a hydraulic cylinder. Innovative drive systems and kinematic nodes ensure the SHP 6000 PRO C's efficient production and low operating costs. — Columbia Machine Inc., Vancouver, Wash., 360/694-1501; www.colmac.com
---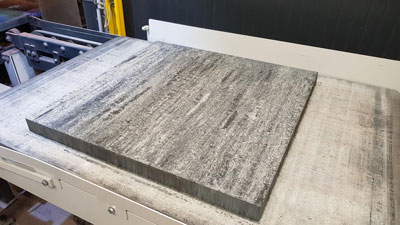 HESS RH 1500-4
As a sponsor of this month's ICON+365 Virtual Plant Tour, Hess Group is spotlighting the Kortmann Beton Group plant in the German State of Lower Saxony. The producer recently made significant investments equipping a Hess RH 1500-4 machine for high-quality output of large format paver slabs. Kortmann Beton's premier product is an 800- x 800- x 50-mm slab with mini-chamfer and a finished face mix surface of high caliber color blend.
Hess Group has developed production technology yielding large format paver slabs of quality approaching hermetic press methods. The manufacturer's process encompasses MAC-8 hydraulic control; Planing Roller smoothing; variotronic and oil bath vibration; plus, simple adjustments to align filler box and product mold openings. Hess Group officials cite that combination as a first among concrete product machinery manufacturers and one that producers in Europe, North America and across the globe have emulated. — Topwerk America Inc., Conroe, Texas, 832/585-1678; www.hessgroup.com
---
MASA | XL-R MACHINE
The latest addition to the Masa concrete block machine line is the XL-R. Like its sister models, the XL 9.1 and XL 9.2, the new machine is fully automatic and geared to producing block or pavers with or without face mix. Unveiled at the 2019 bauma, the XL-R includes several technological features, such as advanced servo hydraulics, direct face mix drawer feeding, and others permitting precise control and product flexibility to equip producers for repeated outcomes and high efficiency. The XL-R premiered in August 2020 at South Korea's Decopave thanks to plant and Masa GmbH staff overcoming travel and pandemic response complications. — Masa USA, Green Bay, Wis., 920/497-0390; www.masa-group.com
---
PATHFINDER SYSTEMS | TIGER PS-1000, PS-1000HD
Two high-speed concrete products machines are fully interchangeable with other manufacturers' equipment. Available in configurations from three-at-a-time block to paver models with 1,400 x 1,400 pallet size, they adapt to most foundations, return and frontal product delivery conveyors, and existing molds. The Tiger Machine PS-1000 and PS-1000HD deliver a wide range of unit sizes to quality levels producers need and expect, and are equipped for quick, simple mold and height changes. Intuitive, easy machine controls position operators for production success. — Pathfinder Systems, Holland, Mich., 616/395-8447; www.pathfindersystem.com
---
KBH: HARDSCAPE MACHINERY UPTIME RELIES ON DAMAGE-FREE MOLD MAINTENANCE
One essential element of concrete hardscape unit plant output is maintenance of tools used, in particular molds. In the course of producers expanding paver and wall unit offerings, molds are becoming more and more sophisticated, and with that lead times for new or replacement molds grow. Thus, proper mold care and maintenance are in order.
Traditionally, stripping the mold head from the bottom or base mold was done by using forklift trucks with chains or ropes. Setting aside the method's questions of safety, the potential for damage arose during re-insertion of cleaned and inspected mold heads into bottom portions, but only after unit production resumed.
Hardscape unit machinery specialist KBH of Germany has addressed production line safety and maintenance cost factors with the Mold Inspection and Repair Station (MIRS). For cleaning and inspection, the complete mold is placed onto a receiving table by means of a forklift truck. The mold base is braced to the receiving table, while the head is braced to a lifting and lowering unit. After the head is drawn and clearly separated from the bottom, the latter can be swiveled into any direction for maintenance and repair. After cleaning and inspection, the mold base is moved back to a horizontal position for exact alignment with the head, which can be reinserted without damage to mold shoes and cavity walls.
"This device allows the machine operator to find a flawless mold after proper cleaning and maintenance, guaranteeing a smooth machine re-start after a mold change," says KBH Sales Director Alwin Bennmann. "Well-known producers in Europe and North America very much appreciate the advantages of the MIRS, and are pleased about the improved mold service life and best possible availability of their hardscape machinery. The MIRS makes plant personnel's job easy due to a prolonged mold lifetime and increased efficiency." — KBH Maschinenbau, Lachen, Germany; www.k-b-h.de; North American market contact, Alwin Bennmann, 49 171 57 39 456, [email protected]
---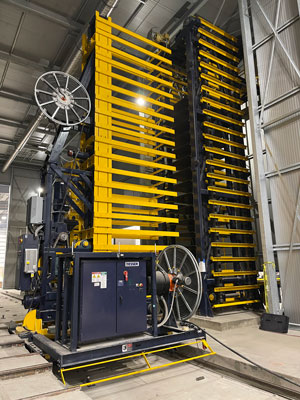 BESSER | PALLET TRANSPORT SYSTEM
The new Pallet Transport System (PTS) is engineered to provide the utmost in handling flexibility for concrete products plants, and machined to the manufacturer's stringent quality standard for durability, ease of operation and optimum performance. The PTS can be set up to a handle a wide variety of concrete unit sizes, shapes and weights, including slabs, paving stones, brick, standard and architectural block, plus segmental retaining wall and curb products. Its complete electro-mechanical design assures consistent, gentle product handling, along with precise and reliable operation.
The system is available in three sizes: the PTS-20, PTS-40, and PTS-60, respectively handling maximum payloads of 20,000, 40,000, and 60,000 pounds. Each is engineered to accommodate a range of pallet sizes. The PTS can service kilns regardless of their configuration within a plant thanks to a turntable, located on the car and equipped to precisely position the crawler to load the kilns. This feature makes retrofitting the PTS into a current layout simple and provides the versatility for new plant layouts.
The encoder controlled, cam-driven lift mechanism on the crawler allows for precise product placement on kiln shelves. Additional versatility is provided with an optional shifting shelves assembly on the crawler to accommodate tall products that may be part of a producer's current or future product line. The new Besser PTS consistently provides smooth, gentle movement for an unlimited variety of concrete masonry and hardscape units. — Besser Company, Alpena, Mich., 989/354-4111; www.besser.com
---
KVM INC. | 900/1-S MACHINE
Growing demand for unique concrete hardscapes in Florida has sparked production innovations from Tri-Circle Pavers, which operates plants in Fort Myers and Bartow. Over the past 35 years, principals Bill and Daniel de Deugd have established a track record of high product quality and innovation. They uphold it with the recent installation of new KVM International production equipment netting varied, finely crafted hardscape units within an automated Fort Myers plant environment.
The Tri-Circle headquarters modernization began with a KVM 900/1-S Block Machine (900- x 750-mm board size), a medium-sized model equipped for fast production and efficient product change-over, typically executed in about 15 minutes. The machine is also equipped with a precise and adjustable feeding system to expedite concrete mix delivery to the 900/1-S feed box, plus a vibrator tuning system allowing frequency and amplitude to be independently adjusted. Both features augment hardscape unit quality and improved production efficiency.
Handling equipment added for the Fort Myers plant upgrade includes conveyors, elevators, and finger car, as well as a curing system with 3,456-board capacity. The operation also includes a high-speed KVM cubing robot for unloading production boards and forming shipping bundles of different products. Plug and play adapters for the robot suit various product types.
Leveraging a long and positive relationship with KVM International, Tri-Circle has built the new plant to deliver the deep variety of high-quality product that is expected within the Southeast market, and utilize a level of automation that allows for permanent reallocation of labor resources. — KVM Inc., Fort Myers, Fla., 920/217-8453; KVM International A/S, Denmark; www.kvm.dk