Source: New Buildings Institute, Portland, Ore.
The New Buildings Institute presents its just-released Building Decarbonization Code as a groundbreaking tool for delivering carbon neutral performance and 2021 International Energy Conservation Code (IECC) overlay. NBI aims to help states and cities working to mitigate carbon resulting from energy use in the built environment, which accounts for 39 percent of U.S. greenhouse gas emissions. It also offers market insight into rules that will determine how new buildings are designed and constructed.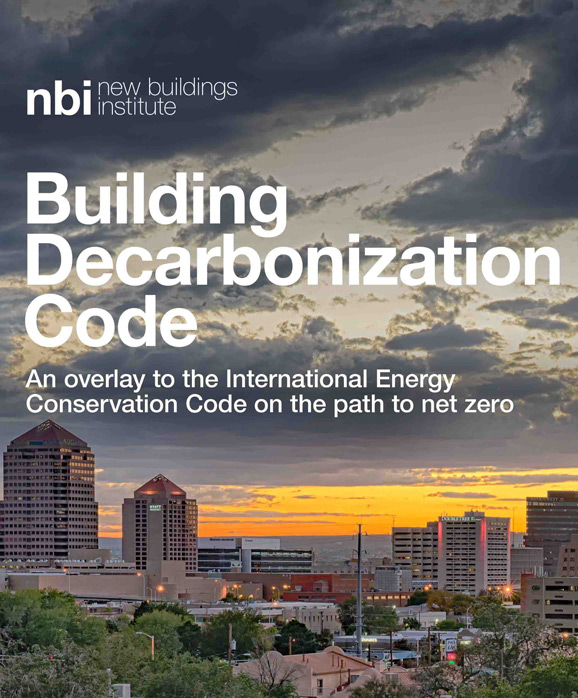 Efficiency gains in the 2021 IECC create ideal timing to offer a "decarbonization overlay" to the model code, notes NBI, which has structured the Building Decarbonization Code language to be compatible with the current version of the IECC and covers both residential and commercial construction. The IECC is in use or adopted in 49 states and the District of Columbia.
Part of a larger toolkit being developed for cities and states, the Building Decarbonization Code is focused on codes for new construction. While not an all-electric code, its language prioritizes efficient electric equipment. The overlay incorporates code solutions spanning key electrification technologies, including solar, electric vehicles, battery storage, and demand response. It is designed to enhance building-grid integration so the buildings can be effectively used as an asset to shift times when energy is used and alleviate pressure on the electricity grid during peak demand periods.
"Many jurisdictions have aggressive climate-related goals, and over 200 cities have made pledges to achieve 100 percent clean energy or 'net zero' emissions," says NBI Director of Codes Kim Cheslak. "This new code gives them a powerful tool they can use right away."