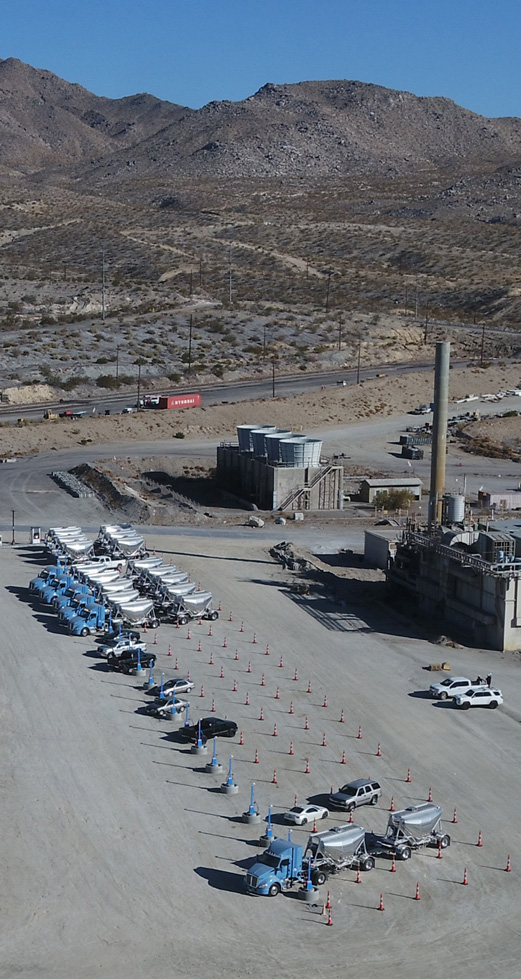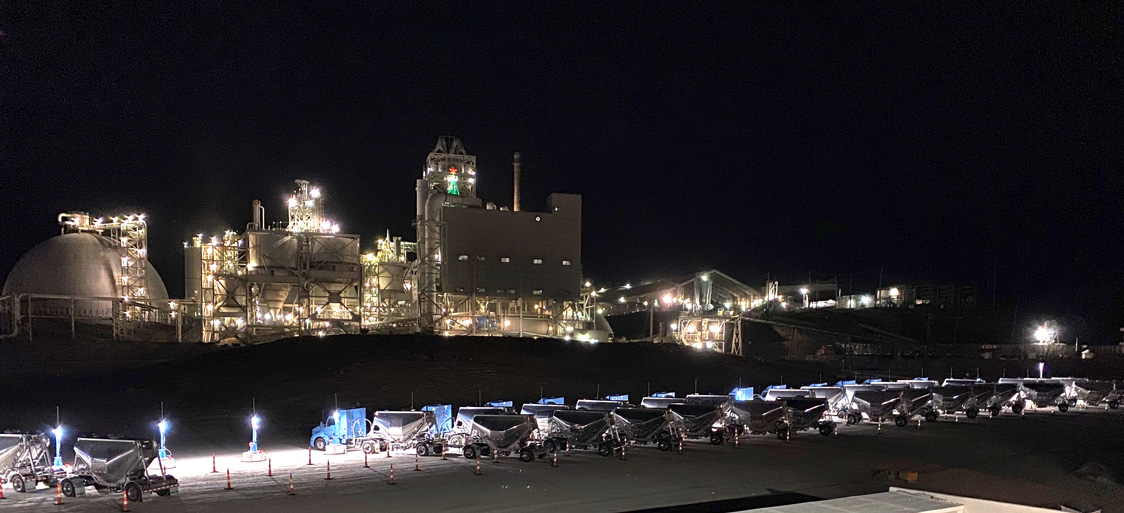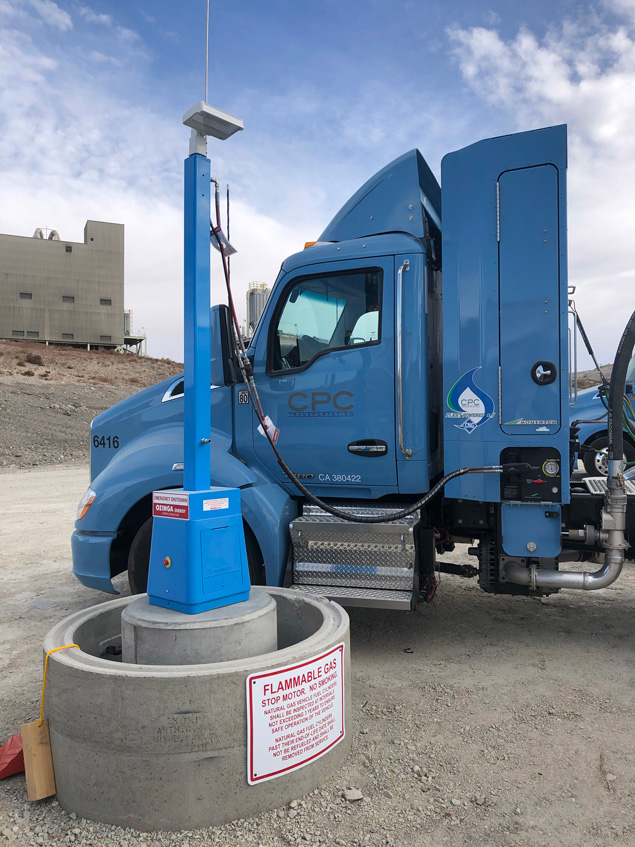 Eyeing deliveries throughout southern California, CalPortland Co. is deploying compressed natural gas-powered bulk tankers as part of strategy to capture fuel economy and lower the net greenhouse gas emissions associated with cement production at its Oro Grande plant. The producer has staged 24 CNG-fueled tractors with double bulk trailers along a slow-fill island station and related fueling infrastructure at the mill, located about 75 miles northeast of Los Angeles.
The Oro Grande tractor-tanker fleet is funded partly by a South Coast Air Quality Management District grant and becomes CalPortland's second exercise in diesel alternatives and "Near-Zero" exhaust emissions vehicles. In 2017-18, ready mixed concrete subsidiary Catalina Pacific commissioned 118 CNG mixers at plants serving the greater Los Angeles area. The spread between average diesel prices (> $2.50/gallon) and CNG costs (< $2/diesel gallon equivalent) has helped accelerate the payback period on Catalina Pacific fleet conversion and both plants' natural gas fueling infrastructure, and convey a resolute environmental message.
"By adding 24 cement bulk hauler trucks and a fueling center at Oro Grande, CalPortland continues to demonstrate our ongoing commitment to achieving zero emissions through environmental stewardship and lowering our carbon footprint within the communities where we operate," says CEO Allen Hamblen.
"CalPortland has consistently taken a proactive approach to work toward greater efficiencies in the industry. Their commitment to emission reduction is another example of their focused efforts," adds San Bernardino County First District Supervisor Robert Lovingood, who also acknowledges the Mojave Desert Air Quality Management District for Mobile Source Emission Reductions Program grants supporting the Oro Grande fueling station.
CalPortland would appear to be among the larger operators of CNG-fueled tractors dedicated to bulk powder hauling; its mixer fleet is second only to that of Illinois' Ozinga Ready Mix Concrete (> 200 units). Subsidiary Ozinga Energy built the Catalina Pacific (Torrance, downtown Los Angeles plants) and Oro Grande fueling stations. All three source Redeem, a renewable natural gas derived from landfill or agricultural waste methane. Processor Clean Energy Fuels notes how Redeem can reduce a vehicle's GHG emissions by at least 70 percent when measured against diesel or gasoline. CalPortland estimates annual GHG reduction attributable to the bulk tankers at upwards of 10,000 metric tons—a figure driving down the embodied carbon of finished concrete produced with Oro Grande Types I/II, III and IL powder.