Sources: Washington State Department of Transportation; CP staff
Washington State DOT and Guy F. Atkinson Construction have mapped a two- to three-week January schedule to place the final precast, prestressed concrete girders for the three-span, southbound Interstate 5 Puyallup River Bridge in Tacoma. To eliminate piers along BNSF and Union Pacific rail lines paralleling the water, engineers enlisted Federal Way, Wash.-based Concrete Technology Corp. to fabricate a 223-ft. WF100TDG (Wide Flange, 100-in. deep, Thin Deck Girder)—the longest ever for a trailered precast bridge member—and 29 others 170 feet or longer. Like other agencies' new generation girder designs, the WSDOT Wide Flange series achieves extended lengths through tight, efficient prestressing strand concentration at the base.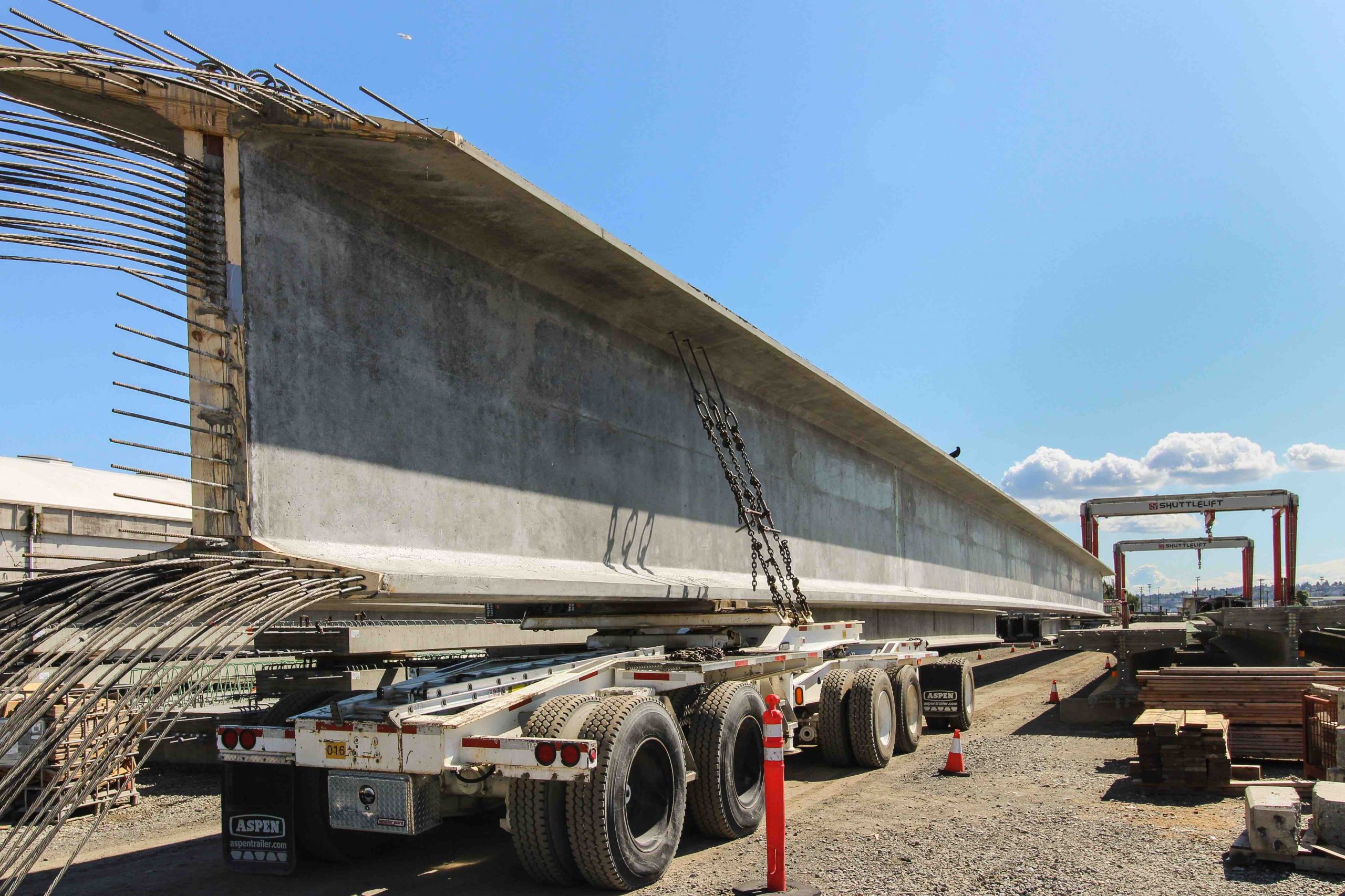 The largest southbound Puyallup Bridge girder bests by 3 feet a previous record-length member Concrete Technology delivered last year for another Tacoma/Pierce County HOV Program crossing. The girder's ambitious engineering reflects a sterling track record WSDOT, Concrete Technology and Tacoma heavy hauler V. Van Dyke Inc. have established with WF100Gs in the 200-ft. length class. Expansive right of way at Concrete Technology's Port of Tacoma yard is conducive to safe loading and routing of record-length girders up and down Interstate 5. V. Van Dyke drivers have been limited to a single turn prior to the highway entrance ramp, followed by a three-mile trek to the southbound Puyuallup River Bridge site. Girder erection has entailed State Route 167 lane closures to accommodate crane staging by Atkinson Construction crews, who also have to coordinate nighttime picks with BNSF and Union Pacific train schedules. The southbound Puyallup River Bridge is the centerpiece of the Tacoma/Pierce County HOV Program, bringing operational improvements and high-occupancy vehicle lanes to Interstate 5, S.R. 167 and S.R. 16.