U.S. Concrete Inc. has closed on the assets of Sugar City Building Materials Co. in San Francisco's East Bay area, adding two ready mixed concrete sites, two concrete recycling systems plus a retail store to its San Jose-based Central Concrete Supply Co. flagship. The deal extends the producer's Westside Concrete Materials network to six locations and northern California ready mixed production footprint to 28 plants.
"An acquisition that adds to all of our Bay Area operations is a big win for U.S. Concrete," says CEO Ronnie Pruitt. "Sugar City's long history in this dynamic market allows us to immediately capitalize on these assets. Beyond the retail and concrete additions, its proximity to our aggregates terminal means we are able to expand our distribution of Orca high performance concrete aggregates from Polaris Materials."
Oldcastle APG, Atlanta, plans to expand capacity by up to 50 percent at its MoistureShield Composite Decking plant in Springdale, Ark., targeting completion of work by mid-2021. The investment will position MoistureShield, which comprises 95 percent recycled content, to boost low-maintenance decking output and meet growing customer demand for capped wood composites. MoistureShield Vision premium capped and Vantage non-capped composites are currently produced at the Springdale facility, which in late-2019 added an entry-level capped composite decking product, Elevate. The latest investment will significantly increase Elevate production volume, and support a soon-to-be-launched MoistureShield product line.
"MoistureShield continues investing in key areas where opportunities for growth and increased customer demand are evident," says Oldcastle APG Executive Vice President Ken O'Neill. "We look forward to how this investment will double production at Springdale and evolve our ability to lead the market as the premier supplier of composite decking."
"As homeowners search for more durable, low-maintenance alternatives to traditional wood decking, demand for our MoistureShield decking products is steadily rising," adds Oldcastle APG President Tim Ortman. "With [the facility's] proven history of 30 years and increasing consumer confidence in the market, this enhancement is necessary to continue serving our customers."
Oldcastle APG acquired the MoistureShield business in 2017, ushering the producer farther into the outdoor living category. MoistureShield Composite Decking complements the producer's flagship brands: Belgard pavers, Echelon masonry, Sakrete concrete mixes, and Amerimix mortars.
Wisconsin-based precast/prestressed concrete building solutions specialist Spancrete reached a two-year mark for recording zero lost-time accidents across its three concrete production facilities, global hollow core equipment manufacturing operation, plus construction trucking and installation services groups. The safety performance is a first for the producer's nearly 75 years in operation and, management notes, a result of the daily dedication to a culture of safety among a payroll of nearly 375 people across plants and offices in Waukesha and Valders, Wis.; Crystal Lake, Ill.; and Sebring, Fla.
"Reaching a zero lost-time record for one year was a real motivator for the team to aim for a second consecutive year," affirms Spancrete President Alan Antoniewicz. "This achievement is a result of our culture of safety—we put it at the forefront of all we do. From daily huddles and numerous safety programs, to the simple act of watching out for each other, I could not be prouder of our team."
Spancrete has activated enterprise-wide processes and systems that help keep employees safe in day-to-day operations and provide a framework from which they can draw from in their daily activities. The last year of zero loss-time incidents is a result of the dedication of Spancrete's employees and is well below the national average of 3.2 cases with days away and restricted case (1.6 for cases with days away only), as reported by the Bureau of Labor Statistics. Spancrete also tracks well below average for the Experience Modification Rate of 1.0 with a score of .78.
Lafarge Canada Inc. has acquired the Alberta assets of Mixcor Aggregates Inc., spanning 26 sites and a payroll of 50. The acquisition is an example of Lafarge's collaboration with key leaders in Alberta's government on shared priorities such as sustainable growth, green construction and driving the success of its communities to build a stronger Alberta.
"Lafarge continues to be committed to investment in Alberta, and contributing to our province's economic recovery efforts. We look forward to welcoming these new employees to our team," says Lafarge Western Canada CEO Brad Kohl. "We know they're aligned with our culture of health and safety and that they share our vision to accelerate green construction."
"We are pleased that our assets will continue to serve the infrastructure demands of Alberta. Having a partner like Lafarge ensures continued success for these sites," adds Mixcor President Terry Mix.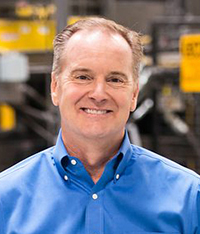 Solidia Technologies CEO Tom Schuler shared the possibility of turning his New Jersey company's namesake concrete into a carbon sink for the planet during this fall's TED Talk at TED and Future Stewards' Global Countdown Launch. Hosts invited him to examine how cement and concrete contribute to the global carbon challenge and the potential impact of new production technologies for Solidia Cement and Solidia Concrete.
"To address global warming, innovation in both cement production and carbon utilization are absolutely essential," Schuler explained. "Our new technology for ready-mix concrete is currently being tested for infrastructure applications. And we have already pushed our research beyond that with a technology that enables concrete to become a carbon sink; that means we consume more carbon dioxide than we emit during production … For every ton of cement produced, about a ton of CO2 is released into the atmosphere."
By changing the chemistry of cement, Solidia processes lower emissions at the cement plant and consume CO2 in the production of concrete. "Our cement reacts with CO2 instead of water," Schuler affirmed. "During curing, the chemical reaction with our cement breaks apart the CO2 molecules and captures the carbon to make limestone that glues the concrete together."
Describing the different carbon delivery system developed for ready-mix, he added: "Since we can't use CO2 gas at a construction site, we had to introduce it into our concrete in solid or liquid form. We are partnering with companies that are turning waste CO2 into a family of chemicals, like oxalic or even citric acid—the same one in orange juice. We use these acids to react with our cement and pack in as much as four times more carbon, resulting in carbon-negative concrete."
Arizona-based concrete and asphalt surface and compounds producer Crafco Inc. has closed on peer operator Right/Pointe LLC of DeKalb, Ill. The deal nets a seventh production facility, west of Chicago; positions Crafco to better serve existing Midwest accounts; and, brings additional highway cure and commercial liquid products to the suitor's pavement and roofing materials portfolio. Founded in 1996, Right/Pointe developed the No-Box meltable package, which joins Crafco's performance Plexi-Melt—aligning two of three patented pavement preservation packaging technologies under the same roof.