Sources: UL Environmental, Northbrook, Ill.; CP staff
An updated Product Category Rule (PCR) will inform new Environmental Product Declarations (EPD) for block, segmental retaining wall, segmental paving, manufactured stone veneer and other manufactured concrete units. A PCR provides an established methodology for preparing EPD and conducting a life cycle analysis. Submission of declarations increasingly influences specification of products or materials where project principals target environmental certification or adopt related procurement criteria.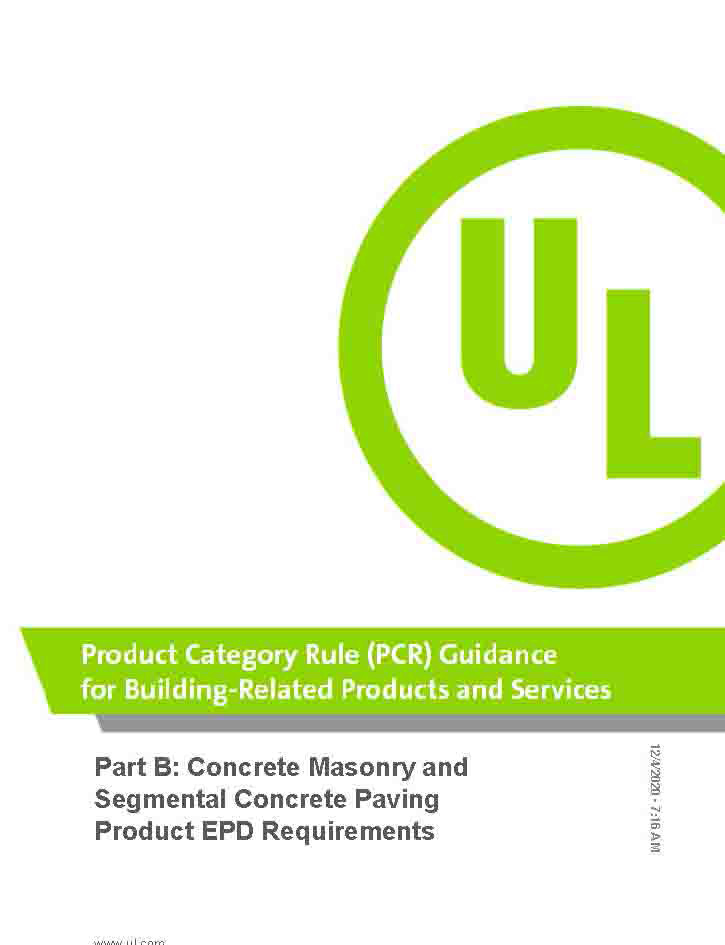 The 33-page "Concrete Masonry and Segmental Concrete Paving Product EPD Requirements" is the latest addition to the UL Environmental Product Category Rule Guidance for Building-Related Products and Services library. It succeeds separate concrete masonry building and hardscape unit PCR published in 2014-2015 and, by comparison, includes:
References to current ISO (International Organization for Standardization) life cycle reporting standards stressing detailed data source transparency requirements;
Expanded EPD information and reporting requirements that go beyond the "gate," a boundary that only considers environmental impacts through the point products leave the site of their casting, molding, manufacture or processing; 
Optional factoring of product use, operation and end-of-life phases for more complete reporting; and,
Optional carbon sequestration capacity reporting.
UL Environmental facilitated updating, review and public comment phases leading to "Concrete Masonry and Segmental Concrete Paving Product EPD Requirements." Along with National Concrete Masonry Association and Interlocking Concrete Pavement Institute staff, stakeholders guiding the PCR process included representatives of Jandris Block, Massachusetts; Taylor Concrete Products, New York; Brampton Brick, Ontario; Arcosa Construction Products, Texas; and, Climate Earth, San Francisco. 
Related articles
Lehigh issues first EPD based on Cement Product Category Rule 2.0