HeidelbergCement has ushered in a new era with the opening of its revamped headquarters in Heidelberg, Germany after three years of construction. Designed by Frankfurt-based Albert Speer + Partner, the building is considered a sample project for sustainability that demonstrates the versatility of concrete.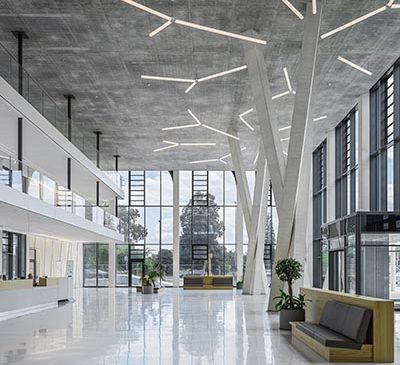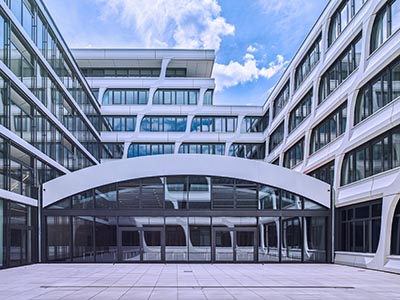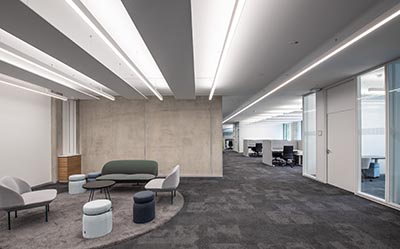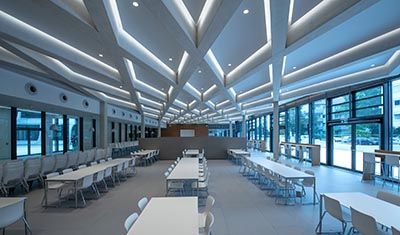 From the outset, the company aimed for the project to achieve Platinum standard from the German Sustainable Building Council. The eye-catching white outer frame of the building was created using the photocatalytic cement TioCem, which contains titanium dioxide to filter pollutants—like NOx—from the air. TioCem was supplied by HeidelbergCement's subsidiary Lithonplus, and was also used for the concrete paving outside the headquarters. Additional climate friendly features include photovoltaic panels equipped on about 1,000 square metres of the roof's surface, and electric bicycle and car charging units.
A total of 32,000 cubic meters of ready-mixed concrete was used to construct the new office space, which consists of three separate building sections of varying heights and flexible floor plans. The different sections have a landscaped inner courtyard and are connected by "Magistralen" or recreation areas. At ground level, the building offers a large conference zone with numerous conference rooms, social rooms, a cafeteria with commercial kitchen, and a modern staff area with a parent-child office as well as a multifunctional sports facility. Each level also features fully equipped tea kitchens and different meeting areas.
Employees also had the opportunity to take part in planning the design of the open-plan workstations. Modern furniture with height adjustable desks are standard. Every office also has separate ventilation to the outside—a beneficial feature for current times.