Experience in mixer truck fleet management has shown how concrete build up on drum walls and fins equates to tons of waste material accompanying daily deliveries and unnecessary fuel consumption. As an alternative to chipping and ultra-high pressure washing, the namesake cleaning system of Walter Gerätebau GmbH is based on the principle of early high-pressure application. It entails just the right amount of water pressure and volume flow to reliably remove all drum wall and fin mix residues prior to hardening.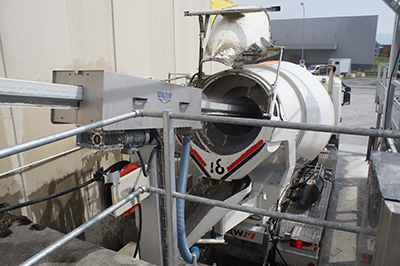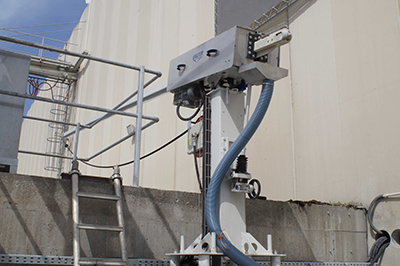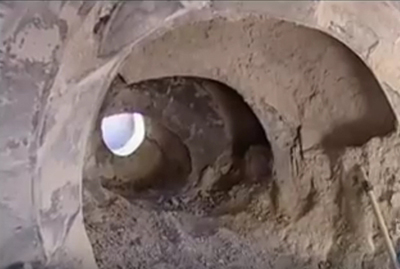 Mixer truck drums are cleaned on a daily basis or before every delivery break. Drivers navigate a station bearing the Walter Cleaningsystems lance after emptying their mixers of any liquid residues. The adjustable lance is automatically moved into the drum; once its nozzle head is safely extended from the charge hopper to the back of the drum, high-pressure cleaning starts at 220 bar. As the lance retracts, drum rotation provides for rinsing everywhere inside, even difficult to access points. The resulting wastewater can be filtered or settled, then reused for the next drum cleaning process. The lance is fully retracted from the drum after the cleaning process is finished and staged for the next truck mixer. Under typical Walter Cleaningsystems settings, up to 10 automated wash cycles can be performed in an hour.
The equipment allows easy removal of truck drum wall and fin build up on a regular basis, contributes to maintaining optimum loading capacity, and reduces wear and tear on the mixer and drive components. Product engineers cite system payback in 18 to 24 months, depending on fleet size and ready mixed plant volume. While return on investment calculations are key, engineers underscore an even more important aspect of automated mixer truck cleaning: Prevention or elimination of accidents involving drivers and manual drum washout methods. — Walter Gerätebau GmbH, Sachsenheim-Ochsenbach, Germany, www.walter-cleaningsystems.com; North American market contact, Mathias Stein, [email protected].