World of Concrete manager Informa Exhibitions has postponed next year's Las Vegas Convention Center gathering to June 7-10 from an original January 18-22 schedule, citing discussions on travel constraints and public health concerns with key stakeholders, plus feedback from major concrete and masonry associations.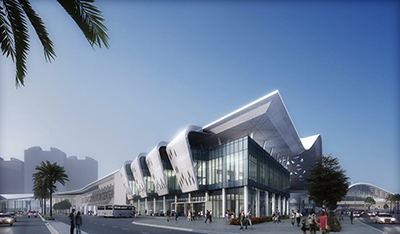 "We have a commitment to our exhibitors and attendees to provide a valuable and productive face-to-face experience each year," says World of Concrete Group Director Jackie James. "This is the first time in our 46-year history we have been faced with circumstances that have caused us to reschedule the event. We feel the new June dates will provide everyone with the necessary time to plan effectively, and allow us to reimagine World of Concrete for a different time of the year. Moving the event from winter to late spring will allow for additional outdoor activities everyone can enjoy in the great city of Las Vegas, including top-notch exhibits, new product demos, and exciting spectator events."
World of Concrete 2021 will follow Informa Exhibitions' AllSecure approach to ensuring the highest standards of safety, hygiene, cleanliness, and quality for operating events. It will be among the first large-scale events to occupy the Las Vegas Convention Center's $980 million West Hall, adding 1.4 million square feet to the existing 3.2 million sq. ft. venue.
---
NCMA HOLDS ON ICON EXPO 2021
After evaluating health risks and complications associated with a mid-February gathering, National Concrete Masonry Association directors have elected to hold on staging ICON Expo 2021: Machinery & Equipment Show and concurrent Annual Convention in Nashville. They moved to eliminate the physical meeting based on NCMA Associate Member Division Board guidance and in consultation with show partners. Plans are underway to deliver a virtual ICON Expo and NCMA Convention with specific dates and formats forthcoming. A template for such an event was set in August with the virtual NCMA Midyear Meeting, a three-day program replacing in-person activities originally scheduled in Milwaukee.