Environmental Protection Agency Administrator Andrew Wheeler and Pennsylvania Aggregates and Concrete Association Chairman Rod Martin (Martin Stone Quarries) have signed a four-year, first-of-its-kind memorandum of understanding (MOU) to formalize a partnership pursuing environmental stewardship. It expands EPA and PACA activities to prioritize funding, coordinate on regulatory programs, recognize concrete and aggregate industry members for environmental performance, and enhance opportunities for open dialogue.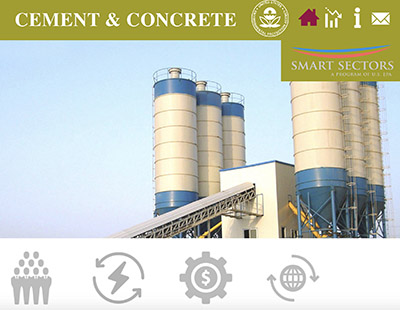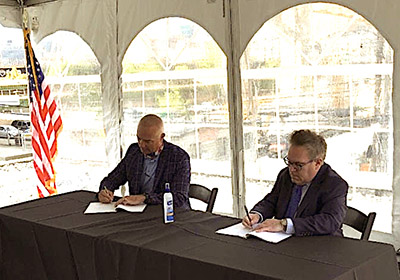 Pittsburgh ready mixed, precast and aggregate producer Bryan Materials Group hosted the signing at its Southside plant last month on the third anniversary of the EPA Smart Sectors launch. The program provides a platform to collaborate with regulated sectors and develop sensible approaches that better protect the environment and public health.
"Our products are essential and critical to building and connecting communities in Pennsylvania," said Martin. "The MOU is our commitment to open dialogue and partnership with EPA to deliver environmental stewardship through common sense solutions."
"President Trump has been a true champion of American manufacturing since the beginning of his term," Administrator Wheeler affirmed. "Smart Sectors is all about increasing communication between EPA and industry."
"This agreement builds on the actions our agencies are taking together and with the broader concrete and aggregate community to promote a vibrant economy, clean air, clean water and unprecedented environmental stewardship," added EPA Mid-Atlantic Regional Administrator Cosmo Servidio. "This MOU formalizes our work together in the pursuit of solutions that are good for both the industry and the environment."
The Mid-Atlantic Region began Smart Sectors activities in 2019, and is the only one of 10 EPA regions with a Cement & Concrete program. Smart Sectors launched in 2017 with Cement & Concrete, Construction and 11 other industrial businesses; signature accomplishments thus far include development of data driven performance snapshots for each. The web-based snapshots show historical environmental and economic performance on a sector basis.
The Cement & Concrete Sector portal enables users to review and chart a host of indicators and benchmarks across five North American Industrial Classification System codes. Data range from air emissions, energy use and water discharges to employment and production levels.
---
WHITE HOUSE OPENS WATER SUBCABINET
Six federal agencies have named designees for a new Water Subcabinet established through President Trump's mid-October "Modernizing America's Water Resource Management and Water Infrastructure" Executive Order. They are tasked with protecting taxpayer investments by promoting integrated planning and coordination for drinking water, wastewater, water reuse, water storage and delivery, plus water resource management; supporting workforce development to recruit, train, and retain water sector professionals; reducing duplication between federal agencies; and, developing a national strategy to ensure water supply, quality, system and forecasting reliability.
The Executive Order directs the Water Subcabinet to be co-chaired by the Secretary of the Interior and Environmental Protection Agency Administrator, posts presently held by David Bernhardt and Andrew Wheeler. Joining them are Department of the Interior Assistant Secretary of Water and Science Dr. Tim Petty; EPA Assistant Administrator for Water David Ross; Department of Agriculture Under Secretary for Farm Production and Conservation Bill Northey; Assistant Secretary of the Army for Civil Works R.D. James; Department of Energy Assistant Secretary for the Office of Energy Efficiency and Renewable Energy Daniel Simmons; and, Deputy National Oceanic and Atmospheric Administration Administrator Rear Admiral Gallaudet.
"The federal government has a responsibility to ensure the most efficient use of our taxpayer dollars to manage and protect America's precious water resources," says EPA's Ross. "Enhanced federal coordination under the Water Subcabinet will help EPA accelerate progress on modernizing water infrastructure, encouraging innovative strategies like water reuse, and supporting the next generation of the water sector workforce."