Design-build firm Stellar is utilizing Thermomass precast exterior walls for a new 411,500-sq.-ft., Organic-Certified Chicken Harvesting Facility in Fredericksburg, Pa. for premium poultry producer Bell & Evans. The $330 million project will double its current production capacity.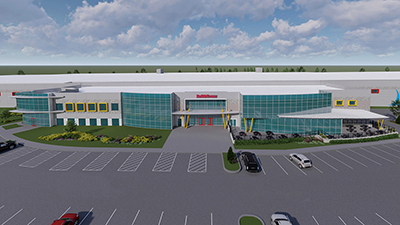 This is the third project the Jacksonville, Fla.-based Stellar has performed for the poultry processor. New for this construction is an innovative 3D design with complete equipment placement, which allows for real-time collaboration between project managers, equipment vendors, installers, and Bell & Evans production to ensure no real-life interferences and allow for virtual walk-throughs and training.
Construction began in March with the first precast walls being placed in July. The facility is slated to be completed by December 2021. "It's an aggressive timeline, but we're prepared to take it on given the client's urgent need for this facility," says Kevin Keen, project developer, Stellar. "Production and order forecasts are trending up, so this facility will help Bell & Evans expand production to meet that demand."
The harvesting facility is being built from the most durable and highest quality materials and finishes for food safety and longevity. The entire operations area will be constructed with Thermomass precast exterior walls that provide superior thermal rating. All production floors will have acid brick flooring to hold up against corrosion, and freezer floors will be insulated with 6 inches of extruded polystyrene to prevent frost heave. There will be no wood utilized in any production areas nor any painted surfaces in processing spaces. The interior sides of the precast walls are white concrete to offer a bright environment for production team members, and many areas of production will have windows to the outside to allow in natural light.
The project is being financed with the first green loan in U.S. poultry, provided by Rabobank, a global financial services leader in food and agribusiness. The credit facility includes a five-year $50 million revolver, a five-year $65 million term loan, and a seven-year $185 million delayed draw term loan that is provided by a syndicate of 15 banks led by Rabobank. The facility is defined as a Green Loan, as it contributes to the achievement of global environmental objectives, adheres to no-harm principles, and is structured in accordance with the Green Loan Principles.
"We are excited to be moving forward on this project with a financial partner that recognizes and shares our commitments to sustainability and excellence," says Scott Sechler, Sr., president and owner of Bell & Evans. "Entering into this Green Loan clearly demonstrates that sustainability is an integral part of both our strategy and finances."