A new app motivates drivers with performance-based incentives
by Craig Yeack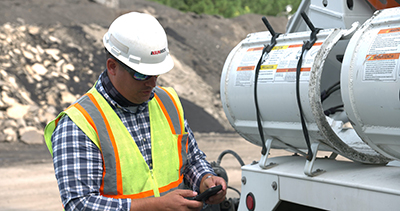 The top challenges of every ready mixed concrete producer revolve around drivers: hiring, training, retention, safety and productivity. Likewise, every producer has put a lot of energy toward these issues, often with mixed success. Drivers are critical in today's current market where we simply cannot hire, train and retain enough qualified candidates to meet demand; and we all know that a yard lost today is lost forever.
There is a new, innovative approach to driver recruitment and retention dilemmas that is surprisingly simple and inexpensive. Being new, the economics are yet to be proven at scale, but the potential is clear. Let's start by looking at the underlying model.
THE POWER OF INCENTIVES
The grocery our family uses tracks our purchases and sends paper and electronic coupons for things we buy, reduced price gas and cash rebates. The airline I use tracks spend and mileage and awards status, perks and free flights. In almost every competitive consumer market, program "hooks" exist to attract (hire), keep (retain), and guide customers to higher-profit purchases (increased productivity). See the pattern?
Manny Tejano faced the driver puzzle while working at the family-owned materials producer, Carolina Sunrock, based in Raleigh, N.C. Just like everyone else, he spent a huge amount of time and money addressing the always critical challenge of driver management. In the process, he harnessed the intense competitiveness of drivers and created a solution that not only worked but held enough promise for him to form a startup technology company to bring it to the entire industry.
Tejano's solution, Rocket Start, reaches drivers through gamification. In a sentence, a mobile phone app tracks drivers' behavior, issues meaningful rewards in the form of cash and cool stuff, and most importantly has a leaderboard that tracks their rank in each category. It's reported to be amazingly effective and cost efficient.
Driver safety is first. The app will not work while the driver is in motion, period. It is not to be checked frequently during the day by the drivers, but only after their shift. Performance improves naturally with the selected criteria for rewards. Trips per week is an obvious benchmark (see sidebar). Baseline to current data at Sunrock shows driver callouts reduced by more than 35 percent and tardiness reduced by more than 25 percent. Tejano points out that both these factors positively influence scheduling capacity and consistency.
Truck tracking integration is in the works. Tejano is working with Digital Fleet to capture key driver performance metrics. Consider the power of incentivizing drivers to complete their daily inspections, pre-trip and wash-out in a timely manner, not to mention reducing overall in-yard time after loading.
Extending incentives with payroll integration. Tejano envisions driver incentives potentially transitioning from "rewards" to direct deposit bonus payments. Even more importantly, additional criteria linked to time and attendance can be deployed.
Demand for ready mixed concrete remains strong in most segments and locations. Given the homebuilders' confidence index, it's likely demand will even grow stronger. Now is the time to lock in driver loyalty and strengthen their contribution to operational financial health. Rocket Start provides a promising option worth keeping tabs on, if not giving it a whirl!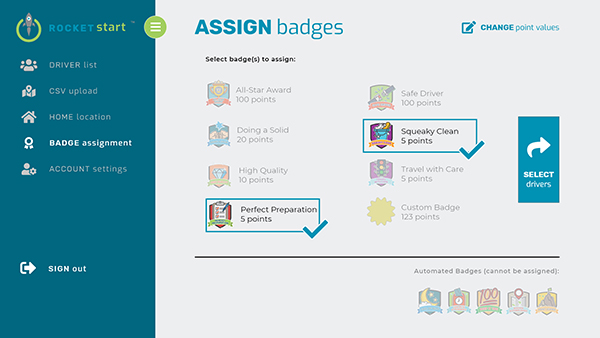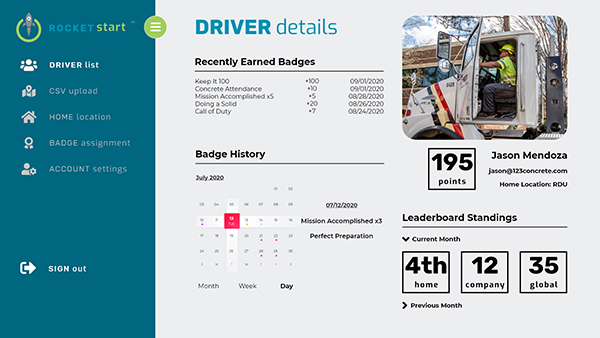 ---
WHAT DOES AN EXTRA TRIP PER WEEK REALLY RETURN?
Beyond offering morale-boosting incentives to drivers, a performance tracking app can deliver real bottom-line results to concrete producers. Following is just one example, by the numbers.
Consider one plant generating $6 million by doing 50,000 yd./year at an average sales price of $120/yd. using 10 trucks. Over 48 working weeks, one extra load of 7.25 yd. per truck per week adds $417,600/year. The average industry profit before taxes (PBT) is in the neighborhood of 5 percent, thus adding $20,880. But wait, there's more! The fixed operating costs of the plant (~4.5 percent) and vehicles (~5.0 percent) have already been covered for the day, so $39,672 (9.5 percent of $417,600) is credited back. Between the PBT on increased revenue and the credit-back for fixed operating costs, an additional $6,000 PBT per driver could be achieved.
Happy, simplistic returns rarely come true and none of us are naïve enough to expect otherwise. But what if we could even achieve half this amount, and spend $1,000 per driver to do it? It's still an added $2,000 PBT per driver. Better yet, we could return all the savings back to drivers and build long-term loyalty. Now we're talking a truly happy return!
---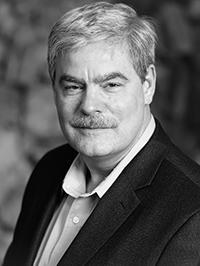 Craig Yeack has held leadership positions with both construction materials producers and software providers. He is co-founder of BCMI Corp. (the Bulk Construction Materials Initiative), which is dedicated to reinventing the construction materials business with modern mobile and cloud-based tools. His Tech Talk column—named best column by the Construction Media Alliance in 2018—focuses on concise, actionable ideas to improve financial performance for ready-mix producers. He can be reached at [email protected].