Concrete Supply Co. Plant Manager Shane Mayberry of Mooresville, N.C. has earned the National Ready Mixed Concrete Association 4th Annual Safety Award. He is responsible for the Charlotte-based producer's Mooresville and Statesville plants, whose teams have logged zero lost time accidents during the past four years—a window spanning 133,494 work hours and 30,292 concrete loads hauled.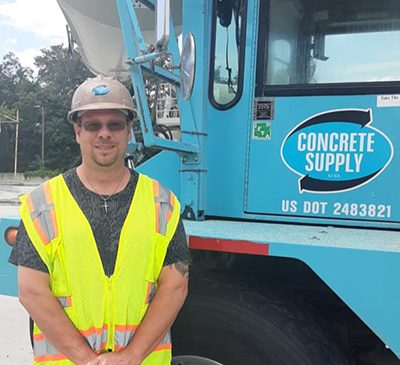 "Shane's historical work as a professional mixer truck driver, batcher, and dispatcher have afforded him the experience to know the duties and challenges of each of these positions," says Concrete Supply Director of Safety Scott Karriker. "Throughout Shane's management career he has been a champion of safety and puts it as priority #1. This safety-first attitude is not by words alone, but rather actions and results. Shane believes in employee participation and buy-in, and frequently asks drivers to share near miss or even accident experiences with other plant personnel during routine safety meetings."
"Shane is one of those individuals who exemplify leadership, compassion, empathy and accountability," adds President Henry Batten. "His quiet, unassuming mentorship and leadership clearly make us a safer organization. He has assumed a distinct leadership role within our company such that we can use his skills to develop, grow and mentor others to continually improve our safety performance and ensure we are creating capable and empowered future leaders."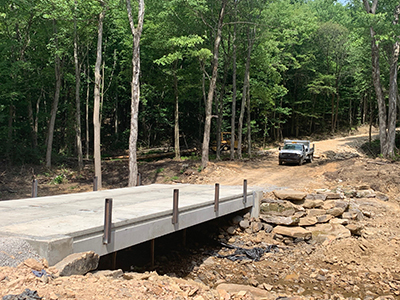 The Tindall Corp. Utility Division recently rose to the occasion of a donor match challenge by supplying precast concrete beams for a small bridge at Chestnut Mountain Ranch, a Christ-centered safe haven for boys and families in crisis located near Morgantown, W. Va. Tindall Corp. Executive Vice President Joel Sheets and Tindall Haul and Erect Manager Bill Swofford oversaw fabrication, delivery and picks.
"Tindall is a company [with] a heart for serving others," says Ranch Executive Director Steve Finn. "Their team's leadership is always looking for opportunities to make things better than the way they found them, and we are beyond grateful for their partnership and contributions that support the mission of Chestnut Mountain Ranch." The facility continues to expand through the construction of new homes and a chapel, he adds.