A visit with 2020 ACPA Chairman William (Bill) Washabaugh, Jr.
American Concrete Pipe Association members enlisted a seasoned chairman for a year of major developments, both planned and unforeseeable: Staff leadership transition; creation of a senior position to oversee a new focus on reinforced concrete pipe and box culvert market development, coupled with the chartering of a Marketing Committee; then, a pandemic-forced migration from in-person meetings to digital platforms for internal business and drainage construction stakeholder outreach.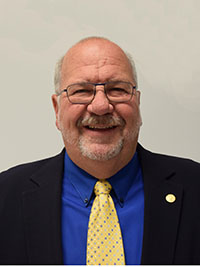 Past-Chairman (2008) William E. Washabaugh Jr. of Michigan-based Northern Concrete Pipe Inc. has returned. Ahead of election to a second term, he, 2019 Chairman Jeffery Hite (Rinker Materials) and a core group of experienced association staff welcomed ACPA President Doug Dayton, P.E., who arrived in January from Professional Services Industries Inc., a major consulting engineer and construction materials testing firm; and Vice President of Marketing Michael Kremer, MBA, who joined in April with a resume including senior posts at Caterpillar Inc. and the Building & Construction business of testing and certification giant Intertek.
Dayton's ACPA introduction timed with an upbeat 2020 Pipe School and Show in San Marcos, Texas, where Northern Concrete Pipe had the largest contingent (40-plus) among member producers. Kremer started under less opportune circumstances as ACPA, along with the rest of the business universe, confronted lockdowns, remote working arrangements, and sharply altered operating requirements. They moved quickly to orient members and colleagues to online conference platforms enabling the association to conduct its annual meeting in early May, plus subsequent business sessions, education programs and plant certifications.
Absent conventional meeting options, the new staff executives have set the stage for a chairman whose company ranks among ACPA's top advocates and exemplifies a family business. "My focus is on strengthening our membership base, increasing membership, stepping up research, and strengthening agency and industry leader partnerships, along with our 'Best in Class' QCast Plant Certification and Education & Training Programs," says Washabaugh. "We have engaged head on with our new president and staff team, and implemented strategies we had in mind for the year. Between the momentum we are building with members, and market share strategies behind concrete pipe and boxes, I am very proud of the progress after only four months into this term."
ACPA's capacity to engage public and private construction interests, producer and associate members, allied industry groups, and the general public was evident throughout last month's Concrete Pipe Week 2020. Participation in event videos, blog posts and webinar is indicated in strong audience metrics. The traction came as no surprise to Washabaugh, who is accustomed to highly favorable outcomes when ACPA committees and committee chairs team with national office and field staff to promote the value and versatility of manufactured-concrete drainage infrastructure.
Staged per custom during the third week of August, Concrete Pipe Week 2020 featured content around "The Importance of Concrete Pipe," "Is Concrete Pipe Innovative?," "Innovations in RCP Infrastructure," and "Four Ideas for Thinking Outside of the Box (Culvert)" themes. Committees produced a first ever "Innovation in Concrete Pipe Timeline," charting milestones in materials, production, specifications and standards since 1842. Upholding Concrete Pipe Week tradition—albeit through digital versus in-person events across North America—member producers Forterra and Hancock Concrete opened their Iowa and Minnesota plants to virtual tours. ACPA capped the schedule with an American Red Cross fundraiser.
PUBLIC + PLANT PRIORITIES
Concrete Pipe Week metrics reflected successful messaging and technology deployment the association has practiced the better part of 2020. "Like most industries and organizations, ACPA has had to quickly adapt to the changing world of Covid-19 exposure," Washabaugh tells Concrete Products. "Although a challenge, the shift from in-person to virtual exchanges has given us opportunity to serve the needs of our audience in a different way and even allowed us to extend our reach. Taking advantage of online meeting and learning platforms, we have been able to effectively engage at the national, state, and local level. Internally, we maintained a high level of participation for our annual meeting, where association business was addressed, key issues were voted on, and the gavel passed."
ACPA's five Regional Engineers and six State Directors, all of whom typically spend much time meeting with agencies, engineers and front line professionals responsible for drainage infrastructure, have remained busy in their territories since the second quarter, he notes, adding: "Virtual meeting and training have allowed the field team to reach substantially more stakeholders than our preferred in-person methods. As the pandemic continues to shape normal life, our field teams' approach to industry outreach will also evolve. The safety and health of our people will remain paramount in any decision to have ACPA representatives resume in-person activities.
"Members, committees and staff have responded quickly and effectively to the pandemic. We continue to find new ways to provide drainage construction interests the information they need. Time that would otherwise be spent on travel has been work time. Collaboration between staff and members has been very beneficial and fulfills an engagement process Doug Dayton has encouraged as his team works remotely. Industry response has been overwhelmingly positive, and because of that, we will continue to provide online promotion and education options even after the world begins to open up again."
The Executive and Education Committees have determined that a virtual platform is best for the Pipe School 2021 in January, he adds. The latter committee is mapping a course and activity agenda for producer and associate members, along with department of transportation and related agency participants.
HIGH HURDLE
ACPA was part of a 23-member coalition of concrete producer groups and contractor counterparts behind a mid-March appeal to the White House and governors to deem construction and related businesses "essential." That designation was critical for Northern Concrete Pipe, which produces reinforced concrete pipe and precast drainage components or structures at one Ohio and four Michigan plants. It was the first of challenges in a quarter wrought with lockdowns, stay at home orders and virus spread panic.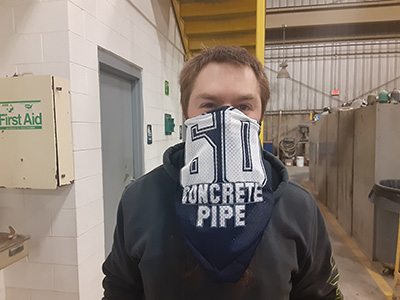 "Our company and fellow ACPA members felt very fortunate to have been designated an essential industry," notes Bill Washabaugh. "That allowed us to continue filling a backlog of work stemming from a strong 2019 into 2020, and keep a schedule for projects awarded in Q1 2020 and into the initial Covid-19 response period."
Northern Concrete Pipe, a 62-year-old family business whose management team includes co-founder Norma Washabaugh and her five sons, sorted through a plethora of public health agency guidance and provided its team the best information available. Among changes instituted to protect all parties: A halt to time card punching; thorough and frequent cleaning or sanitizing of production areas, forklifts, other mobile machinery and common contact points; spreading crews out for work functions and breaks, including to areas previously off limits to food and drink consumption; bringing in lunch wagons to encourage employees to remain on the premises in lieu of going out and extending their exposure in dining or retail environments; mapping and marking production spaces to maintain target distances; minimizing travel; implementing electronic procurement methods; and, limiting customer, inspector, vendor representative and other visitors to plants.
More recently, Northern Concrete Pipe production, delivery and customer service employees—all bound by daily or near-daily plant attendance—perform an electronic work day check in. It entails a questionnaire addressing 15 symptoms or indicators of illness or infection, plus a temperature reading before entering office or plant areas. A face mask or covering mandate was instituted three weeks prior to similar state action. Early on, employees or their relatives crafted homemade gear, spawning a contest for the most creative face mask or covering.
"Northern Concrete Pipe has remained well in front of federal and state requirements to do what is best for employees, their families and our customers," says Washabaugh. "There was too much unknown for the first three months so we had to trust our instincts and people. We looked to associations, professional advisors, industry friends and the CDC for the most current guidance, then formulated our own very conservative operating plans."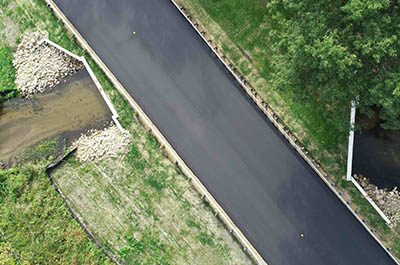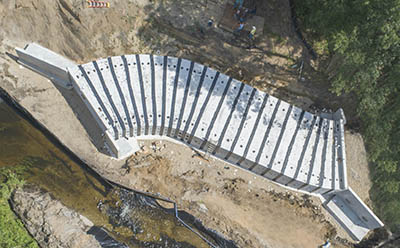 "We have incredible people throughout our five plants," he adds. "They don't always like or agree with some of the positions we're forced to take, but they are doing their best to make this situation work for all. We have had close calls on exposure to infected individuals. We use a process of one person removed from any case of potential exposure to determine who has to quarantine, and are very fortunate to not have had any cases shut down significant parts of our operations."
Sales and marketing team members at Northern Concrete Pipe are developing new ways to communicate with agencies and decision makers. Virtual meetings have replaced Michigan and Ohio plant tours as venues to enlighten users on manufactured-concrete drainage structures and components.
MARKET HEADWINDS
Northern Concrete Pipe is running at upwards of 90 percent of forecast for the year and, like most ACPA peers, has a reasonable backlog toward 2021. The dip from projections is attributable to limited instances of production employees opting not to return to work, along with the loss of some orders. Project cancellations or delays have been concentrated in airport infrastructure, where a drop in passenger facility charge revenue and airlines' lower capacity requirements are depressing contract activity. The housing market and attendant drainage work are strong but not necessarily on a sustainable clip.
In a year when FAST Act highway funding expires, ACPA members are tracking what the federal government will do for an overall infrastructure program and how states cope with budgets starved of fuel, sales and income tax receipts. The association is working with transportation construction groups to press Congress to provide $37 billion to state departments of transportation to make up for the loss of gas tax revenues. Such an infusion is needed to prevent further disruption of transportation projects that provide long-term benefits to the economy and support millions of jobs.
"We all hope that once Covid-19 issues get more controlled and highway bill reauthorization or funding extension occurs, new project starts will reemerge stronger into 2021 and beyond," Washabaugh explains. "Despite the funding challenges, our members stand to see FY2020 growth rates in at least the mid-single digit range."
He finds the Dodge Momentum Index's (DMI) 3.4 percent increase in July encouraging. Dodge Data & Analytics' monthly measure factors the first report for nonresidential building projects in planning, which in turn have been shown to lead nonresidential construction spending by a full year. During July, the commercial component increased 5.3 percent, the first upward move of 2020. The DMI had dropped 18 percent since December 2019, with most of the decline logged in April at the height of business shutdowns.
RESEARCH + EDUCATION
One of leading voices in the push for infrastructure funding is the American Association of State Highway and Transportation Officials. ACPA has recently signed on an AASHTO Capitol Sponsor, affording much exposure to members throughout their communications and technical efforts and, under normal circumstances, in-person events like Annual, Committee and Washington Briefing meetings.
AASHTO is a prime audience for ACPA to communicate the benefits of rigid drainage infrastructure and QCast Plant Certification. The inspection program covers materials, finished products, handling/storage procedures, plus performance testing and quality control documentation for storm sewer and culvert pipe, sanitary sewer, box culverts, three-sided structures, manholes and precast. QCast promotion has been stepped up with ACPA's 2019 completion of audits culminating in certification as an American National Standards Institute Standards Developer.
"Once educated on production and quality assurance methods, agencies, owners, engineers or designers see concrete structures manufactured and installed to perform at the highest levels," Washabaugh observes. "This is increasingly critical when you need to protect the general public and first responders in the face of fires, floods, hurricanes. We are learning more on how our products can withstand storm surge, flotation and flames."
"Disaster exposure is becoming top of mind for public and private construction stakeholders, which in turn increases the focus on sustainability and resiliency in project specs," he adds. "Many people talk about sustainability, but not everyone agrees on its role, especially when it comes to infrastructure. We are engaging in more discussion of sustainability with engineers and owners in both the public and private sectors. We feel the general public's continuing conversation on green and sustainable concepts works to our advantage."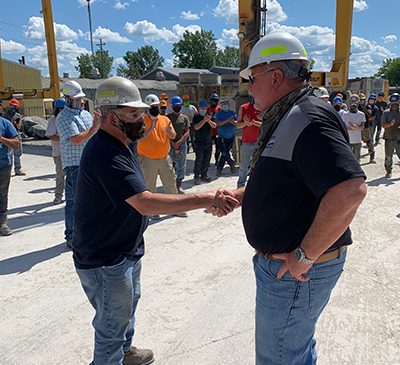 Sustainability and resilience factors accompany ACPA Research and Education Foundation projects. "We are doing a lot of testing on concrete pipe and box culverts, and finding ways to deal with special conditions," says Washabaugh. "There are many new admixtures and materials to enhance the range of performance aspects that are important to a drainage system owner. One thing research confirms: We already have a good product; now we're making it better."
"Members and staff pride themselves in continuous improvement and innovations to serve our customer's needs now and into the future," he adds. "ACPA Research and Education Foundation work provides the concrete drainage industry with state-of-the-art technological advances defending and expanding current product offerings. It also investigates alternate products to best arm our industry with competitive information to ensure concrete pipe and box culverts remain the most resilient, sustainable, and durable products available."
Research findings, alliances with AASHTO and its members, QCast Certification and a deep concrete pipe and box culvert field performance database equip ACPA to continually counter plastic pipe interests' "Open Competition" policy or legislative pursuits at federal and state levels. Regardless of agency, state house or wording, open competition guidance or bills undermine engineers who are duty bound to specify the appropriate material for drainage infrastructure conditions. As ACPA Chairman, Washabaugh will uphold a position his predecessor Jeff Hite articulated in the December 2019 Concrete Products: "Open competition legislation forces project sponsors to consider pipe materials that engineers have determined are not suitable for use in a specific project. [It] is not sound policy and [will] not improve our Nation's infrastructure."
---
NORTHERN CONCRETE PIPE, INC. – At-A-Glance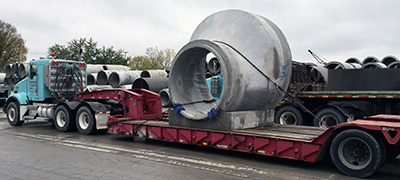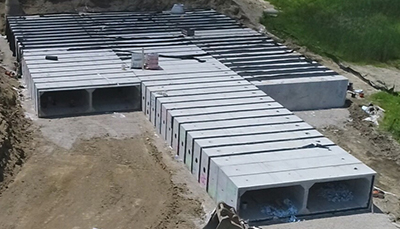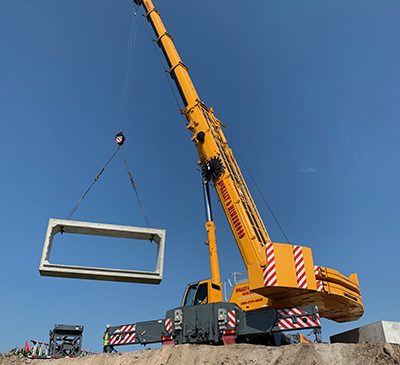 NCP founders Beatrice and Edward Washabaugh and children William, Gerry and Pete, along with William's wife Norma, set up shop in 1958. The first order at their Bay City, Mich., plant called for 84-in. elliptical (68- x 106-in.) pipe. Less than a decade after gaining a foothold in eastern and central Michigan drainage construction markets, NCP opened a satellite plant in the capital city of Lansing and augmented its round and elliptical product offering by developing the four-sided "mini-bridge" box. Initial installations remain in service. The structure's profile and engineering are widely adopted throughout North America in today's wet or dry cast box culverts.
The founders built out a drainage structure and product portfolio in the ensuing decades. By the 1980s, William Washabaugh, Sr. led a second generation management team that solidified NCP's role as an Upper Midwest drainage construction market fixture. William Washabaugh, Jr. took the baton in 2008 and, along with fellow third and fourth generation management team members, positioned the business to acquire plants in Clarkston and Grand Rapids, Mich. (2012) and Sylvania, Ohio (2014). Payroll at the five operations exceeds 225.
NCP produces reinforced concrete pipe in 12- to 168-in. diameters, box culverts up to 28- x 14-ft. and three-sided bridge structures spanning up to 48 ft., as well as licensed drainage and bridge structures. Its procurement practices have always tended to local sources and were well ahead of Buy America requirements in public project specifications.
Marking 60 years in production—a feat management credits to many dedicated, longtime employees—Bill Washabaugh Jr. observed, "Our company is about the people who work for us. We couldn't do what we do without them." At a summer 2020 gathering two years later, he honored the most senior NCP team member outside the family: Bay City Plant Superintendent Blaine Lederer for 55 years of service to Northern Concrete and the Washabaugh family.
---
AMERICAN CONCRETE PIPE ASSOCIATION – At-A-Glance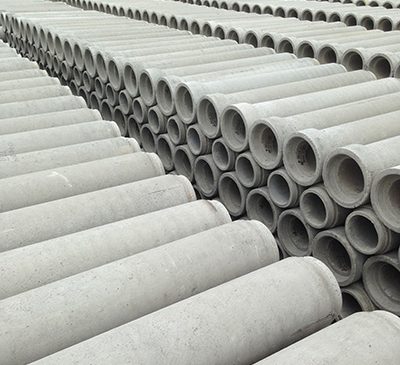 Founded in 1907, ACPA is a nonprofit organization of concrete pipe and precast concrete box culvert producers and allied equipment manufacturers, material suppliers or service providers. Member companies are located throughout the U.S., Canada and 40-plus overseas countries. As the voice of the industry, the association provides a wide range of research, technical and marketing support assets to promote and advance the use of concrete pipe and precast boxes for drainage systems and many other applications. Archives at www.concrete-pipe.org, coupled with ACPA's social media network, embody a wealth of information, knowledge, and downloads.
Members account for 90 percent of U.S. concrete pipe shipments. Through ACPA, they advance knowledge of sound drainage strategies and deliver education programs focused on all aspects of pipe and drainage structures. The annual Pipe School and Pipe Show, staged in January and primarily at Texas venues, are oriented to member company staff plus drainage system engineers and other stakeholders at federal, state and local agency levels. Rigorous in content delivery, the School encompasses concrete pipe and precast box courses, training and certification for graduates, member-hosted plant tours, and quality sessions. Course developers are especially mindful of the mechanical, electrical and computer competencies that managers and production employees need to maintain and operate modern concrete pipe and precast plants. Ongoing education for ACPA members and their customers or prospects continues across the calendar through webinars on technical, marketing and sales topics. ACPA regional engineers and state association counterparts deliver additional education and training to agency personnel and drainage system specifiers.
The Association also maintains the voluntary QCast Plant Certification program to advance quality in manufactured concrete drainage structures and components. Certification provides agencies or project owners quality assurances beyond those indicated in ASTM International and American Association of State Highway and Transportation Officials standards. A QCast Plant Certification manual posted at www.concretepipe.org or www.qcast.org establishes program requirements. It informs the basis for third-party auditors to certify plants producing concrete pipe, manholes, box culverts, three-sided structures, precast elements and drainage product or structure gaskets.
Doug Dayton, P.E., is ACPA president and based at Association headquarters, 5605 N. MacArthur Blvd., Suite 340, Irving, TX 75038; 972/506-7216.
2020 CHAIRMAN
William E. Washabaugh, Jr.
President
Northern Concrete Pipe, Inc.
Bay City, Michigan
IMMEDIATE PAST-CHAIRMAN
Jeffery Hite
Director, Technical Promotions
Rinker Materials
Houston, Texas