To address calls for streamlining embodied carbon in new construction, Chicago-based LafargeHolcim plans to issue Environmental Product Declarations (EPD) covering shipments from its U.S. Aggregates and Construction Materials (ACM) and Cement businesses. The producer will enlist top auditors, third-party verification specialists and EPD Program Operators to prepare and host a library of declarations abiding the latest criteria for documenting carbon dioxide emissions throughout raw materials, processing, delivery and concrete or cement-based materials finishing phases.
"The growth in sustainable construction is driving demand for low-carbon building products that can transparently demonstrate a decrease in our environmental footprint," says ACM CEO Jay Moreau. "These new EPDs also push us to continue innovating as we consider the next generation of building materials."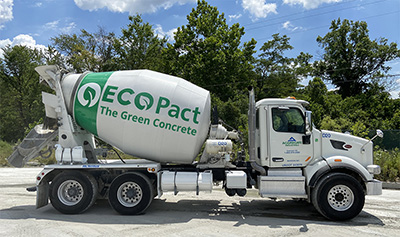 Initial declarations will be developed for the ECOPact Green Concrete series, whose mid-2020 North American market debut followed initial launches in Switzerland, LafargeHolcim Ltd. home base, and sister operations in France and Germany. LafargeHolcim CEO Jan Jenisch calls ECOPact "the industry's broadest range of green concrete for high-performing, sustainable and circular construction … With the [ECOPact] rollout, we are accelerating the transition to more sustainable building materials for greener construction."
ECOPact mix designs exhibit 30 percent to 50 percent lower carbon intensity than regional standard offerings. Formulated with varying levels of fly ash, GGBF slag and Type IL portland-limestone cement, the mixes are premiering in seven Aggregate Industries Mid-Atlantic Region plants. "Engineers, architects and developers are very keen in integrating sustainable building practices throughout the Washington, D.C. area," observes Region Head Cedric Barthelemy. "There's a real focus on how construction materials help achieve these goals. We've received more requests to get involved as projects are being planned. It's been really exciting to participate in this shift within our industry."
ECOPact availability will soon be extended to three Aggregate Industries Northeast Region sister operations serving the Boston market. The ACM business will retain ASTM International and the National Ready Mixed Concrete Association to verify CO<span class="CharOverride-42″>2 factors and other declaration data, and host ECOPact series EPD files for architecture/engineering/construction interests.
CEMENT EPD
Concurrent with ECOPact promotion and technical support, the U.S. Cement business plans to publish EPD for Type I/II and branded OneCem Type IL cements produced at the Holcim plant in Hagerstown, Md., plus 12 sister mills across the U.S. The documents will be based on benchmarks and guidelines in the new North American Product Category Rule for Portland, Blended, Masonry, Mortar and Stucco Cements, published by Ann Arbor, Mich.-based NSF International and penned with Portland Cement Association and Cement Association of Canada oversight. LafargeHolcim will generate the documents with the assistance of two forerunners in construction materials PCR and EPD: Athena Sustainable Materials Institute, Ottawa, and Climate Earth, Berkeley, Calif.
Commitment to a far-reaching EPD program, notes U.S. Cement CEO Jamie Gentoso, "Forces you to take a hard look at how you do business. We ask questions about our energy use, logistical efficiency and how the use of new materials can further lower carbon scores. In the end, this will be a win for our business, customers and the environment." EPD development complements other company-wide sustainability initiatives, she adds, including the use of non-recyclable waste as a cement kiln fuel source, supporting renewable energy sources, and using reclaimed aggregates for major construction jobs.
---
IBM-POWERED ROAD DESIGN OPTIMIZATION
LafargeHolcim Ltd. will leverage IBM Services' hybrid clouds, data analytics, plus machine learning, artificial intelligence, industrial Internet of Things tools to extend its heavy building materials knowledge base and build out ORIS, promoted as the first digital platform for road design optimization, for global deployment.
"We are accelerating the digitalization of our solutions for sustainable and high-performance construction," says LafargeHolcim Europe Region Head Marcel Cobuz, who oversees innovation on a global level for the cement, aggregate and concrete giant. "With solutions like ORIS, we are committed to leading the way in low-carbon and circular construction as well as responsible natural resource consumption. We have already entered into pilots with road authorities, international financing institutions, and engineering firms to use ORIS in both developed and emerging markets."
"Data-driven solutions and digital technologies have the potential to transform road construction towards more sustainable and cost-efficient techniques. ORIS is instrumental in recommending appropriate and tailored approaches to road-building, thus minimizing costs, environmental impacts and project delays," adds IBM Europe Vice President, Industrial Solutions Hervé Rolland. "IBM Services help businesses establish the right industry-relevant platforms that support rapid digitization, standardization and simplification, as well as vertically integrating both industrial and business operations."
IBM technology-powered refinements of ORIS will equip users and project stakeholders to reduce pavement costs by up to one-third and carbon emissions factors by up to one-half, while tripling road durability and service life. The smart project design platform arrives as more than 400,000 miles of new roads are built globally every year, and policy makers link improved pavement quality and resilience to a lowering of carbon emissions attributed to transportation.
Because roads vary depending on location, climate, vehicle types and traffic volumes, LafargeHolcim cites the challenge of defining the most sustainable and cost-effective mix of building materials and technologies early in the design phase. ORIS assesses road pavement designs from different perspectives and recommends efficient construction and maintenance patterns with local materials availability and capabilities. The design optimization platform supports public policies that conserve natural resources, enabling a more local and circular economy in road construction.