Red square, blue circle, yellow triangle: The sequence can be traced back to the color and shape theory of the Bauhaus artist Wassily Kandinsky. Grellroth, a novelty concrete producer in Krefeld, Germany, adopts the artist's style in the design of bee hotels it casts from self-consolidating concrete mixes, dosed with weather-stable Lanxess inorganic pigments.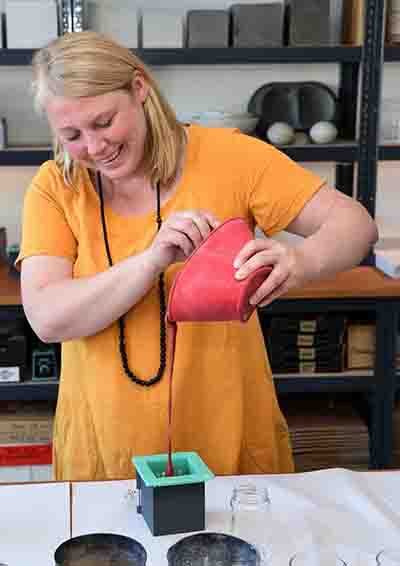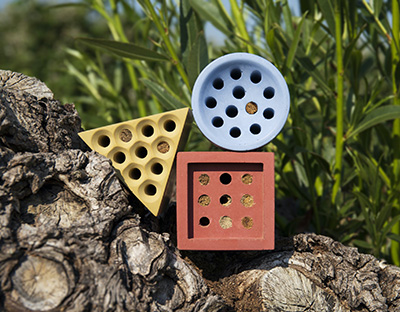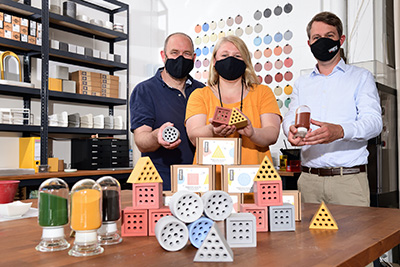 Gellroth Managing Director Diana Schmidt-Rothmeier applied knowledge of automotive component production to polyurethane mold making and casting of concrete novelties with self-consolidating mixes. Her "beehaus" models offer excellent places for wild bees to nest and hibernate, and are cast with holes of different diameters to attract multiple species. PHOTOS: Lanxess Inorganic Pigments
Marketed as "beehaus," the hotels have edge lengths of around seven centimeters and are available as a red cube, blue cylinder or yellow pyramid. "The red hotels are always the first to be filled," notes Gellroth Managing Director Diana Schmidt-Rothmeier. "Developing and manufacturing the polyurethane molds for this purpose was a challenge in itself, because the necessary draft angles in the narrow tubes require a certain expertise."
Insect hotels are usually made of wood or plant stems, whose tendency to splinter can injure bees and their delicate wings, she adds. The advantage of concrete as a material—especially in self-consolidating mix form—is that the nesting enclosure walls are smooth. Gellroth employs craftsmen, technicians and designers who conceptualize and design concrete furniture and objects, fabricating them as one-off items or in small-scale series.
The producer uses an in-house formulation with a finely matched mixture of additives for its self-consolidating mixes. "The concrete flows in like honey and comes out almost pore-free," Schmidt-Rothmeier affirms. "This means that even difficult geometries can be realized and there is no need to shake the molds for venting."
"Self-compacting concrete[s] are based on complex formulations, the constituents of which must be perfectly matched to meet requirements. This must also be kept in mind when iron oxide pigments are used, whether for small or large structures," adds Lanxess Construction Market Segment Manager Oliver Fleschentraeger.