At first glance, it would be understandable to assume that little changes over time in the rolling farm hills of Bruce County, Ontario, Canada.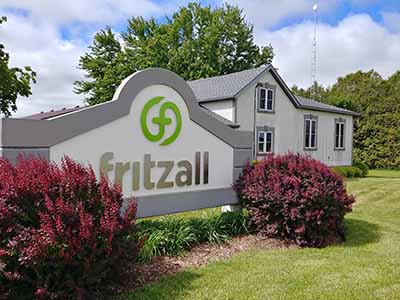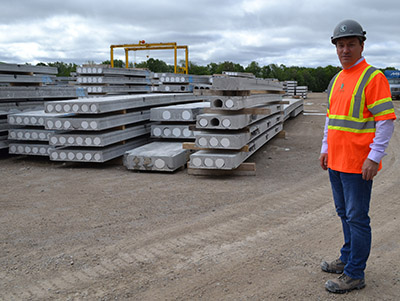 Kerry Campbell, president of Fritz-Alder Precast, sees the Ontario-based company having a competitive advantage in the regional market with a recent plant expansion and the introduction of the Elematic hollow core system.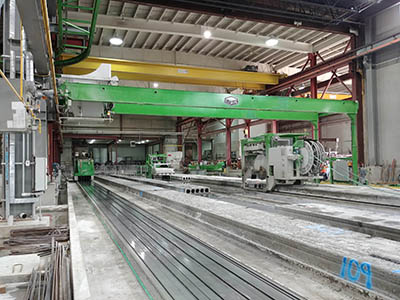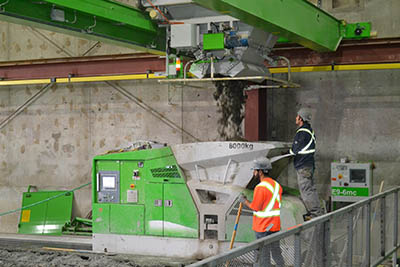 Elematic's hollow core floor production equipment is the mainstay of the Fritz-Alder plant expansion. The Extruder E9-1200e utilizes shear compaction that adjusts to concrete properties. The floor production line also includes six 320-ft. beds, a Lifting Beam E9-10-16, and a Saw S5-400. With the new system, Fritz-Alder is able to produce hollow core slabs in 6-,8-, 10-, 12-, 14- and 16-in. thicknesses in a variety of one- or two-hour fire ratings. In addition to the hollow core line, Elematic also supplied the producer a batch plant with a skip hoist twin shaft mixer.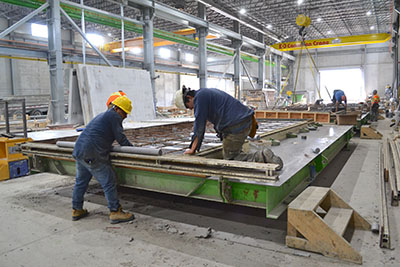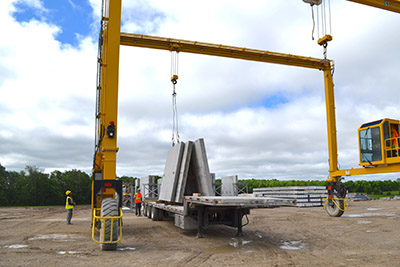 As a companion to the hollow core plank program, Fritz-Alder offers solid slabs, conventionally reinforced or prestressed.
Just outside the charming 1800s-esque hamlet of Chepstow stands a precast concrete company that is defying the stereotype and "leapfrogging" the competition to meet the needs of a busy market. While much of the world was at a standstill, Fritz-Alder Precast spent the first half of 2020 ramping up hollow core production as part of its latest chapter in a rich and diverse story that goes back almost 50 years.
"With the help of Elematic, we designed what we feel is a state-of-the-art hollow core plant for a company that had never produced a single square foot of hollow core in the past," says Kerry Campbell, president of Fritz-Alder. "Elematic was the company we gravitated toward from the beginning, because we truly wanted to leapfrog the others in the market. The differentiation is in the Elematic extruder, which uses shear compaction technology, and we deem that to be superior to the high-frequency vibration quite commonly used. This gives us better product consistency and higher quality."
By early June, the plant expansion's six, 320-ft. hollow core beds were in production most days. Campbell half-jokingly refers to today's operation as a start-up—at a business dating back to founder Tom Fritz in 1972.
A CONCRETE HISTORY
As Fritz Concrete Inc., Fritz Construction and Fritzall, the company on the old Fritz family farm initially serviced the local agricultural market with precast products and contractor services primarily in the building of barns. The first big change for Fritz came in the 2000s, first providing underground services and foundations for the wind energy market, then high-tech solar installations as a benefactor of Ontario's former Green Energy Act. "The difficulty in a subsidized market is you never know when the end is in front of you," says Campbell. "The ebb and flow was really challenging for the industry."
A study commissioned in 2015 brought the company's focus back to precast concrete, "and our experience lent itself to the superstructure market," he recalls. A plant expansion in 2016 "began our partnership with Elematic," and included a number of wetcast tables and a battery form. The structural walls and architectural panels this expansion produced achieved positive results and reviews, primarily from installation contractor and eventual partner Alder Construction.
Company officials with both Fritz and Alder recognized that precast concrete was going to be a major part of the weather-impacted superstructure business in Ontario, but the floor product was a necessity. "Until we could get hollow core, we were a bit player that was able to take up a bit of overflow market," recalls Campbell, "but nonetheless it fit well with our strategy to prove that superstructure was indeed the right market for Fritz. Our quick good success was limited by the fact that we didn't have a complete turnkey solution and we were competing against others who did."
With the owners of Alder added to the ownership group of Fritzall in 2018, the next phase began. "Within a year, hollow core went from an initial conversation to a business plan—and, pardon the pun, a concrete business plan—and actually an outline for what has now become our integrated production line," says Campbell.
In the meantime, the combined organization's operating name and branding has been formally changed to Fritz-Alder Precast.
A BUILDING MARKET
While not exactly smack dab in the middle of a high development area, the Fritz-Alder Precast plant services some quickly expanding cities a couple of hours to the south, specifically Kitchener-Waterloo, Guelph, Hamilton and London, Ontario. Primary applications are high-rise condominiums, office buildings, student residences and long-term care facilities.
"By the end of this summer, we'll be pretty close to our theoretical limit on the production side, which is to say we'll be producing as much as the building is designed to produce," says Campbell, who notes that annual projected outputs are 1.8 million square feet in hollow core and 600,000 square feet in wetcast. "So, it's been a really steep short learning curve, buoyed by a market that, despite all the challenges of 2020, seemingly has remained quite strong."
While "blessed" with a dedicated local workforce that proudly self-performed the recent plant expansion of 34,000 square feet to the current total 62,000 square feet, Fritz-Alder recognized the need for the automation provided by Elematic. "Very, very early on in that conversation, we decided that in order to be successful, we needed to surpass the industry standard in product quality and that brought us to really only one solution—the Elematic hollow core system," says Campbell. "We felt it was a superior finish and it gave us a competitive advantage in the marketplace going forward. We identified that the precast industry regionally was limited only by the supply of the market, not by the demand."
While the company's long past has seen a few shifts and turns, Fritz-Alder's plans are concrete: "The future of this business is precast," says Campbell, looking over the newly minted hollow core bay. "For us, this is really just the start."