A global player in glass fiber reinforced concrete facade systems, Austria's Rieder Group, has helped Vienna architect Franz&Sue put a new face on a 19th century courthouse. GFRC cladding equipped the architect to create "an open space of encounter" and relieve the Salzburg courthouse of "authoritarian character," an aesthetic owing to the original designer's charge to communicate state power. Sustainability and a sensitivity to the needs of groups associated with the courthouse transformation were overriding project themes.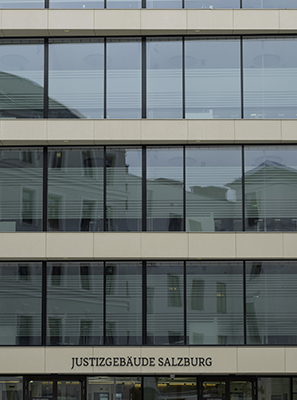 Architect Franz&Sue focused on facade material lightness, sustainability, ecological footprint and conservation standards. It paired Rieder's Sahara color GFRC panels with expansive glazing to enclose an impressive entrance hall at the center of a new Y-shaped section.
"From an architectural point of view, we broke with the traditional understanding of justice and carefully but significantly modified the Salzburg courthouse with monument conservation in mind," says Franz&Sue Partner Christian Ambos. "Now this eye-catching justice center opens up to the city on all sides. Its inner courtyards, which passersby can access and marvel at, showcase a new side of the court building. It is transparent and open, just the way we imagine the jurisdiction in a democracy to be." The new building constitutes a balancing act between modernization, monument preservation and climate protection, he adds.
The central aspect in project planning and execution was to use only high-quality and ecologically sound products. The building was awarded the "klimaaktiv Gold" standard and meets the highest energy efficiency requirements. It earned the Austrian national award for Architecture and Sustainability, a nod to outstanding achievements in sustainable construction and renovation. Recognition for the Salzburg Courthouse is consistent with the driving force behind Rieder Group's continuous development efforts: A quest to create sustainable concrete products and contribute to the energy revolution.