A visit with 2020 PCI Chairman J. Seroky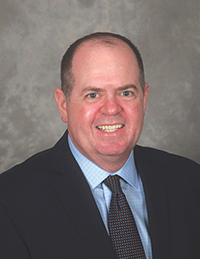 J. Seroky
Precast/Prestressed Concrete Institute members and staff weathered an upending of business for much of the first half of 2020 with resolve. Pandemic response measures were not about to derail day-to-day plant operations or two of the more important initiatives PCI undertakes this decade: A partnership with the American Concrete Institute ensuring proper International Code Council recognition of structural precast and its unique attributes against cast-in-place practice; and, an Architectural Plant Certification rework around design professionals seeking new building envelope possibilities tied to 3D-printed or other precision formwork, self-consolidating and/or ultra-high performance mixes, plus color, texture and finish quality control advances.
Participants returning from the early-March PCI Convention in Fort Worth had operating and safety matters to tackle prior to ACI partnership and Architectural Plant deliverables. "Many of the roughly 270 precast, prestressed plants we represent were subject to different working conditions in response to federal and state actions to contain Covid-19 spread. Nearly all operate in markets where construction and associated activity were deemed essential," says 2020 PCI Chairman and High Concrete Group President John "J." Seroky. "Generally speaking, most producers were able to keep working as long as they could organize team members and assignments in a safe manner.
"Within days of shut downs affecting nearly every state, precast, prestressed operators were able to share best practices. It was interesting to observe the rapid responses and creative strategies producers offered up as they contended with new safety and productivity challenges. One of the leading methods adopted entailed teams or pods of three to six crew members. They would always work and take breaks together. By operating in small groups, plant managers were able to insulate workers. If an individual exhibited virus symptoms or tested positive, managers could insulate the rest of their operation and exercise contact tracing. Pods diminished virus transmission and spread opportunities."
Effective methods for protecting workers and maintaining production schedules were shared across 11 PCI chapters and partner organizations, plus the national office in Chicago, through Zoom Video Communications and Microsoft Teams channels, he adds. Along with small team groupings, pandemic-rooted adjustments at High Concrete and other PCI plants have included: Idling time clocks; sharply increasing the amount of cleaning; and, sanitizing routines after each crew member returns shared tools to a central cleaning station.
ACI-PCI COMMITTEE 319
In the calm before the second quarter storm, Seroky commenced his PCI chairman's term meeting with American Concrete Institute counterpart, Minneapolis attorney Jeffrey Coleman, at World of Concrete 2020. They conferred on transforming the recently chartered ACI Committee 319, Precast Structural Concrete Code, to the joint ACI-PCI Committee 319. Officially announced a week ahead of the 2020 PCI Convention, the latter would be tasked with developing and maintaining a document unique to precast and complementary to ACI 318, Building Code Requirements for Structural Concrete.
"A precast code is paramount to maintain viability of our collective businesses," Seroky told PCI members in Texas. "It won't be without much effort and lots of give and take in working with our ACI peers, but let's keep our eyes on the prize of increasing the legitimacy of precast concrete in future International Building Code versions. The credibility and expertise of our two organizations will result in a much better code, developed faster and at lower cost."
"Establishing this joint committee meets the needs of PCI and ACI members by incorporating specific precast concrete design knowledge and expertise from both organizations," PCI President and CEO Bob Risser, PE, noted in a partnership announcement. "Creating this new document will allow the codification of information that is already used by engineers and architects in everyday practice as well as providing one comprehensive document for the design of structural precast concrete."
ARCHITECTURAL PLANT CERTIFICATION
Pursuit of a precast companion to ACI 318 is consistent with PCI's American National Standards Institute Standards Developer accreditation. Members and staff were well prepared for that 2014-15 process based on decades of experience with the PCI Plant Certification Program, one of the top quality control, quality assurance mechanisms for architectural/engineering/construction professionals and their public or private agency or owner clients. With a track record of 50-plus years, the program prescribes material, production, placement, finishing, testing and acceptance guidelines covering architectural and structural precast, prestressed elements for building or nonbuilding work. This year is a watershed for PCI Architectural Plant Certification, whose legacy categories are being sunset.
"Five new Architectural Certification categories respond to architect and specifier demands for more stringent requirements," explains J. Seroky. "PCI Architectural Producers will now have multiple levels of certification indicating technicality in fabrication, tolerances, finishes and color. PCI members are encountering many highly technical, challenging forming conditions. The intent behind the new Architectural Plant Certification is to allow architects and specifiers to seek differentiation related to producer expertise."
New AA and AB categories cover certification of plants fabricating architectural products with multiple concrete mixtures and textures, a variety of three-dimensional projections, radiused mold surfaces, or sequential returns. The AC category suits producers offering architectural finishes for cladding elements or wall panels with brick veneer, formliner textures or motifs, and other plant-applied finishes. AD certification requirements are tailored to plants casting structural wall panel or other load-bearing products with architectural, plant-applied finishes. The AT category covers plants producing coping, lintels and other architectural trim elements with plant-applied finishes.
Audits reflecting AA, AB, AC, AD and AT certification begin this month for PCI Architectural Producers or new Institute member candidates. Legacy category certifications expire July 2021. Assisting the PCI Plant Certification and Architectural Certification Committees in program rollout and future direction will be a newly established Architectural Certification Review Board, with internal and external representatives—the latter including precast-minded architect, site evaluator and audit organization official.
MIXED MARKETS
Architectural Plant Certification and an ACI-PCI 319 Code will fuel near- and long-term PCI producer success. As plant audits and ACI-PCI Committee 319 work unfold, precast, prestressed producers see contrasting signals in immediate building and transportation markets.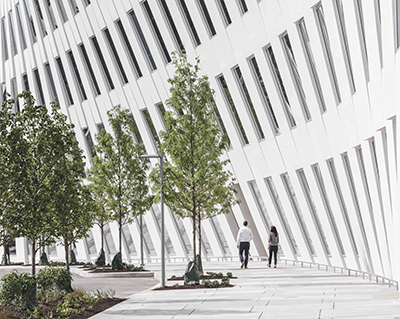 The new PCI Architectural Plant Certification Program addresses the increasing complexity of shapes and geometry that design professionals envision for plant-fabricated concrete elements. Among projects illustrative of program parameters are the respective 2016 and 2018 Harry H. Edwards Industry Advancement Award recipients: High Concrete's 1200 Intrepid, Philadelphia (above, also recognized in PCI Design Awards/Best Office Building Category) and Gate Precast's Phillip and Patricia Frost Museum of Science, Miami (below, also recognized in Best Government and Public Building Category). PHOTOS: PCI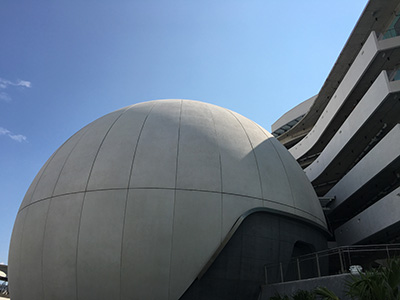 Leading into 2020, some plants noted their strongest commercial project backlogs in decades. Through recently adopted sales and production surveys integrating member shipment reports and Dodge Data & Analytics construction activity, PCI is gauging the impact of second quarter workplace and jobsite disruptions attributable to national and state pandemic response measures. Plant shipment figures will help paint an accurate picture of precast, prestressed concrete market share within Dodge nonresidential and nonbuilding categories. PCI is also conducting frequent pulse surveys to compare member projections through 2022 against the outlook in benchmarks like the American Institute of Architects' Architectural Billings Index (ABI).
"The overall impact of shut down actions was not significant for PCI members," says J. Seroky. "We have been able as an industry to remain active because our plants are part of a business deemed essential in almost all states. We have seen some projects in the Mid-Atlantic held or delayed for funding, but the mood does not feel like 2008." That year marked the beginning of a five-year drop in commercial building activity, he adds, and also saw plants halt production on orders for half built projects that ended up sitting dormant for years.
"The newest ABI shows a big pause in new starts," Seroky notes. "We'll see how that is reflected in PCI producer volume over the next 18 to 36 months. Longer term, I believe there will be a consistent push to have fewer people on a jobsite than what we see today. That means more demand for offsite construction and good business prospects for PCI members."
Figures from surveys of consolidated 2019 sales and production—due at PCI headquarters last month—will underscore the strength of pre-pandemic commercial building activity. Responses from PCI bridge and transportation product plants should show uneven activity across the industry, owing to limited or flat federal funding levels, but some stepped up investment among states that have increased motor fuel taxes.
Along with the ABI, the Institute is tracking ongoing buzz around Washington, D.C. of increased infrastructure funding and economic stimulus packages. Through independent lawmaker and agency outreach, plus North American Concrete Alliance participation, PCI remains a strong proponent of federal bridge and highway funding—ideally within a robust successor to the FAST Act, which expires in September. It is also advocating for national guidance on hauling permitted loads across state lines. Restrictions limiting heavy hauls to day or night hours from one state to the next, for example, are dovetailing complications involving delivery schedules and hours of service rule-bound drivers.
UPWARD, ONWARD
J. Seroky is no stranger to the ebb and flow of private and public dollars driving building and nonbuilding construction markets. He took the helm of High Concrete Group in 2013 after tours of duty in Otis Elevator and KONE Corp. Southeast operations … and with the U.S. Army. He characterizes elevator construction and servicing as "a highly regulated, safety conscious" endeavor. Like precast, prestressed plants and erectors, he says, "Elevator subcontractors run project-based construction businesses where competitors differentiate their offerings to owners, architects, engineers and general contractors."
Seroky brings High Concrete a safety and worker inclusivity focus developed at Otis and KONE and informed by Paul O'Neill, who shifted from Alcoa Corp. chief executive officer to U.S. Treasury Secretary under President George W. Bush. "Paul O'Neill was credited with dramatic safety performance improvement, which in turn enabled him to instill other good operating habits across the Alcoa organization," Seroky explains. "A focus on safety led to other positives impacting the bottom line."
Along with best management and workforce development practices, the transition to precast, prestressed concrete from the elevator world revived a mindset that surfaced while he was growing up in the Tampa, Fla., area. Seroky witnessed replacement of the original 13-mile Sunshine Skyway Bridge, a twin structure, steel trestle crossing the mouth of Tampa Bay. A May 1980 weather front caused a freighter to collide with a pier supporting the southbound lanes, killing 35 drivers and bus passengers. Portions of the collapsed southbound structure were visible for years after the accident, leaving Seroky to conclude, "This shouldn't happen."
Completed in 1987, the second Sunshine Skyway Bridge was one of the early instances of precast segmental concrete construction in North America. Although he couldn't appreciate the engineering aspects and market potential at the time, Seroky saw transportation officials embrace a construction method that would redirect long-span bridge practice from structural steel toward concrete.
In between the Sunshine Skyway experience and the elevator business, he served in the Army 18th Airborne Corps, Third Infantry Division, deploying to Operation Desert Storm in 1991 as a forward observer. "One of my Army influences is a philosophy: Learn it. Do it. Teach it,'" he explains. "I saw how leaders tend to be those who others go to before they are granted authority. It's important to look for people who have that quality and are not necessarily looking for a title."
Taking a page from legendary General Electric CEO Jack Welch, Seroky contends: "You should change before you have to. Having spent a good part of my career outside of precast, prestressed production, I remind folks not to get comfortable and avoid resting."
True to those principles, he adds, PCI members and staff are taking bold measures in 2020, none more than Architectural Plant Certification overhaul and ACI-PCI Committee 319 code development.
---
HIGH CONCRETE GROUP
At-A-Glance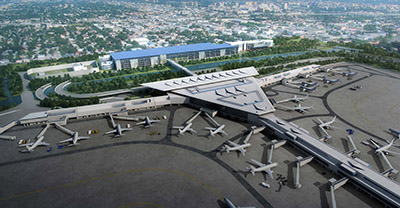 RENDERINGS: PGAL and Conrac Solutions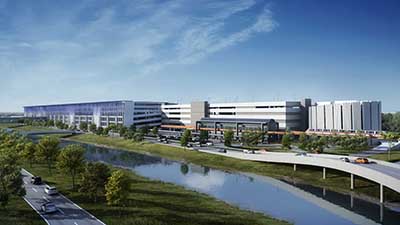 High Concrete Group recently booked its largest contract to date: A $100 million precast, prestressed concrete order for the Consolidated Rent-A-Car facility at Newark Liberty International Airport in New Jersey. Sited on nearly 20 acres adjacent to Terminal 1, the 2.7 million square foot structure will harbor 2,925 public and 3,380 rental car spaces. High Concrete's contract covers more than 6,000 architectural pieces and structural members. Renton, Wash.-based developer Conrac Solutions projects 2021 public parking phase and 2023 Rent-A-Car facility openings.
High Concrete is among 13 companies under construction and real estate-centered High Industries, a family-owned business based in Lancaster, Pa. One of the largest producers of architectural and structural precast concrete building enclosures, it is also a top player in parking garages. High Concrete provides innovation and proven technology for corporate, industrial, cultural, government, educational, institutional, multi-unit residential, stadium, correctional facility and warehouse projects throughout the Mid-Atlantic and Midwest.
Internal and sister company crews are nearing completion of a major upgrade of High Concrete's flagship operation, spread over a nearly mile-long, Denver, Pa. parcel strategic to the Pennsylvania Turnpike. An $8 million investment will yield new architectural and structural product capabilities and includes two new batch plants.
---
PRECAST/PRESTRESSED CONCRETE INSTITUTE
At-A-Glance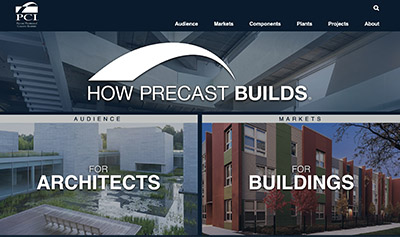 The "How Precast Builds" portal launches this month at www.pci.org
Founded in 1954, PCI is the leading developer of standards and methods for designing, fabricating, and constructing precast concrete structures and systems. Membership encompasses producers, precast concrete system erectors, architects, consultants, contractors, developers, educators, engineers, materials suppliers, service providers, and students. The Institute maintains a staff of technical and marketing professionals to foster greater understanding and use of precast, prestressed concrete. It also operates the world's leading certification program for precast concrete system plants and erectors, and is an accredited American National Standards Institute Standards Developer.
PCI publishes an array of technical manuals, documents, plus the PCI Journal, Ascent and Aspire periodicals. Additionally, it conducts research & development projects and conferences, along with building and transportation Design Awards programs. The Institute headquarters is at 8770 W. Bryn Mawr Ave, Suite 1150, Chicago, IL 60631; 312/786-0300; www.pci.org.
| | | | | |
| --- | --- | --- | --- | --- |
| CHAIR | SECRETARY/TREASURER | | VICE CHAIR | IMMEDIATE PAST CHAIR |
| John "J." Seroky | J. Matt DeVoss | Bob Risser, P.E. | Dennis Fink | Keith Wallis, Jr. |
| President | President | | Vice President | |
| High Concrete Group, LLC | Jackson Precast, Inc. | | Northeast Prestressed Products | Prestressed Casting Co. |
| Denver, Pennsylvania | Jackson, Mississippi | | Cressona, Pennsylvania | Springfield, Missouri |