A new barrel storage facility in Finland for the world's northernmost gin and whisky distillery appears at first glance to be clad in old, charred wooden planks. In reality, the Kyrö Distillery Co. building facade is textured concrete with a jet-black Bayferrox pigment.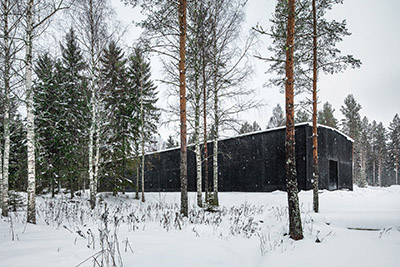 The jet black-pigmented, architectural precast facade at Kyrö Distillery's premier barrel storage facility "is not only a brilliantly realized solution, but also part of a functioning production unit whose design and workmanship fulfill the requirements of good architecture and construction in an exemplary manner," noted the chairman of the jury determining the Finnish Concrete Architecture Award for Avanto Architects' winning entry. PHOTOS: Kuvatoimisto Kuvio for Lanxess AG, Cologne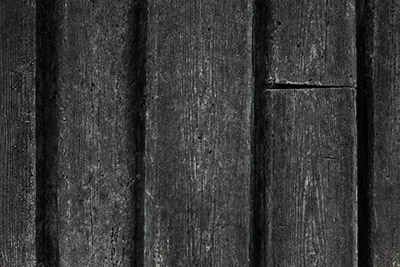 The project began with a "spirited" idea: Five Finnish friends enjoying a floating sauna came up with a plan to establish Kyrö Distillery in 2014, repurposing an old dairy facility to ply their craft. The distillery won international awards, and, as its reputation grew, production facilities could no longer keep pace with demand. So, management organized a closed competition for the redesign of the entire dairy complex. Helsinki's Avanto Architects Oy was chosen to create a master plan involving several new buildings, along with historic structure renovation and conversion. The team's first task was to design a jet-black, 1,056-square-meter barrel storage facility situated in the middle of the forest; inspired by traditional wooden barns, its footprint and enclosure would be replicated on four other plots at the complex.
The model building's outer wall is constructed of standard 4.5- to 6-meter x 3-meter sandwich elements, with 105-mm reinforced concrete outer shell; stainless-steel reinforcement; 150-mm polyurethane insulation core; and, 80-mm reinforced concrete inner shell. The outer shell recalls the appearance of old Ostrobothnian floorboards and reflects the teamwork of Finnish precaster Tara-Element and mold manufacturer Finn-Form. Instead of freshly cut timber, team members used boards from an old, dismantled barn as a template for the facade matrices. Suitable pieces were chosen and put together with as little repetition as possible. All loose material was then removed from the boards, which were treated with resin to make them sturdier, converted to create a negative cast, and then poured into the mold. Two 1,500-mm x 4,500-mm molds—one the right way up and the other upside down—create a pattern repeated every 6 meters at most.
"Producing jet-black concrete is the ultimate skill. The original plan was to construct the concrete elements with colored concrete and then paint them darker on site," says Lanxess Inorganic Pigments Construction Market Segment Manager Oliver Fleschentraeger. "After several trial castings, the deep-black Bayferrox 360 pigment was added at a dosage rate of 5 percent by weight of cement, which meant that no coat of paint was needed." Ensuring that concrete has exactly the right shade even after it has hardened depends not only on the quality and mixing of the pigments, he adds, but also the cement type, aggregates and "detailed knowledge of how the concrete and pigment interact."