Oldcastle APG builds scale in packaged dry mix, mortar, compounds
Acquisitions, greenfield developments and plant upgrades have allowed Oldcastle APG, a CRH Company, to build a footprint in packaged materials matching ones that sister CRH Americas operations command in precast, ready mix, aggregates and portland cement.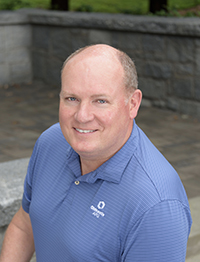 Tim Ortman
Of the 250-plus APG facilities worldwide that supply bagged materials and building or hardscape masonry units, more than 50 support the APG dry mix business in the U.S. and Canada. In 2020, the Atlanta-based producer is on pace to cap a three-year bagging capacity and market expansion through the acquisition of 11 facilities, construction of four new plants, plus major overhauls at key sites. The investments underpin the industry's most comprehensive dry mix concrete and companion material offering, with solutions for nearly every new construction or repair application—from light residential to heavy industrial to agency or department of transportation.
The producer strengthened its engineered category stake earlier this year, acquiring Denver-based US Mix Co. Beyond adding aggregate and cementitious packaging assets strategic to Colorado's thriving Front Range market, the transaction addressed Oldcastle APG's broader production footprint gap in the Intermountain States. It also ushered valuable materials science expertise and a third pillar alongside Sakrete and Amerimix brands: US SPEC, a packaged mix and liquid compound series with strong DOT, engineer and specifier recognition.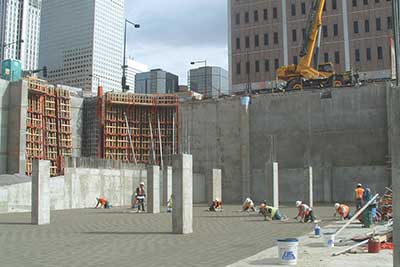 Oldcastle APG approaches pro-grade construction and repair applications with the signature Sakrete brand, and industrial- or infrastructure-grade work with US SPEC and Sakrete Pro-Mix offerings. Above, crews work Monofilm ER—a companion to US SPEC dry mix products—into a hotel tower base level slab. US Mix formulated the monomolecular film to ease finishing and reduce rapid moisture loss from the surface ahead of curing. PHOTOS: Oldcastle APG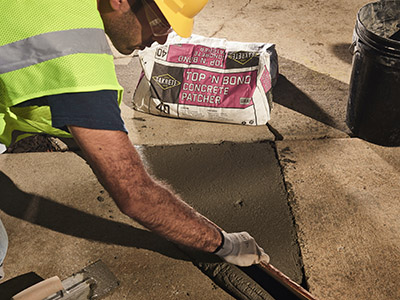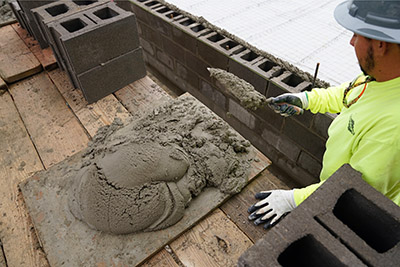 Amerimix is promoted as a pre-mixed mortar alternative to blending sand and binders in the field, a longstanding practice prone to quality control and excess site waste. Below, the Techniseal brand, acquired in 2016 and encompassing specialty sand and surface treatments, brings product distribution and cross sales opportunities complementary to the Belgard hardscape unit business.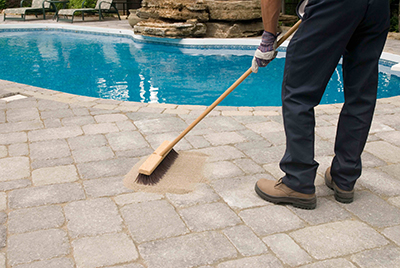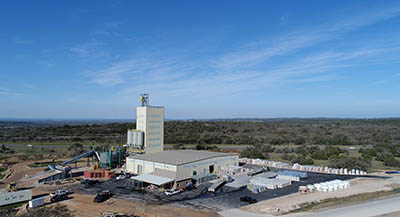 Early in its current cycle of dry mix concrete and mortar capacity investment, Oldcastle APG added to its Jewell business in Texas an advanced, 23,000-sq.-ft. bagging plant near Marble Falls. The operation opened in 2018 to serve Austin and the central Texas region, and is one of 12 Jewell packaged materials production and distribution sites in the Lone Star State. The Marble Falls design is informing Oldcastle APG's latest outlay: A twin bagging line built adjacent to an existing Belgard hardscape unit plant in Cowpens, S.C.
"This significant acquisition allows us to better service our customers in a growing region with enhanced manufacturing capabilities for three brands," says Oldcastle APG President Tim Ortman. "From geography to product portfolio to brand power, APG and US Mix's complementary strengths will help establish our positioning and strategic growth possibilities for long-term success in packaged products."
"With US SPEC in our portfolio, we're able to offer DOT-approved products in the majority of U.S. states to better support projects with highly demanding concrete applications—a feature that previously presented an untapped opportunity in the Sakrete lineup," he adds. "Department certifications are critical to opening the door for new opportunities and customers, and we're confident that having the DOT stamp of approval on top of our industry-leading support will dramatically change the landscape of the highway and road repair market in the years to come."
US Mix operates a Denver flagship and Fontana, Calif., satellite. Founded in 1968, the business had been privately owned by the Peterson family for over 50 years. Its offerings align seamlessly with APG's product portfolio and include bagged concrete, mortar and specialty cement mixes, plus liquid repair or finishing products. Under the US SPEC banner, US Mix excels in ASTM standard-grade, engineered concrete or masonry products used in new construction and repair applications.
"As a family business, we strongly identify with APG's commitment to family heritage and a local-first customer service mindset," notes US Mix CEO Bruce Peterson. "As longtime licensees of Sakrete and Amerimix, we stand behind the quality of APG's products and look forward to the mutual success we will bring each other and the market."
"Our manufacturing footprint coupled with a wide range of product offerings ensures Oldcastle APG meets the needs of customers wherever they are," Ortman explains. "Considered as a whole, we are the single source for nearly every concrete pro in the market: Commercial general contractors to municipal transportation or street crews and heavy industrial to the small independent contractors. That's something unique to APG."
The dry mix landscape, he adds, breaks down into pro-grade construction and repair products, encompassed under the Sakrete brand, plus industrial and infrastructure-grade construction or repair products typical of the US SPEC and Sakrete Pro-Mix portfolios. In mortar mixes, Amerimix features commercial-grade, pre-blended mortars and stuccos to serve the commercial and architectural masonry industry. They offer cost-savings and performance enhancements over traditional field-blended alternatives, and continue to see increased adoption among contractors or project teams. While Amerimix is formulated and packaged for the masonry trades, Oldcastle APG covers the consumer side with Sakrete-branded mortars and stuccos at retail locations.
"Oldcastle APG is a house of leading building materials brands, and we strongly believe in focusing individual brands on meeting specific market needs," Ortman observes. "We respect, embrace, and nurture acquired brands, bringing them into an existing portfolio that allows them growth through research, product development and manufacturing excellence. This strategy has allowed us to provide a vast product offering of industry-leading brands to customers, including Belgard pavers, Echelon masonry, Amerimix mortars, and Sakrete and Pro-Mix concrete products. US SPEC fits this formula seamlessly; US Mix represents a strong regional player who will be reinforced through the capabilities and support of Oldcastle APG to reach new customers, new markets and new opportunities."
"We don't just provide products; we provide innovative solutions," he adds. "To do this, we approach the changing industry landscape and customer needs with agility. We want to understand customers in their individual markets and apply our knowledge and infrastructure to act on their specific needs."
SOUTHEAST SHORING
US Mix negotiations were concurrent with permitting and design preliminaries for a 27,000-sq.-ft. dry mix operation and warehouse at APG's Cowpens, S.C. big board paver plant, built in the early 2000s. Located amid the Interstate 85 corridor linking Charlotte and Atlanta, the facility will extend across 42 acres, 18 harboring the paver operation and the new packaging plant and warehouse occupying the remainder. The latter will include a coarse line, fine line, and bulk bag station as well as two robots for palletizing. A new 11-silo batch system and dual bagging lines, scheduled for late-2020 completion, will support high volume output of Sakrete, Pro-Mix, Amerimix and US SPEC products.
"The addition of this cutting-edge facility will significantly increase production and availability of our dry mix products, enabling us to better serve our customers and meet growing market demand," says Tim Ortman. "When we design and build new facilities, we assess local market needs and construct with an eye on future expansion. APG plants are built with the flexibility to expand and produce across multiple lines and brands as needed. We have several additional dry mix plants currently underway across the country and are actively designing and procuring equipment for sites to be built over the next few years.
"Our investment in the Carolinas is centered around increasing capacity in the Southeast. Dollars spent in this region are certainly strategic as we see consistent population growth and major business investment bringing new construction opportunities year after year. The new Cowpens production lines will secure our East Coast footing with dry mix facilities that stretch from Canada to Florida."
"Dry mix is APG's fastest growing product line, and our commitment to this space means growing our Sakrete, Amerimix, Pro-Mix and US SPEC brands as part of a long-term strategy now in the early stages of execution," Ortman affirms. "Between strategic acquisitions, personnel and facility investments, the industry can expect continued innovation and solutions from APG."
---
EVOLUTION OF A PACKAGED MATERIALS PORTFOLIO, FROM D-I-Y TO DOT
Oldcastle APG has built a packaged material brand portfolio in tandem with its Echelon masonry and Belgard hardscape businesses. It evolved from regional production sites and licensees that were part of transactions leading into the 2006 acquisition of Sakrete Inc. and its dry mix concrete intellectual property, followed by a deal for Amerimix packaged and bulk mortar two years later; Techniseal, an offering of polymeric sand and surface treatments for interlocking concrete pavements, acquired in 2016; and, US SPEC, a family of cement-based materials and concrete-grade compounds for engineered applications that anchored a March 2020 deal for US Mix.