A stainless steel probe measuring slump and temperature of ready mixed concrete in transit or at point of placement, along with precise volume of any post-pour material, anchors Command Alkon's newest platform, COMMANDassurance, formally debuting at 2018 World of Concrete, Las Vegas.
"COMMANDassurance allows for visibility between plant and pour. Having real-time vision and historical data related to the material science of fresh concrete at one's finger tips is a game changer for our ready-mix customers," says Senior Vice President of Customer Success and Account Services Monty Newport. Use of material science holds potential across a producer's entire operation, he adds: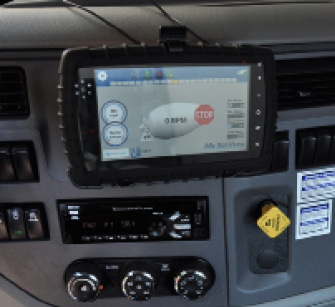 A COMMANDassurance application on the Five Cubits TrackIt tablet (shown here in a McNeilus mixer demonstrating integrated Command Alkon tools) is programmed to relay mix slump and temperature data, eliminating the need for drivers to exit and navigate vehicles.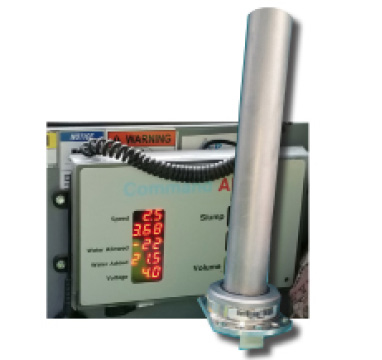 Through integration with COMMANDseries dispatch, batch and quality control applications, the COMMANDassurance probe delivers information enabling a) drivers to cut time spent in the yard or on site checking and adjusting slump; b) batch operators, when handling multiple trucks for a single project, to compensate water volume on upcoming loads after gauging properties of the first truck's materials; and, c) quality control technicians to revisit mix designs based on material factors and plant, weather or other factors at the time of mixer charging.
Real-time data on a load's properties, relayed to driver and dispatch personnel throughout the delivery cycle, reduces time spent in the yard; testing and adjusting loads; plus, washing out and discharging drum contents—thereby improving truck utilization and cost controls.
Measuring an outbound material's slump, temperature, volume and other properties, and sending such data back to production personnel, enables proactive adjustments to future loads to reduce mix overdesign, eliminate rejected loads, and ensure quality.
Documented data on concrete properties equips quality control staff to further optimize mix designs and reference in the event of claims or disputes.
"COMMANDassurance is not just a point solution measuring slump with some hardware and a display," affirms Command Alkon Vice President of Marketing Ed Rusch. "It drives meaningful information about the bigger picture of the business."
HARDWARE EVOLUTION
COMMANDassurance adoption calls for installing or mounting the main probe, welded to an exterior, drum-mounted solar panel; data-logging receiver; plus, accelerometer, load cell and thermistor sensors. The probe is based on a design Command Alkon acquired from IBB Rheology Inc., Quebec, and modified for the COMMAND, Integra and Five Cubits platforms. The latter's flagship offering, TrackIt, underpins the relay of fresh mix data from the road or site to dispatch, batch and quality control staff. A cab-mounted TrackIt tablet displays probe- and sensor-derived mix property readings, eliminating the need for drivers to stop trucks and climb ladders for traditional visual load checks.
The technology is on track for early-2018 beta testing following initial deployment with respective COMMANDseries and Integra users, Minnesota's Cemstone Products Co. and Ohio's Ernst Enterprises. Upon COMMANDassurance general release, Command Alkon envisions users launching mobile device applications enabling customers to monitor arriving loads' slump, temperature and other quality control metrics. Such data will assure that job specification requirements are met, and afford users significant safety improvement, material waste removal, and time savings opportunities.
"Resorting to overdesigning mixes, or the time intensive and somewhat risky processes of adjusting slump by eye throughout the delivery process, no longer has to be a reality. It's exciting to know this pervasive guessing game is over," says Command Alkon's Dale Brownbridge, who spearheaded the COMMANDqc platform programming and is leading integration of COMMANDassurance and COMMANDseries applications. — Command Alkon, Birmingham, Ala., 800/624-1872; www.commandalkon.com